The effects of the pandemic may seem like a distant memory for most of us, but for small business owners, it is still evident in their day-to-day lives as they recover. Thanks to the efforts of the Thurston Economic Development Council (EDC), small businesses in the community were able to get essential funding and take advantage of financial support to overcome the economic downturn. Johnson Berry Farm received two essential grants from the Thurston EDC, which allowed them to maintain their staff and operations to continue to serve the community they love. With the EDC's help, Johnson Berry Farm is going strong and has a bright future ahead.
Thurston EDC Grants Save Longstanding Johnson Berry Farm
Jim Johnson started at the Olympia Farmers Market in 1976, when he was just 9 years old. He sold his very own raspberries. "My mother's side of the family were all berry farmers in the Puyallup Valley," recalls Jim. "I knew that at some point that was what I wanted to do too."
Fast forward to 1991, Jim went from 3 little rows of raspberries to a 40-acre farm with his wife Lisa. Since then, they have continued to grow delicious, fresh berries and sell them at various markets, including Pike Place Market and the Olympia Farmers Market where it all began for Jim nearly 50 years ago. "We love being able to offer organic fruit to people so they have options for nice, clean food," he says.
When the pandemic struck, the long-established berry farm was at risk of going under as markets were forced to shut down. The only one that had stayed open was the Olympia Farmers Market, but this wasn't enough to survive right away. "We had been up in Pike Place for 22 years, and then we were suddenly shut down for 3 months," shares Jim. "By the time they reopened, we couldn't get our staff back because they were making more on unemployment than what we could pay them." This crisis was all too common for business owners trying to reopen under the constraints and recovery efforts during the pandemic.
Luckily, the Thurston EDC was working diligently to secure funding for businesses in need. Aslan Meade, Thurston EDC director of strategic alliances, tracked Jim down to make sure he was availing himself of the grants that were being provided to local agricultural producers through Thurston County's American Rescue Plan—administered by the EDC through the Thurston Strong initiative.
"Thanks to the grant funding, we were able to continue employing all of employees full-time without a hiccup and without stress," Jim says. "We never did go back to Pike Place, but we were able to keep going strong in Olympia Farmers Market and the Puyallup Farmers Market." These markets are proving very successful once more for Johnson Berry Farm, so their overall recovery is going well. Jim and Lisa are incredibly grateful for the support of the Thurston EDC and the public who have continued to shop with them.
Johnson Berry Farm Prepares for a New Season with Fresh New Products
Now that Johnson Berry Farm is back on track, they are excited to continue working on new products that the community will love. Their farm is now 17 acres of strawberries, tayberries, and blackberries, some of which are grown specifically for processing to be made into a delicious assortment of jams. From standard to spicy, Johnson Berry Farm makes a variety of flavors to fit any occasion. "We have sampling available at our markets so you can try all of our different jams," Jim shares. "We have traditional, funky, mild and hot, so we really have got a little bit of everything." The jams are produced weekly in small 7-jar batches using berries that were picked and frozen during their prime, so you can enjoy delicious jams anytime.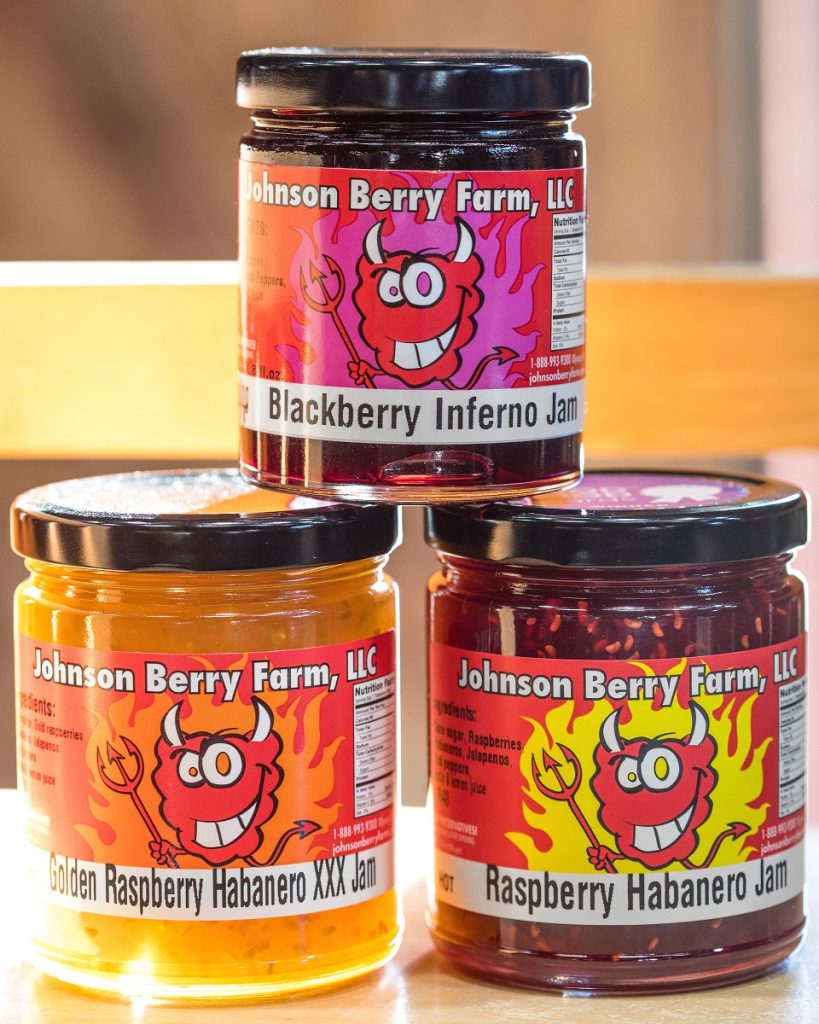 Johnson Berry Farm also expanded with a pickling line called the Olympia Pickling Company and is now producing their very own pickles. "We have three types of bread and butters and two types of dills," explains Jim. "Our refrigerated pickles are seasonal, so it will wrap up right around Thanksgiving time, but we are hoping next year to expand our pickling to different vegetables." With so much to try with Johnson Berry Farm and their new pickling venture, you won't want to miss their stand at the local markets.
Partner with Thurston EDC to Grow Your Business
Just as Johnson Berry Farm has prospered out of the pandemic, other business owners can find support for their ventures too. The Thurston EDC provides numerous resources to help small businesses learn essential skills, utilize new tools, and sometimes even get financial funding to not only survive but thrive. Get connected with the Thurston EDC to see how they can help your business flourish, no matter the circumstances.
Thurston Economic Development Council
4220 6th Avenue SE, Lacey
360.754.6320
Johnson Berry Farm
2908 Wiggins Road SE, Olympia
360.493.2350
Sponsored