The Cove embraces seasonal food and a variety of entertainment, keeping its patrons coming back to familiar good vibes and fresh new cuisine. Olympic Sotheby's International Realty highlights broker Justin Hjelm in a community story video about his partners' and his investment in the downtown Olympia community. After marking its first year, the Cove restaurant and bar continues to create a sense of community with its welcoming atmosphere.
Cove Celebrates an Inaugural Year in Downtown Olympia
Owners Justin Hjelm, Cody Mills and Jason Gilbertson opened Cove on October 5, 2022. They had spent some time in their younger years patronizing The Royal Lounge and Rhythm & Rye when the former businesses occupied the same space. When the building became available, the Cove partners bought it.
"Cove came from a thought where all three of us have a lot of experience in the industry on both sides of the bar," Hjelm says in the Olympic Sotheby's video. "We all eat out a lot, and we thought that if we could take all of our positive experiences that we had and eliminate all of the negative experiences we had, we were confident we could put together something that is very inviting and entertaining and pleasurable to be at."
The result is the upbeat, comfortable, come-as-you-are vibe inside Cove.
Just two blocks from the waters of Budd Inlet, its casual, clean-lined and modern aesthetic is fitting for stepping right off the boardwalk in your flipflops or arriving in a sports coat for a special dinner. Open-arms inclusivity extends to the artwork on display. A regional photographer's works decorate the wall, and a prized Dungeness crab art piece, made by a friend's daughter, hangs over the kitchen area.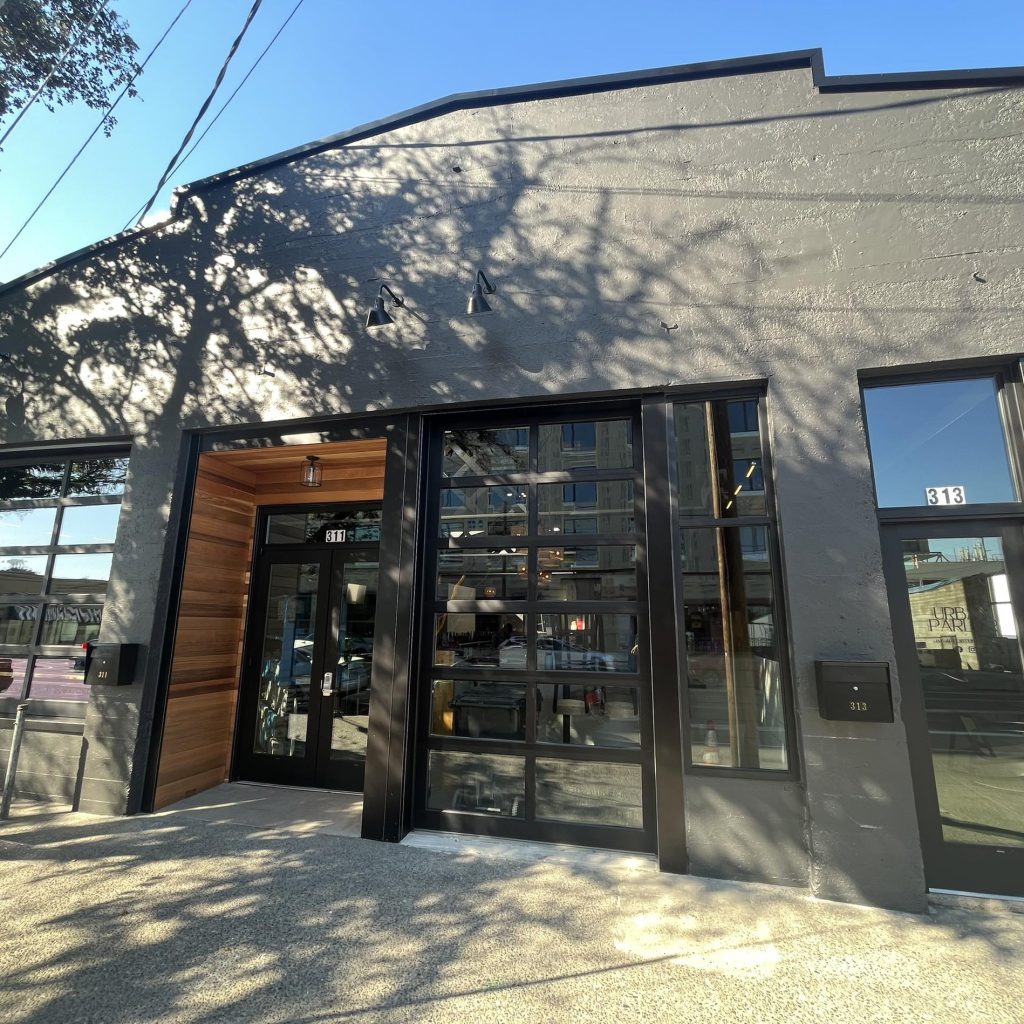 Signature Cove Dishes and Drinks Locally Sourced
Just blocks from the Olympia Farmers Market, Cove is able to include ingredients sourced from local vendors and growers.
"Seafood has always been a big part of our background, so it's definitely what we want to highlight on our menus," Hjelm says. "Our two favorite, signature cocktails are a bourbon smash and our old fashioned. A lot of our purees, mixers and ingredients in our cocktails are either bought at the farmers market or even grown in one of our bartender's gardens and made from scratch on site."
Weekend brunches include comfort foods such as chicken and waffles, steak and eggs and more. Seafood is indeed a Cove theme with scampi toast, steamed clams and fish tostadas all on the appetizer menu. Cove signature dishes are the pokey nachos and the crab roll. Shrimp, tuna and crab show up in their craft sandwiches and entrees too.
Cove for Sports, Music and Entertainment
Gathering to watch a football game on one of the many screens or sitting near the stage for some entertainment also brings people to Cove.
"It's fun," partner and General Manager Jason Gilbertson says in the video. "Sports, for me and for a lot of people, is part of life. Competitiveness, unity, bringing people together, and the atmosphere behind a bar in a restaurant is the same thing. Sometimes you don't get to see people unless you bump into them in certain places, and sometimes those connecting things bring you closer to people outside these walls as well. It's bigger than just sitting down and eating a meal."
Having a little of something for everyone, the Cove music line-up spans genres and does so intentionally. Variety comes from solo country acts, 70's, 80's and 90's rock, and Olympia native Ethan Tucker, who played on New Year's Eve. The Cove goal is to give everyone a place to play. A monthly jazz night is part of a future plan, and comedy shows have already hit the Cove stage featuring local comedians Sam Miller and Dan Farley.
Local Community Gathering Space at the Cove Expands
With a planned expansion, Cove aims to provide 2,000 square feet more space for private parties, for class reunions or reception space for local groups. Just on the other side of its kitchen and housing a private bar, the Cove events space is slated to be roomy enough for 60 to 75 people or up to 100 for a standing-room-only cocktail party. Sharing the Cove menu on a larger scale, at a family birthday party, business staff lunch or holiday celebration makes for good times, and such events aim to bring the culinary and restaurant successes of year one into the next chapter too.
"We've just been extremely shocked and grateful over the last year for this little family of Cove that we've been able to create," Hjelm says. "It's been a blessing that we've made it through that year, and the future just looks really bright for not only the staff but also for our customers."
If you haven't been to Cove yet, stop in during your next trip downtown or to the boardwalk and sample some seasonal dishes and drinks. To see the latest events and menus, check out the Cove Facebook page.
Sponsored