Warning. This article contains a vast amount of fun with a splash of nerdiness and a big dose of awesomeness. Your quest to find such a pairing for an overnight adventure in Olympia will end at PLAYLive Nation in the Capital Mall, where monthly all-night game nights bring the community together in a safe and inclusive atmosphere. You need to experience these events to truly appreciate what Tim Alexander, owner of PLAYLive Nation, has achieved: all-ages, safe fun for everyone who likes to play board games, video games, table-top role-playing games like D&D and more.

"'There are some who call me…Tim.'" These were the first words the owner of PLAYLive said to me. Quoting a famous line from "Monty Python and the Holy Grail" not only immediately tells you what kind of person he is, but ensures you won't forget his name.
Tim's number one mission is to be a safe place where the community can come together. The store's lounge-style video gaming area invites people to sit back, relax and stay awhile. And their monthly passes make it affordable to do just that.
But if you really want to see what Tim is all about, attend the monthly all-night game nights. Held every third Saturday from 8 p.m. to 7 a.m., this is where Tim and his staff's commitment to the community truly shines.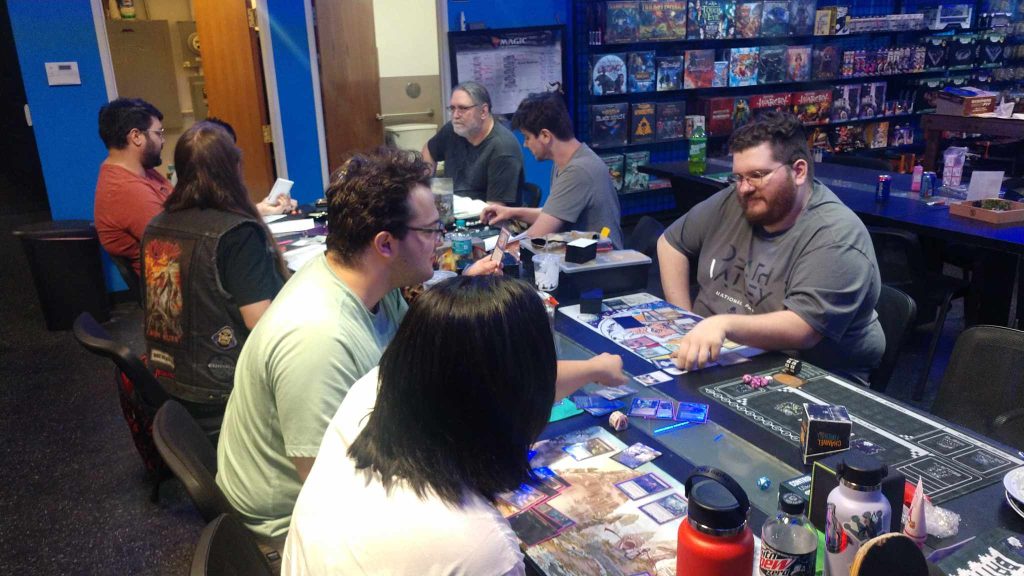 You may think this is just a night for teenagers. It's not. My husband and I love to play board games – or a D&D campaign – but it can be hard to find people to play with as you get older and people get busy, move away etc. We learned about the game nights during the Capital Mall Game Day and decided to try it out.
We got there around 8 p.m., our own games in hand – thinking, well if there is no one to play with, we can play each other at least. The age range was wide. There were lots of kids, but also plenty of older folks enjoying all kinds of games.
We both were a bit unsure about how to approach people. We didn't have to feel unsure long, however. Kevin, one of Tim's employees, saw that we had just come in and immediately came up. Not only did he welcome us, but he asked if were hosting the game we brought. He then proceeded to ask around and found us three other people to play our game with us. This, Tim explains to me, is part of the training for game nights. "We are a facilitator for community," he says. "It's getting to know the people in your community. And that's what we do these events for, 'cause you get to hang out and no matter how shy or nervous you are, somebody's gonna come up through the course of the night. Like, it's gonna happen."
And those meetings often result in long friendships. "I believe we have people here who've met at our overnighters as teenagers who are still friends in their mid-20s," he adds.
Playing video games? They will help get others in your party too.
Attending Game Night at PLAYLive Nation
The cost for a night of adventuring is $30. If you want to play video games, you can reserve a console for an extra $5. The cost includes snacks and drinks, as well as a few surprises like raffles and contests. Many of the months have themed game nights, for example October's includes a costume contest with prizes, November they put out a catered turkey dinner and ask others to bring potluck items and in the spring they do an Easter egg hunt.
Christmas is a special game night, where PLAYlive Nation has people bring in gifts for those in need in the community and holds a white elephant gift exchange. "I started this a few years ago and it's my way to help our direct community," Tim says. The store also donates four gift cards to youth they know are in need. "I can recognize the signs because I was one of those youth myself," he adds. "So, I know the kids that are in need and we like to help them." He has fostered this feeling of community so much so, that many of his customers donate gift cards and other items to youth at Christmas as well.
You are welcome to bring anything you wish with you for game night. Aside from bringing your own games to share, you can bring your own food and drinks, or maybe blankets and a pillow, etc. All ages are welcome, including the parents! "Many parents come the first time, just to see," says Tim. "But after they see what are doing, they don't come again." It's a night off for parents, who can relax knowing their kids are safe. "When they are in my store, I treat them like my own kids." Tim makes sure that no one under 18 leaves his store during the game night without parental permission. "I have to talk to them in person or on the phone," he says.
Make it all night? Those who make it all night and stay up are rewarded with a free all-day gaming pass! For more information, call PLAYLive Nation at 360.515.0746 and follow them on Facebook. Sometimes it feels like safe places where people can have fun and relax are getting harder and harder to find. We have a gem right in Olympia with PLAYlive Nation. Go play.