In movies, golf and country clubs are too often presented as stuffy retreats where golfers puffing cigars do nothing but play 18 holes before relaxing over a three-martini lunch. But at Olympia Country & Golf Club (OCGC) nothing could be further from the truth. Sure, they're home to a top-tier championship green sprawling over an emerald 6200-yard course but that's just one draw. This family-friendly destination spot in Olympia also offers 5-star dining; fitness classes; pickleball tournaments; an outdoor pool; stunning water and mountain views; and a fully stocked game room that's perfect for your next party, hang-out or get-together.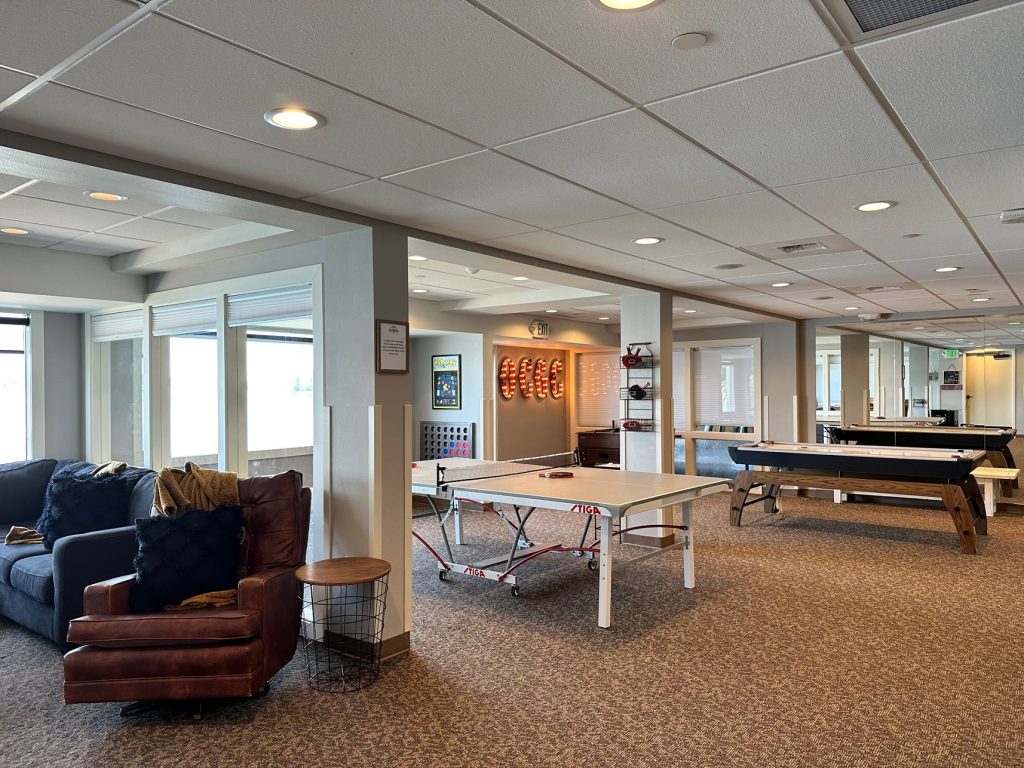 Family-Friendly Activities in Olympia
Looking for family-friendly activities in Olympia? The Olympia Country & Golf Club game room is now open and has the funky, rec-room vibe you always dreamed of. Couches and recliners overlook Puget Sound in a room decked out like every kid's Christmas list. There are video games; air hockey and foosball tables; large flat-screen televisions; card tables; and both oversized and tabletop games. From Pac-Man to a giant Connect 4 with disks as big as your palm, there's something for everyone.
The game room is adjacent to the Club's fitness center facilities so get in your steps and reps then recoup while watching the big game. They've already hosted a Seahawks viewing party and the space can even be reserved for upcoming birthdays. Reach out to the events and catering team by calling 360.866.7121 ext. 203 and leave all the planning to them. Food, drinks, linens, silverware, set-up, tear down, they'll handle it all for your family, group, club, team or activity.
More Activities at Olympia Country & Golf Club
It's easy to plan the perfect day at OCGC all summer long. First, hit up the on-site Pro Shop and make sure your equipment and gear's up to snuff. On Mondays in the fall and winter, the golf course opens at 11 a.m. and in the summer at 12 p.m., Tuesday through Friday it opens at 8 a.m., and on the weekends at 7 a.m. Enjoy private golf instruction then a round or two with friends before grabbing a bite to eat.
For those with a busy day ahead, call in an On the Go snack from the Terrace on the Green lunch window or #8 tee box. They'll have your order waiting when the game is done. But why rush? Terrace on the Green is open from 11 a.m. until 8 p.m. Tuesday through Thursday and until 9 p.m. on Friday. On Saturday mornings they open at 8 a.m. for early risers and dinner is offered until 9 p.m. as well.
The restaurant provides fresh, seasonal entrees, rice bowls, flatbread pizzas, tasty bar food like chicken wings and nachos, and even has a kid's menu for the littles.
Enjoy Swimming at Olympia Country & Golf Club
After you've eaten – and taken a few minutes to digest maybe out on the patio enjoying the stunning views – it's time for swimming or basking poolside. Overlooking Budd Inlet, the Club's outdoor pool is open from 11 a.m. until 8 p.m. on that classic summer schedule: Memorial Day through Labor Day. OCGC's pool is one of only three non-residential pools in the county and the ideal way to cool down when temps rise.
For the true water bug, OCGC has a private dock and waterfront beach. Arrive in style with your boat for a day full of fun or call 360.350.0929 and order to-go treats from Terrace on the Green.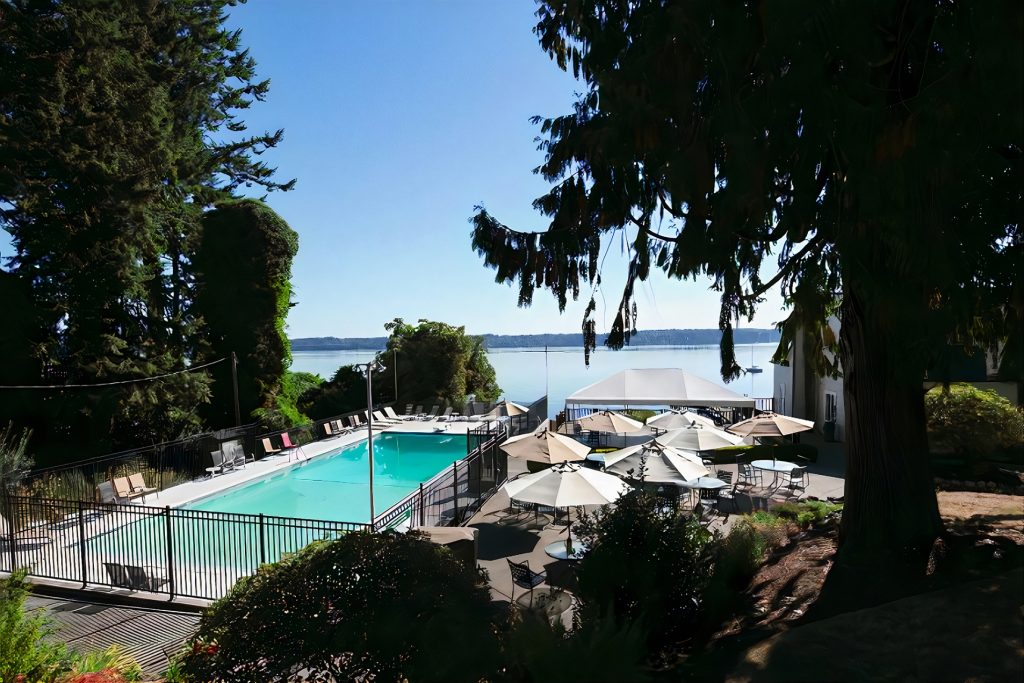 Olympia Events Keep You Busy and Connected
Check out the Club's monthly events calendar to design a perfect visit from start to finish. In a typical month, organizers schedule weekly family dinner nights on Saturday evenings and brunches each weekend morning. During the week there are globally inspired dining specials like Italian Night and Tour of Mexico.
Print out their 2023 Annual Events Calendar to track bingo or family game nights, live music, seasonal kick-offs, festivals, lecture series, sports tournaments, fundraisers and even visits from Santa himself. Events are also posted to Facebook and Instagram.
With membership options for golfers, non-golfers, prospective golfers and folks simply looking to build a social network of new friends, there's sure to be a tier right for you. For questions, information, or to schedule a tour simply email CEO Josh Bridge at josh@olygolfclub.com or call 360.866.7121 today.
Summer in the Pacific Northwest is spectacular and not to be missed. And for local die-hards, it begins as soon as it's daylight past 7 p.m. Whether athlete or foodie, retired or family with kids, Pilates-buff or game room junkie, there's something for everyone at the Olympia Country & Golf Club.
Sponsored