It's time to celebrate all those fathers, grandfathers, uncles, and father figures in our lives! Looking for things to do for Father's Day in Olympia? It will be here before you know it – it's Sunday, June 18, 2023 – so plan your weekend now for a couple days of fun with the favorite men in your life! Here is a list of Father's Day activities in Olympia and throughout Thurston County.

Layered DIY Father's Day Gifts Sip and Create
June 10: 4 p.m.
Sandstone Distillery
297 Sussex Avenue W, Tenino
Want to make something for dad before Father's Day? The Sandstone Distillery is hosting a DIY Sip and Create. During the session you will create a 12-inch layered tree of life or "Dad's Garage" sign that will be perfect for that special father-figure in your life. The instructor will walk you through each step. Get ticked on Eventbrite.
Father's Day Festival
June 17: 10 a.m. – 4 p.m.
WET Science Center
500 Adams Street NE, Olympia
The WET Science Center is having a Father's Day Festival on June 17. The lively carnival will include games as well as make-and-take art projects such as award ribbons and a handmade card.
Burgers and Brews: A Drag and Burlesque Dinner Show
June 17: 7 p.m.
Wild Man Gastropub
414 4th Avenue E, Olympia
If you are looking for a fun night out for the adults to celebrate dad, check out "Burgers and Brews: A Drag and Burlesque Dinner Show" at Wild Man Gastropub. It's a fun and unique way to spend Father's Day in Olympia.
Cars & Coffee
June 18: 9 a.m. – 12 p.m.
130 Marvin Road SE, Lacey
Have a dad who love cars? The Café Elite Cars & Coffee group meets every first and third Sunday of the month, meaning Father's Day happens to be one of their meet-ups! Why not take Dad for some coffee and great conversation about one of his favorite subjects? All makes and models are welcome!
Olympic Air Show
June 17-18, 2023
Olympia Regional Airport
7637-A Old Highway 99 SE, Olympia
The Olympic Air Show is always a great choice for a fun event for the entire family on Father's Day weekend! If your dad loves history, old planes or cool aerial shows, this is the place to visit! Have your own plane? You can fly it to the show! Call 360.754.4043 for more information. They also recommend bringing your own chairs. They will have food and beverage vendors as well as earplugs for sale.
Fishing Expo
June 17-18
Thurston County Fairgrounds
Does dad love fishing? Head to the Rods & Reels in Need Fish Expo happening Father's Day weekend! Find over 40 vendors, plus boats, food trucks, a beer garden and a kids trout pond. It's a great way to spend the day with dad while benefiting a charity.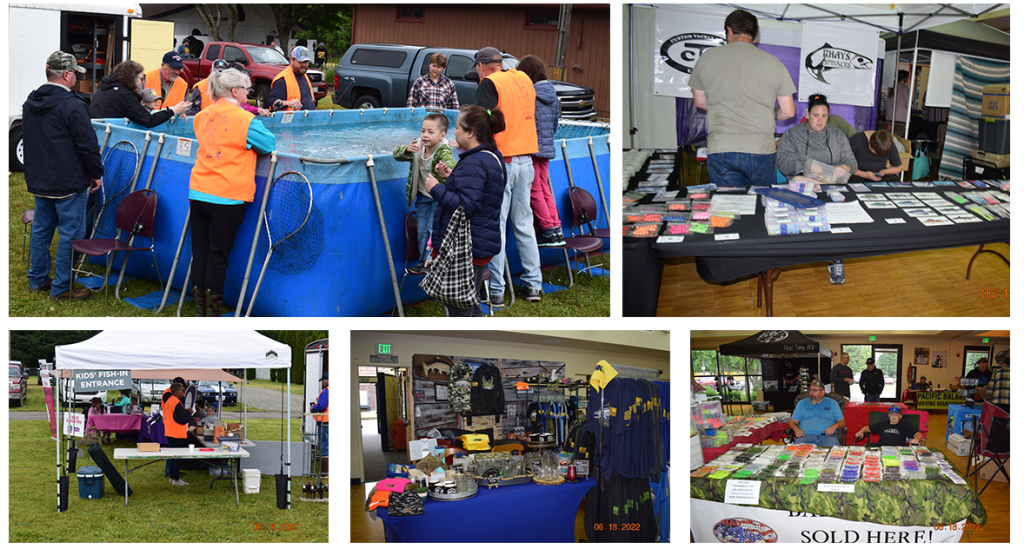 2023 Capital Pickleball Classic
June 16-18
Rainier Vista Community Park
5475 45th Avenue SE, Lacey
Have a dad that loves pickleball? Sign up to play with your dad, or just come and watch the fun! The Classic is put on by the nonprofit Thurston County Pickleball Club and will have women's doubles, mixed doubles and men's doubles, so all can join in on the fun! The tournament is a fundraiser for the club. Find out more and register at the Pickleball Brackets website.
Strawberry Festival
June 17
South Bay Grange
3918 Sleater Kinney Road NE, Olympia
The day before Father's Day is the South Bay Grange's annual Strawberry Festival. It's perfect for the dad who can't get enough of this sweet fruit – especially strawberry shortcake! Check out the vendors and eats your fill of Wagner's Bakery biscuits and Spooner's delectable berries. There will also be live entertainment and family-friendly activities.
Swede Day
June 17
Swede Hall
18543 Albany Street, Rochester Once again Swede Hall will be hosting their Swede Day on the same weekend as Father's Day. Spend Saturday in Rochester experiencing all things Swedish, including a parade, lunch, vendors, entertainment and more. Join the parade and see the full schedule when it's available at the Swede Hall website.
Father's Day Barbecue & Golf
June 18
Indian Summer Golf & Country Club
5900 Troon Lane SE, Olympia
Indian Summer is having a Father's Day barbecue featurting ribs, brisket and all the sides you expect with this summertime meal. They are also having a 2-for-1 golf special. Play a round of golf at Indian Summer on Father's Day and receive a 2-for-1 complimentary coupon to play again this summer. Book your tee time here.