Tiffany Jones' Athena Fitness and Wellness is on a mission to redefine feminine fitness. The Olympia gym is where women go to get strong in mind and body in a space that gathers as a community to support one another in their journeys and practices of whole-body health.
Having faced her own health issues, Jones sought solutions that led her to nutritional therapy, which changed her and her family's life. Already a certified personal trainer, Jones' health care quest was the catalyst that shifted her instructional focus to nutritional therapy and fitness for adults. After 10 years of being an elementary school teacher, she shifted into teaching health and fitness to adults, and she opened Athena in February of 2020 as owner and operator.
Gym in Olympia Helps Physical, Mental and Nutritional Health Routines Stick
Exercising in a big gym with multi-story square footage, alongside dozens of strangers can be distracting for many people and can result in healthy goals being dashed. Finding comfort and a community to connect with are key elements that often make people want to return and work out a second and third time. Smaller scale gyms like Athena allow people to get to know one another and work out in a welcoming space.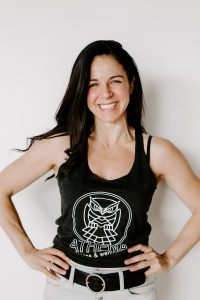 Jones says the lasting friendships that people make require three things: positivity, frequency and intimacy. Athena supports all three. High energy, positive, group workouts bring people together. More than 11 programs and a range of scheduling allows for frequency. Being in a space where one can feel safe and accepted, and share those moments with others who are likeminded, provides intimacy.
"Here we are doing things really differently," Jones says. "You will see no scales, no tapes, no body fat calipers. You will never hear language that is related to becoming smaller or losing weight because we also know those don't' stick. There is going to be no talk of dieting."
Athena Fitness Offers Halotherapy, Nutrition, Massage and More
In addition to the physical mobility and strength training benefits that come with exercise, Athena also approaches health and fitness holistically. Trained and skilled staff support clients with massage therapy, health coaching and nutritional therapy.
One of the therapeutic options at Athena is halotherapy. Clients can relax in an anti-gravity chair, surrounded by a pinkish glow with salt on the walls, piled around their feet and circulating as microparticles in the air. The first of its kind in the South Sound area, the salt room provides benefits for many people with lung and skin conditions. Therapeutic time in the infrared sauna is connected to a long list of health benefits too, including anti-aging, muscle repair and stress reduction.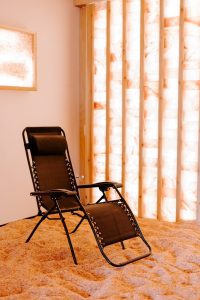 "In fitness culture," says Jones, "so much is focused on the movement without any focus on nervous system care or stress regulation, which I think is hands down, the most important thing for our overall health. Community seems like it shouldn't be related to our wellness, but the number of connections we have is turning out to be the most important indicator for longevity, and that's what Athena is about."
Communities of Small or Large Group Classes for All Levels
Because of the connectivity factor, small group, cross-fit style classes top out at 16 participants, where people can get to know one another. Strength training is an effective way to maintain bone strength, so it's no surprise that heavy lifting with Olympic barbells is by far the most popular activity.
Classes such as Bodypump, 30-minutes of light to moderate weight repetition with music, one-hour Bodycombat with stress relieving punches and kicks or the Sprint session on indoor bikes use Les Mills designed workouts. Another, Bodybalance, is a low-key, centering, combination of yoga, Tai Chi and Pilates that provides an opportunity for beginners too. Yoga, Pilates, Zumba, larger group or small, beginner or experienced, options are plenty.
Changing the Image of Healthy Bodies at Athena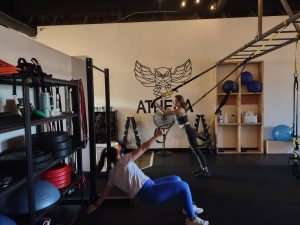 A big difference at Athena is the refreshing focus on accessible, healthy fitness goals, appropriate to the needs and abilities of the individual person.
"Traditionally, fitness was about body shaping," Jones says. "Women worked out to become thinner. Strength wasn't even a large focus for women until very recently. That's what fitness was. It wasn't for us. It wasn't for our health and our longevity, our heart, our mental health, which is one of the number one reasons people are working out right now. It was to change the shape of our body, usually not in a healthy way."
An owl mural on the wall meets people at the start of their workout. Symbolic of Athena the Roman goddess of war and wisdom it represents the attributes practiced at the gym: knowledge about healthy practices and an atmosphere of gaining strength. At Athena Fitness and Wellness, women, and men, take on a bit of the Roman goddess's strength and wisdom together as a fitness community. Learning to love one's body and making a practice of strengthening the physical and mental prowess required to face the world and its challenges are perhaps what the goddess Athena would have done.
For more information, visit the Athena Fitness and Wellness website.
Sponsored