St. Patrick's Day, which commemorates Ireland's patron saint, has a long history. It was increasingly seen as a community holiday and a chance to celebrate everything Irish. Here is a peak into Olympia history and how St. Patrick's Day was celebrated at the turn of the 20th Century.
Irish in Olympia
While people from Ireland had immigrated to the United States since before its foundation, numbers skyrocketed during the 1840s Irish Potato Famine and its aftermath. One of the largest immigrant groups in the 19th century, many Irish and their descendants came to Olympia.
"Evidence that Olympia contains a few loyal Irish supporters," noted the Morning Olympian concerning St. Patrick's Day in 1925, "was noticeable about town…in the wearing of the green—neckties, socks, bows and shamrock boutonnieres" by everyone from laborers to businessmen. Women put green ribbons and bows in their hair, sometimes leading to shortages at local stores. Even Lucky the police station dog sported a green ribbon in 1910!
It became popular for non-Irish to wear green too. "It makes no difference whether a person is Irish or not," reported the Morning Olympian in 1910, "everyone wears green on St. Patrick's Day, for it has come to be observed in all parts of the country because the Irish never forget it."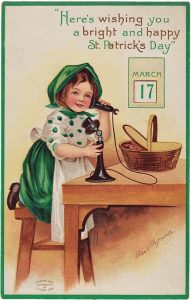 St. Patrick's Day as a Catholic Holiday
St. Patrick's Day is a religious holiday as well as a secular one. St. Patrick was a common topic for Catholic sermons near the day. Churches also raised money for charity through tag sales on the holiday. In 1912, Catholics throughout Puget Sound sold shamrock badges to support an orphanage at Orillia.
Catholic schools observed the holiday. St. Martin's College (now University) held regular musical programs. In 1922 students performed 14 Irish songs on the school's radio station, KGY.
St. Patrick's Day Dancing and Music in Olympia
A popular way to celebrate St. Patrick's Day in the area was with dances as dancers dressed in green enjoyed Irish music in halls bedecked with shamrocks and the color green. Catholic organizations sponsored dances, such as the Order of Foresters, who organized a grand ball at the Lobby in 1905. The GAR Hall was a popular spot for dances as well.
Olympia High School students secured O'Brien's Hungarian Band to play at an informal 1905 dance there for Aflockofus Club. The Tumwater Club was another popular dance location. The Elks held several St. Patrick's Day dances there as well as the United Brewery Workers.
Ireland has a strong musical tradition and music was an integral part of St. Patrick's Day celebrations. Sometimes groups like the Comedy Club would hold public performances. In 1906 they entertained a crowd at the Armory with singing "Keep Your Feet Warm in Irish Rags," performing clog dances and playing the lilt.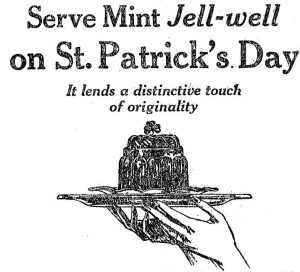 St. Patrick's Day Parties in Olympia
Groups also turned their regular gatherings into a chance to celebrate St. Patrick's Day, particularly women's clubs. In 1907 the Eenati Club held a St. Patrick's Day party. The hostesses wore green aprons and served green ice cream adorned with miniature Irish flags in a room decorated with green candles and Irish flags.
In 1911 the Friday Afternoon Bridge Club celebrated with an Irish makeup contest, green room decorations and a centerpiece made from a head of cabbage, and little green painted pigs as seating place cards.
It was also a popular theme for birthday parties. At her fourth birthday party in 1899, Irene Harris' mother awarded a cakewalk winner with a green souvenir bag while guests got emerald balloons at Maxie Bowen's eighth birthday in 1920. In 1912 Beatrice Kearney's friends gathered at a festive luncheon table decorated with green snakes, tiny flags and daffodils.
Was St. Patrick's Day a Political Holiday?
With the promise of Home Rule in Ireland, the holiday took a more political tone for Irish far from the land of their birth. In 1909 the state legislature considered making it a state holiday, though local reporters considered it more of a joke and it did not pass. In 1913 Governor Lister signed 17 bills to honor the day. An "enthusiast" even attempted to fly a green flag from the state capitol.
In 1914 community leaders held an elaborate banquet at the Kneeland Hotel to celebrate the coming of Home Rule. Among toasts, they honored the many contributions of Irish immigrants to America and promised to celebrate Home Rule again next year.
That did not happen. World War I broke out only months later and Home Rule was cancelled. A violent guerilla war broke out and in 1920 the Republic of Ireland became independent, while Northern Ireland remained part of the United Kingdom.
St. Patrick's Day is for Everyone
As the Irish became an important part of American society, St. Patrick's Day emerged as a universal holiday to celebrate all things Irish and their contributions to their new home. "Today is St. Patrick's day," concluded the Morning Olympian in 1896, "and there may be seen the usual display of green ribbons on the street. Under the spell of the sun's warm rays, the landscape is becoming verdant enough to please any son of Erin."