In high school, extra- and co-curricular activities achieve more than just burning off youthful energy. The Department of Education explains that they are a real-world way to bring classroom education to life, turning academic skills into hands-on learning. At Lacey's Pope John Paul II High School, a whopping 93% of students participate in co-curriculars that benefit themselves and the community as a whole.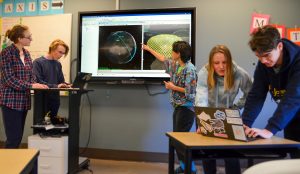 With a mission to develop young men and women who are intellectually strong, spiritually alive and committed to the service of others, JPII's faculty, coaches and club moderators are always finding ways to empower students to be leaders, says Director of Advancement John Grossman.
Private School in Lacey Offers Choice, Leadership and Learning
Grossman goes on to explain that many of the school's clubs are started and co-lead by students. Club participants and officers are even invited to give presentations during the day relating classwork and co-curricular activities.
One such group is the Future Business Leaders of America (FBLA). Advisor and JPII Business Manager Monica Davis says that with 35 current members – or one third of the student body – they are able to seek out students that have leadership potential and challenge them to lean into it. "We encourage students to step into leadership positions for FBLA, Associated Student Body, National Honor Society, athletics and various other clubs at the school and it is amazing to see them step up and succeed," she adds.
"I think student participation is important for time management and personal growth," Davis continues. "The students learn how to manage their time between academics and other activities. In addition, the students learn to use and expand their skills in areas that they did not realize they could excel. My favorite part of advising these students is watching them grow and shine. Sometimes they even surprise themselves with how well they perform – whether it is sports, a business presentation, or being the emcee at our Gala. These are skills that they will use throughout their lifetime."
Opportunities for Student Growth at High School in Lacey
Pope John Paul II High school junior Marina Salvador is a cross country and track and field athlete. She also participates in FBLA, Knowledge Bowl, Green Club and Multicultural club; is the Baking Club activities director, Speech and Debate activities director, NHS president, Sana Mente president and co-founder; a member of the Campus Ministry team; and a student ambassador.
Salvador has accomplished all this despite starting her JPII career during the restrictions of COVID-19. Salvador quickly found that everyone at Pope John Paul II High School in Lacey is incredibly welcoming and kind. "I feel like I can connect and reach out to anyone and feel understood," she says. "This school has a different environment that brings out the best in each individual, student and staff. The people within this school care about one another and we form a family in our community. I know that every single teacher here truly cares about the welfare of the student and wants us to all reach our God-given potential."
Beyond traditional sports and clubs, Pope John Paul II High School students are required to provide community service hours as well, including a whole school day of service. Salvador agrees that grades and classroom work come first but co-curricular activities offer you something that homework can't: relationships. "Being a part of something adds value to your high school experience," she adds. "And it is very important to put yourself in uncomfortable situations because that is how you can grow. In doing other activities you can explore something that you are interested in, whether it be chess, science, the environment, anything! The clubs are there for you and being a part of them or leading them benefits you and the people around you. It is a great way to expand yourself while pursuing something you are passionate about."
High School in Lacey Empowers Students to Succeed
Tracy Russell, M.D. is a member of the Pope John Paul II High School science faculty, assistant coach for both cross country and track and field, and faculty advisor for the STEM club and StellarXplorers aeronautics team. She says that students are empowered to try new things. "Every student is encouraged to try a sport and an academic club," says Russell. "There is much less pigeonholing than I have seen and heard about in other schools. JPII students believe they can try anything, and they do. We believe it is important for students to try a variety of activities in order to understand their community and to grow into well-rounded people."
Activities like the StellarXplorers. This aeronautics competition program is sponsored by the Air Force Association. Teams of students work together solving real-life problems like designing orbits for satellites; providing 24/7 monitoring of a volcano; designing a satellite to meet a client's mission; and designing a launch vehicle to deposit multiple satellites in their appropriate orbits. "Our StellarXplorers not only learn astronautics, problem solving, and how to work as a team," says Russell, "but they learn how to run a team efficiently and persist despite setbacks."
Want to learn more about Pope John Paul II High School's many classroom and co-curricular offerings? Grossman is always happy to answer questions or schedule a tour any time. Simply call 360.438.7600 or email jgrossman@popejp2hseagles.org. Then kick off your student's journey building a strong, supportive and well-rounded student life.
Sponsored