Finding the right gym or yoga studio that fits our needs and schedule is important. When starting or adding to an exercise regimen, options, support from others and accessibility make it easier for us to get, and stay, involved. Take a look at this list to find where to workout near Olympia, including gyms and yoga studios in Thurston County.
CrossFit Olympia
503 Cherry Street SE, Olympia
360.870.7995
CrossFit Olympia is located in a convenient downtown spot with an open and airy workout space. Newcomers can sign up for a free week of classes to try it out. CrossFit activities include weightlifting, conditioning and plyometric movements as part of the functional fitness philosophy. Memberships are available with discount opportunities for first responders, city, county and state workers as well as families and students. A CrossFit approach to exercise is popular for its adaptability to all fitness levels and constantly varied movements that can be scaled and modified to meet individual needs.
"I think it's 100% community, being around like-minded people," Juanita, owner of CrossFit Olympia, says. "The hardest part is starting, and it's hard to do it alone. In CrossFit you see the same people each day and get to go through it together."
Firefly Yoga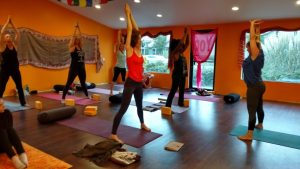 4450 Pacific Avenue SE, Lacey
212 Tumwater Boulevard SW, Tumwater
360.480.7917
If you are not sure where to start with yoga, that's alright. Firefly Yoga offers classes and cost options that provide people with choices. Offering two locations, participants can drop in, book a private session, join a group session, try the newcomer special or sign up for a membership.
"There are many classes for people of all ages, sizes and genders," Firefly Yoga co-owner and instructor Lisa Cosmillo says. "Classes range everywhere from a gentle class where you sit in a chair, called Yoga with a Chair, up to challenging classes that will have you catching your breath. There are different levels for all different types, and you can start at any place in your life." Firefly also has yoga props, but participants can bring their own if they wish.
Fitness Ablaze Training Center
2855 RW Johnson Boulevard SW Unit C, Tumwater
360.644.1716
Fitness Ablaze Training Center is encouraging and inviting with the message that no experience is necessary to join. The training center offers group classes; semi-private instruction among a group of five; and the option to schedule time with a personal trainer. Programing also includes athletic performance training for teens and youth. Activity varies with each program and can include cardio and conditioning, body weight movements or using barbells and kettlebells. Consult Fitness Ablaze about workout guidance for exercising off site or learn more about how to meet your nutrition needs.
True Self Yoga
2727 Westmoor Court SW, Olympia
360.830.6556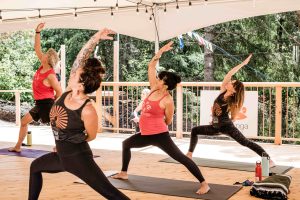 Husband and wife owned True Self Yoga offers a wide variety of classes and styles, private sessions, and membership perks at their unique facility. In addition to different heated and unheated classes, the studio has prenatal and postnatal yoga, family yoga and more. Four different studios include an outdoor Surya studio and their salt room with an illuminated wall of Himalayan Sea salt. New students who are Washington residents can take advantage of a one-time special offer to try unlimited classes for one week.
"I encourage them to take two or three different classes and instructors," says True Self manager and RYT-200 yoga instructor Laura Deaton, "to experience as many modalities as possible, to find what speaks to them, their individual needs and their unique bodies."
For after class, showers are available in the ladies locker room. Additional services include lactation consulting, skin care and the locally-sourced Rainbow Cloud Café offering quick snacks with vegan and gluten free choices.
Stone City Farm Goat Yoga
13941 Old Highway 99 SE, Tenino
360.464.3928
If you are looking for a fun variation to yoga in the summer months, Stone City Farm offers yoga classes with baby goats. A drive into the southern part of Thurston County to a working farm adds a peaceful element. Young people 12-years-old and up can attend with you. No need to bring a mat. They are provided for the one-hour session.
Rainier Functional Training Center
304 Washington Highway 507, Rainier
360.960.1793
No need to drive into a big town to go to the gym if you live in southern Thurston County. A range of membership types are available at Rainier Functional Training Center. Senior and limited mobility classes, group classes and personal training all provide opportunities for working out at different comfort levels. Strengthening and conditioning, high intensity interval training (HIIT), spin classes and kickboxing, are among some of the class options.