Newton Jessie Aiken played an important role in the story of Olympia education. Before his long-lasting career as an economics professor at Washington State University, Aiken served as principal of Olympia High School from 1910 to 1918. He oversaw a period of great growth in the school's history.
Early Life of Newton Jessie Aiken
Born on a Lane, Kansas farm on February 17, 1882 to Alexander and Alice Aiken, Newton moved with his family to Pullman at 17. He attended Washington State College (now University), working as a carpenter to pay expenses, earning a bachelor degree in history and economics. Aiken tried a year at Alleghany Theological Seminary in Pittsburgh, Pennsylvania but decided that teaching, instead of ministry, was his calling.
Moving back to Washington, Aiken taught history and English at Tekoa High School for a year.
Olympia High School
Aiken was selected Olympia High School's principal in fall 1910. With too few students to justify a full-time administrator, he also taught American history and civics.
In August 1911 Aiken married Grace Hays, the daughter of Reverend W.J.M. Hays. Hays had previously been pastor of the United Presbyterian Church of Olympia. The couple would have one daughter, Lucille (LaRue).
Aiken Makes Changes
During his time as principal, Olympia High School grew as more students began seeking a post-eighth grade education, with each class being larger than the last. Aiken tried to increase technical and practical education, even having demonstrations of tools and table settings at graduation ceremonies!
He invited local businessmen to speak to school assemblies, including State Tax Commissioner Thomas Horn to talk about thrift. Aiken served as a judge at school fairs and directed the 1914 senior class play "The Maneuvers of Jane" with English teacher Mary Diven. He also tried to improve the lives of students by starting an employment bureau to help students find work.
Aiken taught history, civics, economics, and pedagogy annually at Washington State College's annual Puyallup summer school (and at Pullman in summer 1913). He even camped at Maple Springs near Puyallup while teaching!
Dealing with Discipline
Aiken turned down an offer to be principal of North Yakima High School in 1914. But he struggled with student discipline at Olympia High School and was unpopular with some students who considered him overly strict.
But students kept overstepping boundaries. In May 1913 he cancelled an off-campus student picnic for not having enough chaperones. The students had planned to hold a private party. That same month, he disbanded the school's baseball team after six students had refused to abide by the team's non-smoking policy. Students were particularly mad because the team had won four of their five games so far that season.
In a more serious incident the following December, the editor of the Olympus Willis Blake, was chased from the YMCA to the crest of the Westside Hill, stripped and painted with iodine by a group of students. Aiken suspended five boys who were responsible, including athletes. Although it had happened off school grounds, Aiken wanted to stop hazing. In retaliation, students hung an effigy of Aiken in the tree by the east entrance of the school with a sign "We want a new principal" and another wall was graffitied with the word "Why?" The janitor took the effigy down but some students gave Aiken the "silent treatment" for the next few days.
In 1918, Aiken faced a student strike over a cancelled "loud sock" contest. Ironically, in 1913 he had been a judge of a similar contest, awarding the prize to the unfortunate Willis Blake.
Aiken's Community Involvement
The High School principal was active in the Olympia community. He was a member of the Euterpean Society, University Club of Olympia, Robert Grays Chapter of the Sons of the American Revolution and served on the educational committee of the Olympia Chamber of Commerce. He helped form educational programs for local Sunday School teachers and assisted in organizing athletics for local Fourth of July celebrations.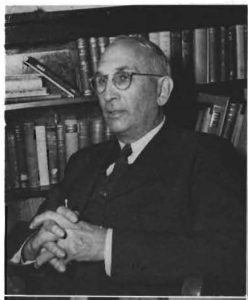 Aiken was especially active with the local YMCA, serving variously as a trustee, associate director, and recording secretary. He led a basketball team and also personally competed in their tennis club. He also led a Bible study for young men at the YMCA.
During World War I Aiken was on the food conservation committee of the Thurston County Council of Defense, serving on the subcommittee of town work with Goldie Robertson Funk, organizing garden plots in part of the city and school programs about canning and food preservation.
Washington State University
In 1918, Aiken joined the faculty of Washington State College. Here he found his life's work. Over time he served as assistant director of the Department of Elementary Science, acting director (and acting dean) of the School of Business Administration, a history instructor, head of vocational school, and an associate professor of economics. He taught classes on personnel administration and the economic history of the United States for many years. The active educator also directed the Placement Bureau for teachers. During World War II, he was a public member of the Seattle Regional War Labor Board.
Newton Jessie Aiken Legacy
Retiring in 1949, Aiken and his wife Grace moved to Vancouver where their daughter and her family lived. He was elected to the local city council in 1952, after voters approved a council-city manager form of government, but lost reelection. Aiken died on March 23, 1967 at the St. Jude's Nursing Home in Sandy, Oregon. He was 85.
Newton Aiken helped shape the development of education at both Olympia High School and Washington State University. He had a positive impact on many students.