Submitted by North Thurston Public Schools
For students experiencing unstable housing, transportation to and from school is critical to ensuring they get to one of the most reliable aspects of their lives. Given the fluid nature of these students' circumstances, some extra logistics and planning are involved. That's why the transportation department at North Thurston Public Schools (NTPS) works closely with a network of dedicated staff members looking out for some of the most vulnerable students in the district.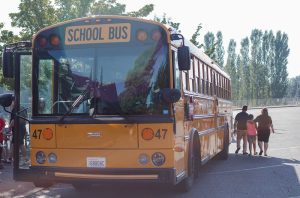 "This is about removing barriers," says Brenda McAferty, the district's McKinney-Vento and foster care liaison.
The McKinney Vento Act is a federal law that entitles preschool-aged and school-aged children experiencing unstable housing to certain rights. These youth are defined as "individuals who lack a fixed, regular, and adequate nighttime residence." They might be living in a shared housing situation, a motel or trailer park, a shelter, a car or a campground. They may or may not be living with a parent or guardian. There are over 650 students who currently meet these criteria in NTPS schools and the number continues to grow.
When a student's circumstances qualify them for McKinney-Vento services, the first objective is to keep them at their school of origin. "Changing schools can be a huge disruptor for a student's academic success and emotional well-being," says Brenda. "It's really important to keep their school setting stable during hard times at home." Continued access to familiar peers, teachers, and staff can offer a sense of stability when the rest of a student's world is uncertain.
"I view transportation as a bridge," says Garrett Kendall, the district's director of transportation. "We connect students to so much more than just a classroom. They get support from a nutritional standpoint, from a social standpoint, and from counselors that help them through mental and emotional stress." He acknowledges that this is the case for all students, but McKinney-Vento-eligible students often have an even greater need for these supports. "Every time we can help these students make a connection and keep a foundational piece of their life a little more stable, it's worth the extra logistics," Garrett goes on. "It's one less thing to give them stress and one more way they can stay connected to their peers and all of the supports we have in place to help them."
Lisa Niendorf, the district's lead dispatcher, is the master of tricky logistics. She plays a vital role in serving the transportation needs of McKinney-Vento-eligible students. Currently, about 130 McKinney-Vento students use the district's transportation services. They live as far north as Burien and as far south as Chehalis. Lisa has arranged trips as far west as Aberdeen. "The first option is to put students on a general education bus so they can be with their peers," Lisa explains. "If they're out of town, a driver goes out and picks them up first so the other students don't know where they are. It gives them some anonymity so they can go to class without feeling self-conscious."
After school, middle and high school-aged students who need long bus rides will often be bussed to the Boys & Girls Club in Lacey. This allows drivers to be at their scheduled elementary schools in time to work those routes. More importantly, it allows McKinney-Vento students to have a snack, socialize, or do homework in an environment with access to tutors. Around 5 p.m., four buses arrive at the Boys & Girls Club and students board the bus that will take them north, south, east or west toward home.
"We can't overlook the importance of the bus drivers in this conversation," Garrett emphasizes. He and Lisa share anecdotes about district bus drivers who bring their riders jackets when it gets cold. One bus driver even brought a McKinney-Vento student a guitar she was no longer using because the student talked so much about wanting to learn how to play. The drivers also play a vital role in helping the district identify students who might be eligible for McKinney-Vento services.
"Our drivers are often the first and last eyes on the students each day," Brenda explains. She tells the story of a driver who noticed a young student running to a car parked behind a church when she got off the bus. The student's family had been evicted and was living out of their car. Using the easy reporting tools the district has in place, the driver was able to help connect the family to essential services and the student to McKinney-Vento protections.
Whether it's coordinating transportation logistics in partnership with another district or supporting bus drivers and other staff with training that empowers them to proactively serve students facing unstable housing, NTPS is dedicated to supporting every child in the community.
If you want to be an important part of a student's life, consider becoming a bus driver for NTPS!
Sponsored