If you thought you heard a buzz lately about a new arcade that will be opening soon in downtown Olympia, you would be right. That's because Legends Arcade owners Patrick and Christina Costelo are busy buying new and retro arcade games, obtained a snack bar license, and are hard at work to refurbish space for their new business in the historic Olympia Press Building.
The arcade's grand opening is yet to be scheduled, but the Costelos say stay tuned. They hope to have a ribbon cutting in February or shortly thereafter. Meanwhile, there's lots to look forward to, so plan now.
"Everybody is stoked for this to open," says Ruby Santana, local gamer and a member of the Legends Arcade inaugural team.
New Arcade in Olympia to Provide Fun for Families and Adults
The Costelos are a husband-and-wife duo who began taking steps in 2022 to open an arcade. Patrick is a competitive foosball hobbyist. He initially was looking to launch a foosball club and then Christina expanded the vision to an arcade. She says she saw that while the Olympia area has much to offer, it could benefit from even more family-friendly entertainment.
"We are passionate about board games, video games and all kinds of play," adds Patrick. "We always wanted to start something like this."
"Prior to the pandemic we did a lot of driving up to Tacoma to go to arcades with our two boys," he says. "It was a lot of bonding. It was remiss that we didn't have something like this locally."
With both new and nostalgic games, the arcade will be geared to providing family space as well as grown-up time. The arcade will be open afternoons and evenings Tuesday through Sunday, with additional daytime hours during school breaks. And, after 9 p.m. is set aside for folks 21 and over.
"We were talking to a bunch of people who were asking, what is open past nine?" says Patrick. "And a lot of service workers get off their shift and the only thing to do is to go to a bar and have a drink. Here, you will be able to go to a bar and have activities, and also have a drink."
Santana says this model is attractive. "That's what's really cool – their idea behind the place is that young folks and old folks can have a good time," he says.
Olympia Arcade Will Offer Games, Tournaments and a Gathering Space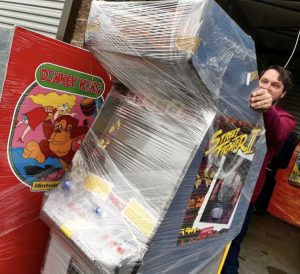 The business will feature more than 50 arcade machines, skeeball, foosball, air hockey, pinball and leisure games, and a snack bar with canned beers, seltzers, ciders, juices, sodas, chips, candy and local goodies.
The retro games include The Simpsons, TMNT – Turtles in Time, Donkey Kong, Donkey Kong Jr., Ms. PacMan, NBA Jam, Mortal Kombat III, Tekken 3, X-Men and more. Modern games will include Golden Tee 2021, Minecraft Dungeons, ReRave, Crazy Taxi, Golden Tee and more. The Costelos also plan to hold tournaments in foosball, pinball and a rotating featured arcade game.
"We also hear about tabletop gamers needed a place to play," says Christina. "We will be filling that need hopefully as well. We will have to see who comes through the door."
And for a get-together, you can reserve the entire arcade. "People will have an opportunity to rent out the whole arcade," says Christina. "We anticipate it being a popular event space, especially with state workers and people looking for something to do with their team."
Legends Arcade Blends New and Old in Downtown Olympia
The arcade will combine not just new and retro games with young and older players. It will also weave together historic downtown Olympia with modern city-dwellers, visitors and gamers.
"We knew when we started that it had to be downtown," Patrick says. "Downtown is going through a great revitalization, with fantastic restaurants and condos."
The Olympia Press Building fit their location needs. Easily recognizable by its distinctive dark orange paint, the building has a long and rich local history as one of the more important downtown commercial structures. "In 1930, the Olympia Press Building, also known as the Olympian Building, was erected here, in Joseph Wohleb's iconic Mission Revival style," according to the Olympia Historical Society & Bigelow House Museum.
Building owner and Olympia Downtown Alliance Board President Todd Monohon says that the Legends Arcade will be a great addition to the Olympia Press Building, which also houses the Happy Hour Olympia wine bar, the Owl's Nest café and bakery, and the Olympia Hair Company salon. "Part of this was to reactivate downtown," Monohon says. "It means having a place where all people can feel comfortable, old and young."
To stay current on the buzz, see the Legends Arcade website and Facebook page for the grand opening at its 109 State Avenue NE location.