Parkside Elementary School in Tenino, is tucked safely near the trees, just off of one of the busiest highways in the state, Route 507. Each morning, the principal and teachers greet their young students at the gate, with a warm welcome and an even warmer smile. One of those teachers is Megan Dougherty, who greets each of her young students as they come into her developmental preschool classroom for the day.

Megan had a heart for the special needs community, long before she began teaching. "My initial interest in the world of special education was sparked by two of my uncles who were both significantly impacted by fragile-x syndrome," Megan shares.  "One of them was also diagnosed with autism. We were relatively close in age and my younger uncle and I attended the same high school."
In college, Megan saw the benefits and challenges students with diverse needs dealt with all the time. She decided to get her special education degree along with her elementary education degree, to teach in a traditional elementary school classroom. "However, my first teaching opportunity was in a special education classroom and I've never looked back," she shares.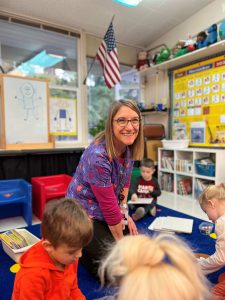 Over the last 20 years, Megan has always taught kids with special needs. She has taught every grade except seventh and eighth. One year, she worked as an Educational Specialist, training and supporting other special education teachers in the district, but as much as she loved sharing her passion for teaching, she missed the kids more.
Parkside Elementary Teacher Supports Students with Special Needs
Megan returned to the classroom at Parkside Elementary, teaching kids with special needs. She is back in her happy place, pouring all her wisdom and experience into the most vulnerable kids in the school system. "My favorite part of teaching is helping students and families figure out what's needed for our kids to succeed," she says. "They thrive and grow in ways you just can't even imagine. It's what their brains were meant to do, and they do it well when they have what they need."
Megan will attest to the fact that all children, but especially those with special needs, thrive in a structured and predicable environment. This is key to how she structures her classroom routines and keeps it as consistent as possible. Preschool starts the moment students arrive., They learn to manage their own belongings by unpacking their own backpacks into their cubbies, taking off their coats, and then check in by answering the Question of the Day.
They follow a sensory path through the classroom to the sink for hand washing and then join their peers for free play. Handwashing, toileting and sharing a meal with others are important life skills that are taught through modeling, prompts and support. For meals, students all sit around the table to eat family-style, to engage in peer conversations, while learning independence skills such as opening food packages; opening a milk carton; asking for help if needed; and cleaning up after themselves.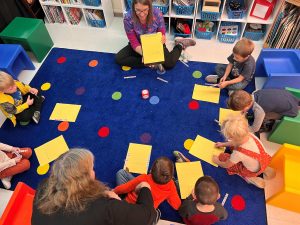 After bellies are full and minds nourished, Circle Time begins – where the bulk of direct instruction is given. The curriculum is adapted with the use of visual, verbal and gestural supports to help students understand their personal goals for each activity and allow time to practice individual skills in whole-group settings.
"She is so much fun to work with!" shares Erin Hanna, a paraeducator who works with Megan.  "She thinks of such fun ways to teach the kids new and interesting things. She makes learning a lot of fun for everybody."
But even more important, is Megan's leadership. "She encourages us to think outside the box," adds Erin. "If anyone has new ideas to try with the kids, she helps direct us in ways that everyone will be successful."
Tenino Teacher Supports Parents of Children with Special Needs
Megan knows it takes a village to raise any child, and so her teaching extends beyond the classroom to the parents and guardians of her students. "Working with families is my passion and being the first connection for some families is a privilege and an opportunity I am especially grateful for," said Megan.
"There are several things I think are important for parents who have kids with special needs," shares Megan.  "First, for many parents, it's helpful to get to know other parents who are also raising kids with special needs. They can be a resource and support as you learn about your child's needs, your cheerleaders to celebrate even the smallest of victories and they can help overcome the isolation that some parents feel when their child doesn't engage in the world the same way other children do."
Megan also helps to make sure parents know of resources available to them as caretakers of students with disabilities. "Children exhibiting delays can receive free support and services from birth right on through the preschool years and then right into school if it's still needed to support access to the learning environment," she explains. "These services are provided in partnership with the parents and are individualized for each child."
When asked about resources, Megan directs teachers and parents to search for early learning resources on the OSPI website. For parents, she also encourages peer to peer support, Parent to Parent of Olympia, Lewis County Autism Coalition, ADDitude Magazine, and for families struggling with especially challenging behaviors, she recommends Dr. Ross Greene books and resources.
Finally, Megan says to be an active part of your child's IEP team. "Ask questions, bring ideas to the table, engage in goal setting and help the team stay informed about your child's life outside of the classroom as it pertains to their learning and growth," she shares. "You are your child's greatest advocate and the team is not complete without your voice."