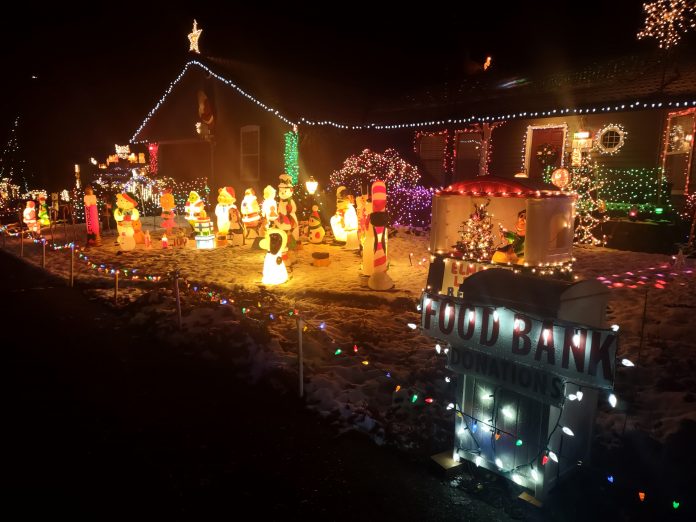 Grab a coffee or hot coco and get the holiday playlist going for a trip to see fantastic light displays. With plenty of variety from a low-key, vintage wonderland to intense light shows set to music, there is a lot of fun happening that will surely put you in the holiday spirit. Here is where to find 2022 Christmas lights in Olympia and throughout Thurston County.
Olympia
Candy Cane Lane at the Kelley Ranch
5410 66th Avenue NW, Olympia
Open now through January 1
Christmas Lights are on 5 p.m. – 10:30 p.m. daily. Enter at the Candy Cane Lane entrance to drive through or take a walk around the circular driveway to see Santa with sleigh and reindeer, an 8-foot snowman, a giant teddy bear, Nutcracker dancers, a nativity scene and more. Unique displays at Candy Cane Lane include the Dog Pound and the Kelley Zoo. Donations are accepted for the Thurston County Food Bank in a coordinated effort with the Griffin Fire Department.
2203 Park Circle SW, Olympia
Drive south on Black Lake Boulevard and turn right on Park Drive. The first cul-de-sac on the left, 2203 Park Circle SW, has a Santa sleigh with reindeer taking off from the roof, a giant glowing dog in the yard, along with a teddy bear toy soldier and many more characters. Continue on Park Drive up the hill to the corner of Park Drive and Silvan View Court SW to see a jaw-dropping, multi-color display of lights. Up the road just a few more houses, a glowing blue moon floats in the trees.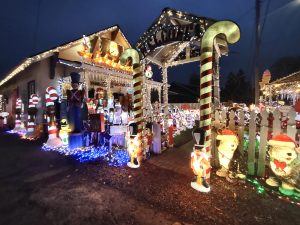 Wilson Street Winter Wonderland
424 Wilson Street SE, Olympia
Open now until January 1
The Wilson Street Winter Wonderland has Christmas lights on Monday through Thursday 5 p.m. – 9 p.m. On Friday and Saturday from 5 p.m. – 10 p.m. and Sunday 4 p.m. – 8 p.m. Santa Claus and the Grinch are present on Fridays, Saturdays and Sundays.
If you are looking for a walk around experience minus the flashing strobe lights and loud sounds, this is it. Park and walk in to see all the details included from 2.5 months of preparation. The lighted pathway takes visitors through dozens and dozens of illuminated vintage characters. See Santa Claus with his full team of reindeer and take advantage of photo opportunities with different backdrops. Drop a letter to Santa in the mailbox while you are there or make a monetary donation to the Thurston County Food Bank in the special red drop box. With an expected 5,000 visitors and the Christmas Cottage outback where visitors can buy ornaments and decorations, make a little extra time to visit and be careful to not block driveways.
Oly Lightstravaganza
1515 10th Avenue SE, Olympia
Open now until January 1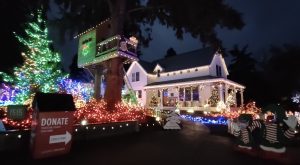 Oly Lightsravaganza has Christmas lights on for visiting from 4:45 p.m. – 10:30 p.m. daily. Park and walk up. Most of the scene is wheelchair and stroller friendly, but pets do need to skip this trip. Take photos with a backdrop, donate to the Thurston County Food Bank and walk through a tunnel of rainbow lights on the sidewalk. There are tons of lights, little pathways, many decorations and on select evenings, cider and cookies are offered.
Christmas Comics
1630 26th Avenue NE, Olympia
Take your vehicle through this circular drive and see painted character cut outs from Disney and Hanna-Barbera. See the Power Puff Girls and newspaper cartoon strip characters such as Dennis the Menace and Peanuts. Two minions stand by a sign that informs everyone lights are on from 5:30 p.m. – 9:30 p.m. through December 31.
2214 Nut Tree Loop SE, Olympia
Don't miss the Muller house on Nut Tree Loop, they have their property lined with light-up candy canes, a yard full of deer and their bushes covered in lights!
Hudson Street NW, Olympia
A family home is decked out for the season on this street. They have four songs that rotate with a light show, and four songs with static lights. Lights and songs run from around 5 p.m. to 9 p.m. Tune your radio to 106.7. They play a mix of Hanukkah, Christmas and Disney songs!
Tumwater
Drive through the Cove Loop neighborhood and Nut Tree Loop SE to see colorful holiday lights at multiple homes.
Just off of Log Cabin Road, take a moment to pause at 3625 Gainsborough Drive SE, hear the music and notice the wide variety of lit up characters. Cindy Lou Who, the Grinch, Santa, toy soldiers, a nativity scene, Elmer's Light Repair, a food bank donation box, snowmen and more stretch across the yard.
2109 Brookside Road SW, Tumwater
This house has gone all out and has a yard full decked out with lights of all colors and a large "Merry Christmas" above the garage.
Lacey
Epic Lights
4819 50th Avenue SE, Lacey
Open December 1 through January 7

With more lights than last year, nearly 34,000 lights are on every evening from 5 p.m. – 10 p.m. Visitors can hear songs synchronize with the light display by tuning to 107.9 FM on the radio. If you do not have sound in your vehicle, look for a sign that says, "For music, push button." From 9 p.m. – 10 p.m. the show is jukebox style with a public queue of visitor selected songs from the Epic Lights website.
Huntamer Park
618 Woodland Square Loop SE, Lacey

The City of Lacey has Huntamer Park decked out for the holidays with thousands of Christmas lights! THey've made it even more festive with songs and stories of the season. You can even pick up a pair of 3D glasses from Lacey Parks at Lacey City Hall during office hours for an even more spectacular view of the lights. More information can be found in this ThurstonTalk article.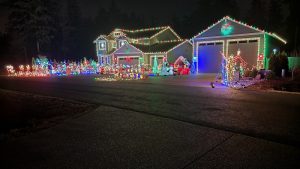 8135 52nd Ave NE, Lacey
The Wiatt home is lit up from 4:30 p.m. to 9:30 p.m. If you want to stop and take photos, do so on the right side of the street, past the house in front of the empty corner lot. They ask that no one walk on their lawn so they don't trip on the lights!
7140 Deerfield Park Drive NE
Count to see how many Santa figures, and then circle back to Marvin Road and turn on 50th Avenue NE to see a neighborhood in the holiday lights spirit with many houses lit up with blues, greens and purples. Icicle lights, motion lights outside and a unique feature are to be found everywhere visitors look.