Multitasking is a wonderful thing. We tend to think of it as juggling jobs when busy. Instead change your mindset to one of efficiency. Are you running the dishwasher, washing machine and making dinner in the crockpot? That's multitasking at its finest. Now up your shopping, dining and gift-giving games by swinging by the trifecta that is The Rolling Pin, The Park Side Café and their two on-site food trucks OlymPITA and Bobablastic.
One Stop Shopping and Three Stop Dining in West Olympia
If you're out and about early, grab breakfast and a drink at The Park Side Café. Open daily from 9 a.m. until 4 p.m., they're the perfect spot for a quick Covabrelli coffee and pumpkin chocolate chip muffin or sit down to belly-filling biscuits and gravy or a warm pizza hand pie. Their plant-based menu is locally sourced and showcases seasonal specialties.
Then head upstairs to browse The Rolling Pin, a haven for foodies, chefs (real and aspirational), hosts and partygoers alike. Their staff can help choose the perfect gift basket for any occasion or shop online with curbside pick-up for that how-did-I-forget? item needed to make Thanksgiving or Christmas dinner flawless.
The day's adventure doesn't stop there, however. As they say on TV: but wait…there's more!
Pita and Boba and So Much More on Olympia's Westside
Whether first-time or frequent shopper at The Rolling Pin and The Park Side Café, you may have noticed the two shiny food trucks positioned on-site, adjacent to the West Central Park. Bringing their tasty treats was a labor of love from shop and café owner Alicia Elliott.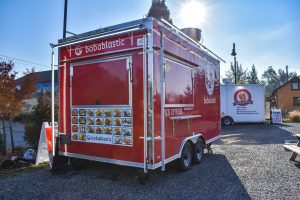 Bobablastic and OlymPITA are "part of the Café's footprint," says Elliott, who bought their space back from the West Central Park. Previous laws required food trucks to share the Café's kitchen, but those requirements were recently amended in the spring of 2022. Since May, she has provided electricity and water access, as well as on-site grey water drainage, to the two current food trucks and has room for one more. Want to add your truck to the team? Email hello@wcpnc.org for details and information.
With the addition of heaters under the park's nearby canopy, you can now snag a little pick-me-up on the go or sit down and enjoy a meal al fresco, surrounded by greenery and locally made art thanks to the Olympia Free Little Art Gallery. Like the eternally popular Little Free Library concept, the site welcomes visitors to create something to leave or take a piece home.
Putting out the Welcome Mat for Bobablastic
Bobablastic makes boba tea and drinks with the iconic tapioca-style pearls. They can produce more than 50 drink and topping combinations as well as an assortment of food. Hungry for comfort food like nachos and hotdogs? They've got you covered. Asian specialties like poke bowls, sweet and sour chicken, spring rolls and gyoza? Come on by. Prefer Mexican-style corn on the cob or sweet, crunchy churros? Yup, they make those too. Or just skip propriety and head straight to cheesecake, strawberries and bananas dipped in chocolate and topped with coconut, sprinkles or nuts.
Owner Jose Pineda worked in the food truck world for two years in Portland before settling in our area July 2022. "I enjoy working in the food truck industry due to the creativity of it," says Pineda, "every truck has its own unique menu and flavors."
Save Plenty of Room for OlymPITA
Pineda's neighboring chefs are Christine and Amier, the flavor-masters at OlymPITA. Their women- and Middle Eastern owned-truck makes items with plenty of vegetarian, vegan and gluten-free options from Amier's family recipes.
Pitas come loaded with falafel, grilled chicken or beef and lamb shwarma, with steaks purchased from Stewart Meats at the Olympia Farmer's Market. Likewise, their burgers come with beef or Impossible patties and hummus bowls, meal platters, kebobs, wraps and tacos can be made with an assortment of different fresh ingredients.
Moving from Washington DC to Washington state in 2019, owners Christine and Amier are proud to have turned their small business wish list into a bustling reality. Together they have more than three decades experience and locally source meats and sustainably farmed produce. Their spices even come from Amier's hometown of Nazareth.
Events, Activities and Seasonal Specialties All Year Round
Find out about all the comings and goings at West Central Park through their events and business profile pages. Updates on the park can also be found on Facebook and Instagram.
For the latest and greatest about the other spots, check out the Facebook pages for The Rolling Pin, The Park Side Café, Bobablastic and OlymPITA. The food trucks update their hours, specials and location changes—usually when feeding folks at festivals, sporting events, and community happenings—regularly, so check before heading out. Saturday Market at the West Central Park is scheduled to run from May through September in 2023.
Parking may seem difficult for a site anchored by Harrison Avenue and Division Street NW. But there's plenty just around the corner. There's a shared parking lot behind Phoebe's Pastry Café on Division, street parking on Cushing and an ADA accessible spot directly next to the Park Side Café. Then find your keys, wallet, phone and family and multitask all the way to the West Side's tastiest trifecta.
Sponsored