Each year, the agents and staff of the Greene Realty Group come together to grant thousands of dollars to local nonprofits through the Greene Giving Fund. One of the biggest beneficiaries of Greene Giving grants has been the Boys & Girls Club of Thurston County.

Parents looking for quality, after-school activities and supervision for their school-age children will find comfort in knowing that the Boys & Girls Clubs of Thurston County (BGCTC) offer safe places to study, build character and cultivate social-emotional skills. Thurston County opened its first branch in 2001, located on the Tumwater High School campus. Now, multiple locations stretch to nearly every corner of the county, from Yelm to Rochester to Tenino, in Olympia and Lacey, and out to Griffin School, supporting nearly 3,000 kids among them all.
Boys & Girls Clubs of Thurston County Locations
Tenino, Olympia and Griffin clubs are located inside school buildings. The Yelm, Tumwater, Rochester and Lacey clubs and the Raj Manas Activity Center are in separate facilities. Activities include creativity in the club art rooms, academic support through the Boys & Girls Clubs Get Good Grades (G3) tutoring program and just good old-fashioned socializing through games. Individual clubs have specialized activities such as gardening, family dinners and a running club.
"We see ourselves as an extension of the school day," says Chris Woods, chief executive officer of the Boys & Girls Clubs of Thurston County. "When the kids come with us, we're working on academics. We're working on healthy lifestyles, good character and citizenship, getting them active. We try to support our club kids academically and partner with the school districts so that we can make sure we are providing these kids with what they need. It might be intervention. It might just be homework support. It could be whatever they need to be successful." 
"We got better at support during the pandemic," Woods continues. "We stayed open throughout the pandemic, open full days for about a year and a half. We got even better at supporting the kids academically because we did a lot of that during the time they were with us. I think, carrying over to what is now our regular programming, we were able to take a lot of what we learned during the pandemic and apply that now." 
Homework, Games and Friends at the Lacey Boys & Girls Club
A recent visit to the Lacey club revealed joyful noises of conversations, shouts from the gym and walkie-talkie blips as the front desk attendant monitored who was going where and when. Energy and activity were found in each room. Kids were engaged with staff and other students, playing foosball, building with LEGOS, sharing an old-school video game and lining up in the gym for indoor playground games.
"It's all a really good time to watch them grow up and share their creativity with us through their amazing art, their song and dance and their story telling," says Leah Bradley, BGCTC Lacey branch director. "We plant little seeds of goodness and watch the kids grow."
In the teen room, quieter conversations circulated among older students over computer screens and from the cluster of comfy couches. One or two students took advantage of the low-key atmosphere to work on homework independently. Two elementary students practiced growing their social skills when parting at the end of the day. "Bye, bye! Have a good night!" one called. "You, too!" was the reply.
Affordable After-School Program in Thurston County
Making sure finances are never a barrier for families who want to attend, scholarships help fill in the gaps. "We don't ever want the cost of our programming to keep a child from being able to attend," Woods says. "We keep our costs very low." 
Support comes from community donations, sponsors and scholarships. A generous donation came in 2020 from the Bruno & Evelyne Betti Foundation to help children attend, cover costs and support graduates from the clubs. In June of 2022, BGCTC announced that the Betti Foundation Scholarship would be awarded annually to current and former club members who qualify.
Support the Boys & Girls Clubs of Thurston County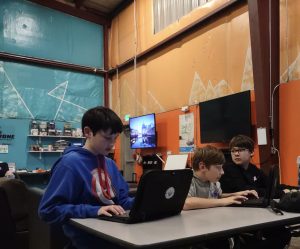 Options for giving to BGCTC are diverse. A big success was the Born to be Wild fundraiser at Saint Martin's University that included a dinner, an auction and a Panowicz Jewelers raffle prize. Donors can give their time as volunteers, get involved by sponsoring fundraisers, events or club programs or give through corporate matching. Donating goods or services such as school supplies, tickets to events that kids can go to, computers, art supplies or annual auction items can benefit clubs also. Shoppers can connect their Thriftway Community Rebate Program cards and Fred Meyer Community Rewards cards to regularly donate a portion from their purchases.
Volunteers, sponsors and donors help make access to clubs possible for kids, and the benefits to families and the community at large are significant. Boys & Girls Clubs promote academic success, good character, citizenship and healthy lifestyles. They do that by creating and staffing safe, fun spaces for kids to spend their afternoons and by providing access to opportunities and programs that lend themselves to learning those good habits.
To learn more about new developments and benefits of the BGCTC, watch the Greene Realty Community Story YouTube video showcasing the Boys & Girls Clubs of Thurston County above. To find a club, visit the BGCTC website and find current events on their Facebook, Instagram and Twitter accounts, or give a call at 360.956.0755.