On Capitol Way, about a half-mile southeast of the Washington State Capitol Building, are two folding signs. One reads, "Used Books – Open," with an arrow between "books" and "open." The other says, "Turtleman Used Books Open." The signs point to a small complex set back from the road where Turtleman's, a used bookstore in Olympia, just opened. Owner Murlin Varner says the signs are doing exactly what is needed. "I get people [who] come in and say, 'I've seen your signs for weeks, I thought I'd have to stop and look.'"
Where To Find Used Books in Olympia
What visitors find is a 900-square-foot unit filled with more than 7,000 books – definitely a legit place to find used books in Olympia! Some are in the lobby, some are in the fiction room and some are in the non-fiction room. Two other rooms, meanwhile, are filled with boxes of books that Murlin is still sorting.
Murlin opened Turtleman Used Books in August and says that while he's averaging two customers an hour and only about five or six sales a day, he's far from discouraged. "Business is beginning to grow, but like any business, you know, [I'm] not expecting to turn any profit in the first month, and definitely, it lived up to its expectations."
Bibliophile Opens Bookstore in Olympia
Murlin has always been a book afficionado, but owning a bookstore was not his lifelong goal. Rather, he saved all his books over the years in hopes of having a personal library, an idea spawned from the whodunits he loves. "A lot of the mysteries were the English-style mysteries where everything seems to happen in the library, you know, [a] big room with the fireplace, leather chairs and floor-to-ceiling bookcases. I always dreamed of having a house like that."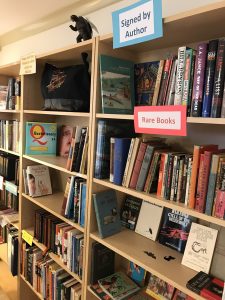 Decades later, after Murlin realized that his dream wasn't going to come true, he decided to sell the boxes of books that filled his home. He began putting his books online after retiring in 2018. Murlin says that while this was enjoyable, it wasn't enough.
"I did just over three years of just online, but you don't sell a lot of books that way … you sell a few every week, you know, it's not a big deal," Murlin says. "I wanted to try and make a go of something that I could actually make a decent profit, not just a few books here and there, and to do that, you have to open doors."
Why call it Turtleman? "Turtleman" is the nickname he earned while working on his master's degree at Middle Tennessee State University. His thesis required catching and releasing turtles so he could measure the population of several species.
It's a nickname he has fully embraced. Customers will find numerous turtle figurines and toys hiding on the shelves in his store.
Olympia Bookstore Opens
After deciding he wanted to open a store, Murlin had to figure out where it would go. Murlin and his wife, Laurel, have lived in many states, and were last in Burien, in King County, when they decided to look for a place to retire. They ended up in Tumwater, near some friends, and then Murlin began looking for a place to open his used bookstore.
The choice may seem odd. Turtleman Used Books is barely a mile from downtown Olympia, which already houses four bookstores and a branch of the Timberland Regional Library. Murlin, however, isn't bothered. "Olympia has enough used bookstores downtown. I'm not that far, but I'm enough far," he says with a chuckle. "A lot of people that walk around here don't actually walk downtown, 'cause you have to walk back uphill to get home again."
When Turtleman Used Books opened, Murlin had eight bookcases filled with books. That grew to 28 bookcases just three months later. Even those aren't enough to hold all his inventory and he hopes to add 10 more bookcases down the road.
Murlin gets his material at online auctions, estate sales, moving sales and from donations. Murlin describes going to a recent estate sale to acquire four bookcases. "I went in to buy the bookcases and they offered me a price for the bookcases and all the books… so it was like they threw the books in for free, which is how I ended up with 20 boxes of paperback books."
The store's offerings continue to grow. Murlin is still cataloging many boxes of books, some of which he is photographing because they will be sold online. He completes about 50 books a day.
The Future of Turtleman Used Books in Olympia
He wants to let customers exchange books for store credit, a common practice at used bookstores. Murlin says he will study other stores' business models to find the best way to do this.
One thing he won't change, though, is his approach to business. Murlin says he takes a hands-off approach, offering customers attention if only if they want it. "The bookstore is not the place where you sell books," Murlin explains. "You let the books sell themselves."
Turtleman Used Books
108 22nd Avenue SW, Suite 4, Olympia
206.200.5809