Beyond Thanksgiving and the traditional holiday season, November has several health awareness themes, including American Diabetes Awareness Month, COPD Awareness Month and Lung and Mouth Cancer Awareness Month.  One common risk factor among all these diseases is the use of tobacco products. Smoking remains the single largest preventable cause of death and illness in the world.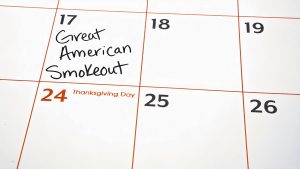 It also happens to celebrate the American Cancer Society's annual Great American Smokeout on November 17, 2022. For more than 40 years, this day has been used to encourage Americans who smoke to make a quit plan or documented plan to quit smoking. The Great American Smokeout provides an opportunity for individuals, community groups, businesses, health care providers and others to encourage people to initiate a smoking quitting plan on the day of the event.
Thurston County Public Health and Social Services data shows that in Thurston County, 9% of adults smoke cigarettes and 5% currently vape. However, we know from data that nearly half (46% of current Thurston County adult smokers) of the people who smoke want to quit and have tried to quit in the past year. Quitting is hard. It takes commitment and starts with a plan—usually needing more than one attempt—and requires a lot of support. Often, the younger you were when you started to smoke, the more intense the addiction. The good news is that our bodies start healing immediately after we stop using tobacco and we know that quitting provides health benefits right away.
Quitting tobacco is more than just throwing away cigarettes and calling yourself cured. This is because of the drug nicotine in tobacco products. Nicotine use over time changes how the brain works. When you quit using nicotine, your brain must get used to not having it. This can be difficult because many of our daily routines become linked to getting nicotine. It can take several tries to quit permanently but doing a few things along the way helps improve your chances of being successful.
When you quit, your body will undergo immediate positive changes. Within 20 minutes your heart rate and blood pressure will decrease, within 12 hours of quitting the carbon monoxide level in your blood drops to normal, and within a few weeks, your body's blood circulation and overall lung function will increase and improve.
Once you quit, your heart will be able to pump blood and oxygen around the body with less effort. Blood will be less likely to clot, reducing your risk of a heart attack, which is especially important for those who have other risk factors such as high blood pressure, raised blood cholesterol levels or are diabetic. Quitting smoking decreases the risk of lung and other cancers, heart disease, asthma and other chronic diseases. You may also experience fewer illnesses from cold and flu viruses, reduced rates of bronchitis and pneumonia and just feel better overall.
One of the best resources for anyone who is thinking of quitting is to talk with their healthcare provider. Your healthcare provider can help you explore options for helping you quit completely. A healthcare provider might also recommend Nicotine Replacement Therapy (NRT). NRT is a medicine that can make quitting less uncomfortable and helps you through the difficult times of withdrawal. Using NRT is much safer than smoking and has been found effective and safe by the Food and Drug Administration.  NRT is generally recommended for 8 to 12 weeks and can increase your chances of being and staying successful in your quitting endeavors.
Another essential part of quitting is having a quit plan that works for you and your lifestyle. There are many free resources available to help you find what will work best for you. In Washington State, there is the Washington State Quitline. The Quitline offers help to people either over the phone at 1.800.QUIT.NOW (1.800.784.8669) or by texting the word READY to 200-400. The Quitline is available in English and Spanish as well as several other languages.
Smokefree.gov is another excellent resource that can assist you in building a quit plan. This website has various tools and tips available to aid you in building a plan that can work for you. It offers live online chat with a trained counselor that can help you find additional resources. This includes smartphone apps to help support you in your quitting journey and free texting programs that provide motivational support as well.
If you use tobacco, quitting use is one of the best things you can do for your overall health. Having support and options makes all the difference. Follow TCPHSS on Facebook, Twitter, and Instagram for updates, events, news and the latest research. We're all in this together and working together is how we'll succeed, one breath of fresh air at a time.
Sponsored