If you want to get outside more, boost your exercise and explore Thurston County, or find a new way to commute from your Tumwater home to your job in downtown Olympia, consider e-bikes. These popular vehicles let you enjoy a traditional bike's benefits, while giving added distance and energy. And, e-bikes are available to rent or purchase in the Olympia area.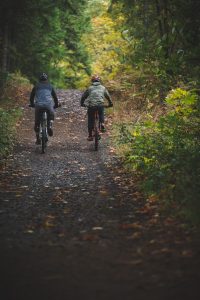 E-bikes Give You More Power to Explore Olympia and Thurston County
Electric-assisted bikes, or e-bikes, have a battery-powered motor attached to the frame. The motor gives power that helps you go farther, tackle hills more easily and carry added cargo. State law defines an e-bike as "a bicycle with two or three wheels, a saddle, fully operative pedals for human propulsion, and an electric motor" with the motor having an output of no more than 750 watts.
The father-son duo of Mitch and Matt Roder of Olympia are new e-bike riders. They say e-bikes are a terrific way to get around in Thurston County. "They are great," says Mitch. "You can go farther, and your legs don't wear out."
Matt adds that you still get plenty of exercise, but an e-bike makes going up hills easier. "It feels like it kicks in to help pull you up," he says.
Chris Kinerk of Olympia is an avid bike rider and competitor, and the specialized brand manager for South Bound Motor Sports (SBMS). Kinerk says e-bikes offer multiple benefits, enabling more people to ride. "For people of different levels of fitness, e-bikes allow them to come together and enjoy it," he says.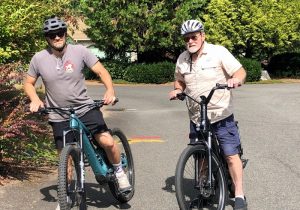 Kinerk's family is an example. Courtney Kinerk says it was a challenge for her to keep up with husband Chris while riding a traditional bike given his high skill level and her knee issues. But she says that switching to an e-bike allows her to do more outdoor exercising with him and their children. "It opens doors," she says. "It enables me to go farther. I am staying physical."
E-Bikes to Rent in the Olympia Area
If you are not sure if you are ready to buy an e-bike, try one out first. Olympia's Swantown Inn rents e-bikes by appointment and by the hour, half-day or day. Overnight guests get a discount. Innkeeper Nathan Allan says he believes the Inn is the only business that rents e-bikes in Olympia, Tumwater or Lacey and perhaps in Thurston County. "We get calls all the time," he says. "People come to Olympia, and they don't have a bike and want to try out the Woodland or Chehalis Trails. Other people are wanting to try an e-bike for the first time." Allan says the inn uses the Thurston County Bicycle Map as a great resource for route planning.
E-Bikes to Buy in the Olympia Area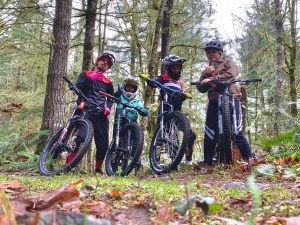 If you are ready to buy, you can spend from several hundred to thousands of dollars. E-bikes are sold in local bike shops, sporting goods stores and online markets. SBMS sells multiple models for recreation, commuting, and more challenging rides. "For the more adventurous type there is tremendous growth in the greater Olympia area," Kinerk says, describing the exciting addition of e-bikes to North Slope motorized Trails in the Capitol State Forest.
Other local bike shops like Old Town Bicycle, Trek Bicycle Olympia, Joy Ride Bicycles and more also sell e-bikes. Dmitri Keating, Old Town Bicycle general manager, says area e-bike sales are growing every year with no signs of slowing down. "Thurston County is situated quite well with the number of paths, and in Olympia and surrounding areas like Yelm," he says. "They let you exercise and are all around fun." He says e-bikes also get people out biking who have not been able to ride for a while. Keating uses his e-bike to commute. Both he and Kinerk predict an increasing interest in e-bike commuting in the coming years.
'Know Before You Go' E-Bike Riding Tips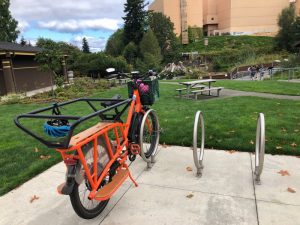 E-bike riding requirements can vary depending on the type of e-bike and where you plan to ride. And some rules are in flux as state and federal discussions about e-bikes are ongoing.
Under state law, the type of e-bike often determines where you can go. The Washington Legislature adopted three e-bike classifications, Classes 1, 2 and 3. The Thurston Regional Planning Council's webpage links to helpful details on the state laws, as provided by the Cascade Bicycle Club. And a chart on this website describes e-bike use on certain state-managed lands. Other rules can also apply depending where you ride, and whether you are on state, federal or local roads and trails.
So "know before you go" and check the rules of the road for your route.
To learn more about riding and purchasing e-bikes in the Olympia area and Thurston County, contact local bike shops and cycling organizations, including groups such as the Friends of Capitol Forest.