One of my favorite activities is to walk around the mall, a coffee in hand, checking out all the new products since my last trip. It's a tradition my mom and I have done since I was little – of course it was hot chocolate back then – and the memories it creates of our time spent together are priceless. Create your own memories at Capital Mall, coffee in hand, with the brand-new Northwest Grind coffee shop, opening early October.
Kyle and Crystal Bundy are the owners of Northwest Grind. They started with a drive-through coffee stand in Rochester in 2019, and are now expanding to another drive-through in Yelm and the very exciting dine-in coffee shop in Capital Mall. "I've always wanted to open an espresso stand and when we bought the mini storage property (Town and Country Storage) in Rochester, we had plenty of room for storage and the espresso stand," Crystal says. "I'm not from a coffee background, but I jumped in with both feet and knew the look, feel and customer service I wanted to provide and Northwest Grind was born."
Coffee Shop in Olympia Serves Caffeine with Flair and Attention to Quality
Her look and feel have definitely been a success. Customers rave about their unique offerings and are excited for their new Capital Mall location. "I am looking forward to your location in Olympia so you are closer," one Facebook fan says. "I can't wait!"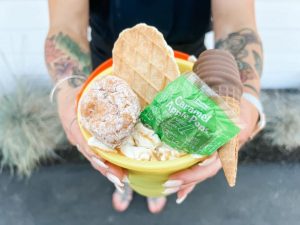 Northwest Grind serves up coffee with more flavors and combinations than is possible to list, along with the very popular Lotus Energy or Red Bull drinks. All of these have an added flare to them, that really makes Northwest Grind unique. For example, for the summer, they had bucket drinks, packed with sugary goodness as a Lotus or Red bull drink – or Italian sodas for the kids. September's bucket drink was a nod to fall, served with a delicious powdered apple puff, a mini caramel filled ice cream cone, a buttery Belgian waffle crisp, and a caramel apple sucker, all piled on top of their homemade brown sugar whipped cream drizzled with caramel sauce.
They also offer weekly coffee and energy drinks specials, as well as a monthly coffee special. For example, September's drink called Good Morning Honey, is a 32-ounce vanilla-maple flavored blended drink with maple syrup swirled inside, topped with bacon, donuts and mini pancakes slathered with whipped honey and whipped cream on top, finished with rolling the lid in Cheerio's. These are truly drinks you will not find anywhere else, and are perfect for mall walking!
From flights of coffee – seriously why had no one thought of this before! – to cotton candy milkshakes, this is going to become your new favorite place for coffee and other drinks. And speaking of coffee, Northwest Grind even has their own signature blend of coffee created from a local roaster, giving them that perfect flavor all coffee connoisseurs expect, even if we cover it in whipped cream, donuts and bacon.
They also make sure their baristas can consistently make their drinks correctly, with long-term training that starts when they first get hired. "We hire first as a 'runner or bar back,' which is a barista helper and they don't make drinks.  When and if they are capable of moving to a barista position and a spot comes open, we train them our way and they become a barista. This has proven to be super successful because the runners learn every aspect of our shop except how to make drinks, then when it's time to train them up as a barista, they know everything but drinks and it's much easier on them.  Not every runner makes it to barista, we are super careful who we move up.  We train our baristas 'our way' and we try very hard to have every barista follow our recipes so every drink, which ever barista makes it, is consistent."
Local, Fresh-Baked Goods at Northwest Grind
Sometimes you need more than just a drink to keep you going. Northwest Grind has delicious, local baked goods that pair perfect with their drink offerings. "Our food is fresh, never frozen and we have a great menu," shares Crystal. "We have a local baker and get several deliveries a week. We pride ourselves on our food and we are a step up from the normal."
On their menu you will find savory items like personal-sized quiches; biscuits and gravy; breakfast flatbreads; black bean breakfast burritos; breakfast sandwiches; turkey pesto sandwiches; and sweet items including huge cinnamon rolls, scones and of course huge cookies. They also have fresh-made, never frozen "pop tarts," which are customer favorites according to Crystal.
Dine-In at Capital Mall
Their new Capital Mall location will be the first dine-in Northwest Grind. When Crystal learned that the mall was looking for a coffee tenant, she jumped at the chance. "My son-in-law works for the city and knew the people involved in the mall," she explains. "He told me I needed to open up a Northwest Grind in there. So, I called and met with the leasing agent and just felt like it was a great fit for us. It happened really fast, but sometimes when you know, you know."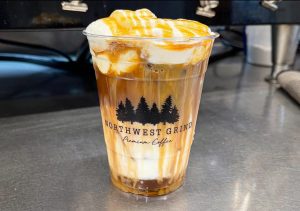 Northwest Grind is taking over the former Starbuck's location, located right inside the front entrance of Capital Mall. "We are looking forward to be able to connect a little bit closer with our customers than we get to in the drive thru," Crystal explains. "Maybe they will sit a while and enjoy their drinks and snacks. It's a bigger space too which is great! It also gives us a chance to really show off the feel of Northwest Grind.  We have decorated and put a ton of money into the space to make it just what we want and to make everyone who enters feel welcome. I can't wait for everyone to see it."
As members of the Thurston County community, the Northwest Grind owners are passionate about our community as well as creating a community of coffee lovers. "We are community driven and do like to donate baskets to great causes and have had a few fundraisers to help customers down on their luck," shares Crystal. "We are always doing giveaways to thank our loyal customers. We also sell tons of gear. My daughter Brittany is in charge of everything social media, promotions and retail and is always designing the cutest sweatshirts, hats and tumblers.  People collect our things, it's crazy but in a good way.  We have a lot of fun at Northwest Grind and invite everyone to come check us out."
Head to the Capital Mall this October and get your first treat of the season with no tricks at the new Northwest Grind, and start creating your own priceless memories with those you love.
Visit the Capital Mall website for more information. Follow Northwest Grind on Facebook and Instagram and be the first to learn about their specials.
Sponsored