Senior Luke Christensen has finished his last first week of high school. In Boston, alumni Katie Sellars, Class of 2017, embarks on her second year of law school. Together they represent a long legacy of academic excellence at Pope John Paul II High School in Lacey.
For a St. Michael Parish School alumni like Luke, JPII – as it's fondly called – was a first-choice pick for high school and since freshman year, he has not missed an opportunity to take full advantage of what JPII has to offer. From being a National Honors Society member and co-captaining the cross country team to serving as the Future Business Leaders of America Club President and representing JPII as a School Ambassador, there isn't much Luke hasn't done.
In addition to taking advantage of JPIIs co-curriculars, Luke has continued to commit to a rigorous academic calendar, with Advanced Placement Calculus, English, Physics and Environmental Science courses planned for senior year. Luke has eyes set on college and beyond that, service in the United States Marine Corps.
College Prep for High School Students
"While not every student will take the college path after high school," explains JPII Vice Principal Ann Ashe, "the faculty and staff at JPII work to ensure that every student who wants to apply to college has the support to do so and that every student who gets to college will have the tools and confidence to succeed."
Luke and Katie, like so many before them, have taken this support and ran with it.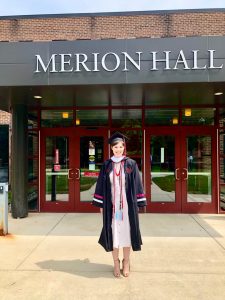 "In college," shares Katie. "I was ready on day one to contribute to discussions because that had been the expectation at JPII. Yes, the curriculum prepared me to exceed my peers in college, but more than that, JPII created a well-rounded student who was not afraid to ask questions. I felt better prepared than other college students, and my first year of college was less academically rigorous than my time at JPII."
Despite its small size, JPII students proudly stand next to, and above their peers when it comes to academics. In fact, 27% of all JPII graduates are in the top 10% of all high school graduates in Washington state. 62% of those graduating do so with honors.
Perhaps these stats aren't surprising when you consider JPII's 11 to 1 student-teacher ratio, or the fact that they offer 18 Advanced Placement and Honors courses and over 65 electives thanks to a variety of online learning opportunities. Or perhaps it is due to the extra year of math JPII requires of all its graduates, or the fact that most students decide to take on a fourth year of science.
An astonishing $4.3 million in various merit-based scholarships were offered to JPII students just last year, evidence of progress towards their goal of individual excellence for all their students
Individualized Learning at Pope John Paul II High School
At JPII, academic excellence of this level is made possible because of the priority placed on intentional and individualized attention given to each and every student.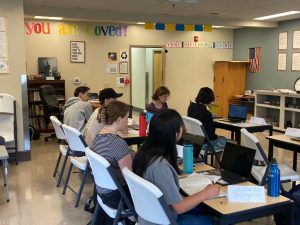 "There is no one-size-fits-all definition of academic excellence," shares Katie. "Academic excellence is every student finding the subject that makes them excited to learn. It can be found by supporting this excitement to learn, in whatever way that specific student needs. Academic excellence is not about grades or a specific school subject, it is about curiosity, wonder and knowledge."
In the classroom and out, faculty and staff are encouraged to apply their personal talents and experiences allowing learning to unfold in authentic and meaningful ways. JPII is unique in this way, allowing their work to grow from both high academic standards as well as individual wisdom. The bottom-up approach flows through to the faculty's professional learning communities, where the needs of students inspire the growth and life-long learning of the teachers.
Every student's journey at JPII begins with a personal inventory. An opportunity to learn who they are, who they want to be and what paths line up with those values. Individual skills work around motivation, organization, independence and conscientiousness in addition to academics are available to consistently challenge each student's capacity and potential.
Time is dedicated to developing authentic relationships between all members of the school community and students feel the benefits of that work.
"Faculty and staff are open and easy to talk to," says Luke, "There is an expectation that everyone will show up for one another. I can say without fear, 'I'm really struggling,' and ask how best can I work through this and know that the staff will show up for me."
Much of this personal growth and relationship building happens in JPII's Advisory and Community Periods.
"Advisory is all about personal relationship building with staff and students, checking in in a very purposeful and intentional way," explains Ann. "Community, on the other hand, is all about knowing yourself and others, maybe learning about financial literacy or study skills, and participating in mass. It's about learning to be a family."
High School in Lacey Offers Diverse Sports and Activities
This idea of family overflows into other aspects of the JPII experience. In addition to supporting and developing student faith and spirituality, JPII offers 10 athletic teams and over 20 co-curricular activities.
Academic excellence grows from putting values and beliefs into practice. With these drivers front-of-mind, what comes out is not just desirable test scores and met standards but students invested in their community, in each other and in their own lives, truly aware of their potential and eager and prepared to make their mark on the world around them.
"My time at JPII formed me into the person I am today," admits Katie. "I am more compassionate, open, and empathetic because of my four years at JPII. I wish that the community knew that JPII's strength cannot be found in any one aspect of the school. The rigorous curriculum, caring teachers, religious environment, and amazing students all combine to create something greater than its parts."
You can learn more about JPII and their commitment to academic excellence by visiting the Pope John Paul High II High School website.
Pope John Paul II High School
5608 Pacific Avenue SE, Lacey
360.438.7600
Sponsored