For over 30 years, flowers have adorned the boardwalk surrounding the Olympia Yacht Club each spring and summer. This portion of the downtown Olympia boardwalk is open to the public year-round, and the cheer and warmth visitors feel from the flowers is a direct reflection of the Olympia Yacht Club members who pour so much of their hearts and care into the community.
The Olympia Yacht Club flower baskets are such a long-standing tradition, that when members are asked when they started, the common response is, "It seems like they have always been here."
While you may know Matt and Suzanne Kluh best from their business, Kluh Jewelers in Lacey, they also work behind the scenes at Olympia Yacht Club, leading the volunteer team that brings the flower baskets to life each season. "We've had the pleasure of working on the Olympia Yacht Club flower baskets since 2005," shares Suzanne. "We partner with Jason's Greenhouse in Yelm to plan out a new color scheme and design each year and then the volunteer team puts them together and maintains them throughout the summer."
The Olympia Yacht Club flower baskets are a splash of color on the boardwalk, calling to the community to visit. To bring your friends or enjoy a quiet moment alone. To peer out onto the sound. To walk this stretch of Olympia history.
Olympia Yacht Club: Over a Century of Olympia History
Did you know Olympia Yacht Club has been in the Olympia community since 1904? How does an organization weather the storms, figuratively and literally, that inevitably arise? It all comes down to teamwork, on the water, on the shore, within its membership and with the community at large.
Melissa Ashcraft knows this history well. She grew up at the Olympia Yacht Club, on the water and in the boating community. Her husband, Rear Commodore Gary Ashcraft, married into this life and they believe in it so much they sold their house and moved to their boat over two years ago.
"Olympia Yacht Club is all about fun and safe boating," says Melissa. "We are a year-round, clean marina and we represent all walks of life. The heart of Olympia is our waterfront and it is the Puget Sound that we both grow out of and which pulls us all back together."
This is why the Olympia Yacht Club puts so much care into making connections within the community. Their reach extends far beyond their annual flower baskets. Club values are aimed at promoting seamanship, navigation, providing clean and safe facilities, strengthening the waterfront and supporting the vitality of the marine environment, in addition to offering training, education, grants and engaging events. When the community is strong, the club is strong, a piece of wisdom well understood by any organization able to thrive for over a century.
Giving Back to the Olympia Community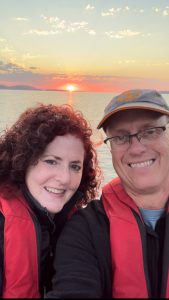 "We are always looking for ways to give back to the community that has supported us for so long," confides Matt. "There is so much value in seeing the interconnectedness of us all."
This community work takes the form of educational opportunities through a partnership with Olympia Community Sailing. It also comes to life through annual grant funds. The most recent benefiting nonprofits include Hands on Children's Museum; S.S. Maritime Heritage Association for their Harbor Days event and Parthia Project; Puget Sound Estuarium; and Olympia Community Sailing. More information about the grant process and requirements can be found on the Community Grants page of the Olympia Yacht Club website.
Perhaps, the most memorable examples of Olympia Yacht Clubs commitment to the community are in the events that bring us all together for the simple purpose of experiencing joy.
"We have many annual events that the community can look forward to," shares Melissa, "such as the annual Lighted Ships Parade, but the event we are perhaps most well-known for is Foofaraw."
Foofaraw has been defined as, "Much ado about nothing." At Olympia Yacht Club's Foofaraw event, attendees are both encouraged, and given permission, to say, "Foo!" to all duties and responsibilities for this one day each year.
"Foofaraw," continues Melissa, "is a day-long celebration of our military members in partnership with Thurston County Chamber of Commerce. Members volunteer their boats to transport attendees to our base, named Island Home, where we treat our military guests to a day of delicious food, exciting games and time together to show our appreciation for what they do every day for us."
"I think what we hope most," confides Matt, "is that people see how much we value the community around us. The work we do, from the flower baskets to Foofaraw are all aimed at showing our appreciation for the people and businesses that strengthen all of us. Olympia Yacht Club believes in the power of comradery and we work hard to extend that ideal beyond the walls of our clubhouse. We want the Olympia Yacht Club to be around for the next generation and beyond."
With summer coming to its inevitable end, make time soon to walk the Olympia boardwalk and take in the beauty of the flower baskets around the Olympia Yacht Club. Their colors are calling.
Visit the Olympia Yacht Club website to learn more about their history, mission and ways you can get involved and continue their legacy.