The real estate market is an obvious indicator of economic growth, though it can be complex to understand and apply its impact to our local economy. The Thurston Economic Development Council (EDC) proudly presents a forum to investigate the intricacies of the real estate industry and how this relates to other sectors of growth and success in Thurston County. The 14th Annual Real Estate Forum will be held on September 22 from 11 a.m. to 1 p.m. at The Olympia Hotel at Capitol Lake. The event is open to all professionals and community members for $50 per person. Register for your spot today and discover the current trends in our local market!
Discussion and Connection with Local Real Estate Industry Experts
The Real Estate Forum is one of the high-impact networking events in a series that the Thurston EDC hosts every year. Throughout the pandemic, they continued to provide insightful intel regarding the real estate market virtually. They are thrilled to announce that this year the Real Estate Forum will be returning in-person to resume the traditional networking and presentation experience offered in years passed. "We are excited to have it in person to ensure that there are connections for developers, professionals, and business owners doing business in Thurston County," says Thurston EDC Executive Director, Michael Cade.
Through this event, attendees can connect with a wide range of local industry professionals and experts to better understand how Thurston County's unique market can translate into opportunities within their own businesses and lives. "We always try to provide attendees with a knowledge base of where the economy is at and where the opportunities are for development and resource partnership," Cade shares. "We want people to understand the way real estate impacts how the economy operates and how it is moving forward. It is a significant conversation that is applicable to people outside of real estate development too and really sets the table for the economic forecast at the Regional Economic Forecast & Innovation Expo event we hold each December at the Great Wolf Lodge."
The event will start at 11 a.m. with a networking segment to allow for attendees to explore local vendors, event sponsors and connect with fellow industry professionals. "This is a robust connection point for individuals where they can have a chance to meet with local businesses and developers in the area," shares Michael. "They leave with a working rolodex and expanded understanding of the local environment they can do business with."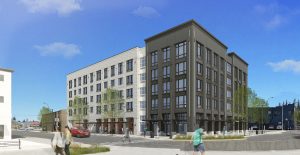 At 12 p.m., the panel discussion will begin where four local panelists will discuss the current trends they are seeing in the Thurston County real estate market. They all bring a certain expertise that explains how all of these ideas relate and how the pandemic has affected different elements of the real estate industry and our economy as a whole.
Speakers for the 14th Annual Real Estate Forum
This year, the Real Estate Forum will be heavily focused on how the pandemic has impacted both commercial and residential development. Specifically, the forum's expert panelists will explore how residential markets and the development bubble were "pushed," both of which have driven shifts in the shopping and selling experience for consumers and businesses, respectively.  Real estate trends and projections for Thurston County will be reviewed to explore what opportunities have opened up and why our local economy has quickly become one of the fastest-growing regions in the United States.
This year's forum will feature four primary presenters local to Thurston County, including Steve Shaul of Crow Holdings Industrial; Danielle Rants of The Rants Group; Brandon Smith of West Bay Development Group, LLC. and Heather Burgess of Phillips Burgess, PLLC,, and current President of the EDC Board of Directors, as the panel moderator.  Each speaker comes with a unique perspective to offer insight in this ever-changing market and contribute to the ongoing conversation about trends and impacts of the real estate industry.
Managing Partner Heather Burgess has extensive experience representing property owners and developers in all phases of real estate development. She is also an experienced civil real estate litigator and represents clients in boundary and title disputes as well as real property-related claims.
Vice President of Development Steve Haul is focused on the acquisition of land, design, and development for industrial warehouse distribution projects in the Pacific Northwest. He comes with 29 years of commercial real estate experience and is currently responsible for the Tumwater Corporate Center project.
Principal Danielle Rants is a third-generation business owner who joined the Rants team in 2013. She is deeply involved in property management in the commercial real estate division, as well as operations of the company as a whole.
Principal Brandon Smith comes with 20 years of Civil Engineering, Land Surveying, and Construction Management experience and serves as a registered professional engineer in the state of Washington. He possesses a deep understanding of the Washington regulatory environment through his past experiences and current partnership with Ron Newman to build multi-family projects, collectively accumulating over 500 units in Thurston County.
Join the Conversation at the Real Estate Forum
The 14th Annual Real Estate Forum will provide exceptional opportunities for local professionals to learn, connect, and grow. Through the insightful panel discussion and involved networking, attendees can expect to walk away with a greater understanding of the local market as well as some exciting new professional connections. Register today to join the conversation for yourself and discover the growth and impacts happening in Thurston County!
The  Real Estate Forum and the Thurston EDC are also proud to be cross-promoting their event this year with the Olympia Master Builder's Tour of Homes.
Special thanks to this year's Platinum Sponsor TwinStar Credit Union for making this event possible, and to local businesses OlyFed, The Rants Group, CRG, Work Opportunity Tax Credit, Phillips Burgess, SCJ Alliance, Olympic Rental & Landlord Services, Prime Locations, Kidder Mathews, Intercity Transit, Thomas Architecture Studios, Port of Olympia, Heritage Bank, South Puget Sound Community College, and South Sound Business Magazine. Thank you all for your support!
14th Annual Real Estate Forum
September 22
11 a.m. to 1 p.m.
The Olympia Hotel at Capitol Lake
2300 Evergreen Park Drive SW, Olympia
Online registration
Sponsored