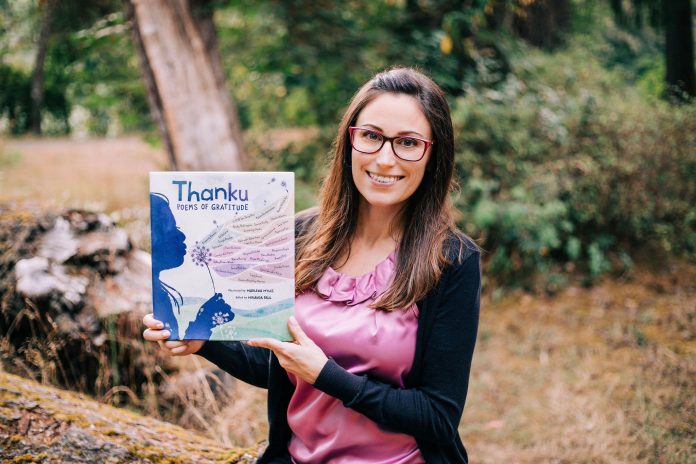 When it comes to the Mount Rainier area, author Jamie McGillen is no stranger. Jamie, an established writer of fiction books, essays, and poetry, finds inspiration in the grand landscape around her home in the Enumclaw area. Although she's lived in Illinois and Tennessee, the alluring and awe-inspiring Cascade Mountain Range tugged her and her family right back to where her life started.
"I married a guy in the Army, and so we've moved around a bit, but now we're back, but that's my history, a lot of coming and going," Jamie explains. "But this is definitely home. This is where we're going to retire."
Jamie started her bachelor's degree at ​​Western Washington University a little later than most. She was around 26 years old in her sophomore year of college. Starting college a little older than other students pushed Jamie to focus on what she wanted to center her time and education on.  "At the beginning, essays, and poetry, and then for the last four years, I've been writing mostly fiction," she shares about her writing journey. "I've written a series, The Rainier Series. So, there are three books out now. I just really love writing fiction."
The Rainier Series
The first book in the series was published in 2019. The second book was published in 2020, and her latest book in 2021. The series, whose first book was named one of "​​10 books that might just change your life right now" by USA Today, is deep-rooted in Jamie's love for her home, living in the shadow of Mount Rainier.
"I think one of the main reasons that I love Mount Rainier is that it helps me explain where I am in the world," she says. "Even when you can't see the mountain because it's cloudy or something, you know where it is; you know which way is North and which way is South. You know where everything that is important to you is. It's just sort of a feeling."
Illinois's landscape, she recalls, was slightly flat for her taste. "I remember, I think I was 18 after high school, and I came back in October for my mom's birthday," she recalls. "I remember seeing the mountain, and it was just like I could breathe again. I felt so calm. I didn't realize how it could feel, almost suffocating, being in such a flat place." The mountains, she adds, are just so incredibly grounding.
Jamie's inspiration for her newest series came five years ago, in the form of a life-size portrait of a woman in the basement of the Washington State History Museum. "I came in the entrance," she explains, "and they have this huge life-size portrait of Fay Fuller standing standing on Mount Rainier in her petticoats, her epic dress, and heeled little boots, and I was just like, 'Who is that?' Because that is amazing."
Fay Fuller an American mountaineer, journalist, and schoolteacher, was the first woman to summit Mount Rainier in 1890. Jamie, who's been researching Fuller for years, remarks that she probably knows everything there is to know about her because the information is so sparse.
"I didn't want to write her story because there's really so little known," she says. "So, I wanted to create a story that was parallel to hers, that was grounded in all of her history, but is about another woman who wanted to be the first woman to summit the mountain."
Writing a story about a mountain climber is no small feat for a woman who isn't a climber herself. So, to get educated, she enrolled in an online Zoom class for women who would be summiting the mountain.
"It's funny because you go around and introduce yourself to all these people, and they're like, I'm going to be climbing in August, or I'm going to be climbing in July. And I'm like, I'm not a climber, I'm an author, but I just really need to know all this stuff to write."
Anna, the main character in The Rainer Series, is nothing short of independent, strong-willed, and brave. "I wouldn't say Anna is the character that I relate to the most," says Jamie when asked if she sees herself in Anna. "I think that Anna is similar to the characters that I liked reading about when I was growing up; somebody who's really confident, who's going to get what they want. It's almost like I want to be her, in a way."
Although Jamie has written non-fiction essays in the past, writing about Anna and her voyage up Mount Rainier gives Jamie an outlet we can all relate to. "Writing essays, like personal essays, non-fiction, lyrical kind of things, they can be very draining, very emotional because you're writing about your experiences or your own life," she explains. "Because life is tough, even when things are mostly good. The good things to write about are just very, you know, hard."
"So, when I write fiction," she continues, "it's kind of an escape. It's like when you read fiction – it's an escape. You don't have to think about your own life or your own problems. You're in a different world."
The Next Chapter for Jamie McGillen
On top of being a writer, Jamie's been an English composition teacher at Highline College. For now, however, that's on pause because Jamie, her husband, and their two kids are moving to Rome, Italy, for two years. Of course, moving comes with its stressors and challenges, but Jamie's big life upheaval to Rome may open some new doors for her and her readers alike.
When I asked Jamie if she was planning on getting some inspiration while overseas, Jamie explained that she couldn't publish anything while away due to her Visa. However, she says, "I'll be writing and writing and saving it all up, and then when I get back, maybe I'll have another series, and I can do another fun release."
Learn more on the Jamie McGillen website.