The wind howled and clouds obscured the view on August 10, 1890 when a weary party of climbers reached the summit of Mount Rainier. Among them was schoolteacher and journalist Fay Fuller. She later wrote that it was: "a heavenly moment; nothing was said — words cannot describe scenery and beauty, how could they speak for the soul! Such sensations can be known to only those who reach the heights." She had just become the first woman in recorded history to summit Mount Rainier.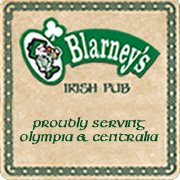 Edwina Fay Fuller (who went by her middle name) was born October 10, 1869 in New Jersey, the youngest child of Edwin N. Fuller and Augusta Morrison Fuller. Her family included sisters Gracie and Florence and brother Robert. Fay's family moved from Chicago to Tacoma when she was 12. Her father was a newspaper publisher, eventually starting his own papers, Every Sunday and The Commerce.
After two years of high school, Fay became a teacher. She taught at Longfellow Elementary School in Tacoma and at Rosedale on the Kitsap Peninsula. Her job was a typical one, but her other interests were not, including being part of the Women's Guild in Tacoma. This group promoted "healthful exercise" through calisthenics and rifle drills.
Her other ambition was even more different, mountain climbing. Since 1870 about two dozen men had climbed Mt. Rainer, but no women. At the time, many thought that women lacked the stamina and endurance to climb mountains. Fay wanted to prove these doubters wrong.
In 1887, she was invited to join a group of Mount Rainier climbers, on the condition that she remain at their camp at Paradise. Despite her disappointment at only making it past Panorama Point (about 8,700 feet), 17-year-old Fay learned much from her first trip to the mountain and resolved to make another attempt to climb it.
Fay's luck changed when she became a teacher in Yelm. There she befriended the father of one of her students, Philemon Van Trump, Yelm storekeeper and postmaster. Van Trump and Hazzard Stevens had become the first known men to climb Mount Rainier in 1870. Since then, he had guided other climbers. Van Trump spoke about the mountain to Fay's class and invited the teacher to visit his family's camp at Paradise.
In 1890, Fay joined Van Trump, his daughter Christine and other hikers on a two-week trip to Mount Rainier. It was a hard three-day horse ride to the mountain through the wilderness. They stayed in farmers' barns the first two nights and camped after passing through Longmire Springs (a resort founded by the Longmire family of Yelm in the 1890s).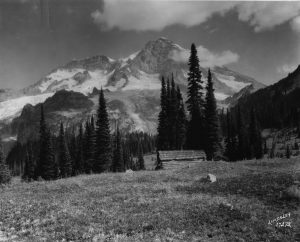 At this camp, Fay met and joined a group of climbers intending to summit the mountain. Led by Reverend Ernest Smith, the climbers included William Amsden and Robert Parrish. Leonard Longmire joined them at Camp Muir on August 9. Fay was ready for the climb. She had a dressmaker make her an ankle-length blue flannel bloomer suit and a coat dress. Although quite covering by modern standards, her practical outfit was considered immodest by many. She had a Yelm blacksmith make her an alpenstock/ice ax from a curved shovel handle with a spike in one end. For shoes she used boys' calfskin shoes. She later donated one of the shoes (and her alpenstock) to the Washington State Historical Society.
On the morning of their final ascent, they woke up at 4:30 a.m. The climb was a hard one, but Fay refused assistance from the others at several points. They reached the top at about four in the afternoon. Too late to try climbing down (and suffering from altitude sickness), the group spent the night in an ice cave. Before descending the next morning, they left a sardine can with their names, brandy flask and tin cup. The party spent five days at Paradise recovering before making the long journey home.
News of Fay's accomplishment spread like wildfire. She started a column called "Mountain Murmurs" in her father's newspaper, about mountaineering and social events at Paradise and other alpine locations. Fay climbed Mount Hood in 1894 and reclimbed Mount Rainier in 1897.  She helped form the Washington Alpine Club and the Mazamas.
Fay's later years are less known. She moved back to Tacoma. Fay became the social editor at her father's paper. She also worked as the first female reporter for the Tacoma Ledger, covering the waterfront and the equity court—unusual topics for a woman reporter at the time. As a journalist she covered the St. Louis World's Fair and even worked in Pendleton, Oregon and Washington D.C.
Although she was centered in Tacoma, local newspapers mention her visiting Olympia several times in the 1890s, including in 1894 when she starred as Virginia in the play "Virginius." She also distributed promotional literature about Olympia at the 1898 Trans-Mississippi International Exposition in Omaha.
In 1905 Fay married Fritz Von Briesen (1874-1941), a patent and trademark lawyer, in New York City. The couple had three children, Franziska (1907-1908), Gernda (Neuhauser) (1909-2002) and Hans (1912-1968). They later moved to Los Angeles, where Fay died on May 27, 1958.
Today, Fay Fuller is well remembered. Fay Peak, a 6,492 peak about six miles northwest of Mount Rainier near Mowich Lake, is named in her honor. More recently Fair Isle Brewing named a drink for her. Fay Fuller was a pathbreaker for future women climbers, proving the doubters wrong. While she was first, she never wanted to be the last. "I expect to have my example followed by a good many women."