At Yelm High School, working with each student to prepare for life after graduation can help to launch them onto their own unique pathway. For some students, these future plans can include higher education and for others, this includes exploration of a career in the trades.
To help support students as they transition to the next step in their education or career, Yelm Community Schools has partnered with state agencies, like the DSHS Division of Vocational Rehabilitation (DVR), and nonprofit organizations like ANEW. These additional resources help students, particularly special education students, to prepare for future employment, acquire new skillsets and explore potential career pathways.
This summer, the nonprofit organization ANEW hosted a Youth Career Exploration Program camp at Yelm High School. This camp allowed students to receive direct experience and support as they considered a potential career in the trades.
The Youth Career Exploration Program camp at Yelm High School began with a series of discussion-based workshops that introduced students to potential pathways within the trades. Students also received a crash course on safety practices at a construction site as well as guest lectures from those who work in the trades, like journeymen and electricians. In addition to focusing on day-to-day job skills, the Youth Career Exploration Program camp also helped students to build social-emotional skills that could help them to thrive on a job site. This included coursework in emotional intelligence and self-advocacy.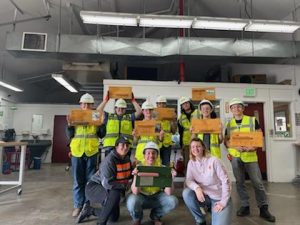 "For these kids, it's really important for them to learn this stuff," says Jessica Griffiths, youth exploration program facilitator for ANEW. "And these classes have always touched my heart because we get to get into their emotions and what they go through and how they deal with their anger when they're at work, or throughout school, or even in a home setting. We give them tools to work through those challenges. So, these activities  are really important."
After students completed the introductory workshop, the next phase was the construction bootcamp, where students practiced beginning construction skills and completed hands-on projects.
Throughout the week-long bootcamp, students learned how to use basic tools like a saw and hammer. Students also learned how to work on a team and how to create objects from a blueprint. By the end of the camp, students completed several construction-related projects. The construction camp was particularly engaging for students because of its unique projects and social nature.
"I found the camp to be a really fun time for me," says Devin Oligher Hutchinson, a student who attended the construction camp at Yelm High School this summer. "I was able to make cool things, make new friends and learn things I didn't know before. I made Jenga blocks, key holders and a stool."
In addition, the hands-on style of the Youth Exploration Program camp is popular amongst students because it takes a unique approach to introduce potential career pathways.
"One thing that we've noticed over the summer is that the hands-on learning for students really gets them excited about thinking about their future," says Ben Strong, a regional transition consultant for DVR. "Maybe in ways that they hadn't because it's not traditional book learning. And talking to school staff or family members, we've also heard from them, students coming out of the summer experience can sometimes have a renewed motivation for learning."
As a part of DSHS, DVR works with school districts across Washington State to provide additional support to students with disabilities. Helping students to plan for life after graduation, DVR works with students to develop a skillset that will set them up for success. As part of their transition services work, DVR offers workshops, job shadowing, soft skills practice and other job exploration resources.
"We aim to enable individuals with disabilities to obtain and keep employment," says Strong. "And that's largely because we believe that employment contributes to a person's quality of life and their ability to live independently. And that everybody has the right to work."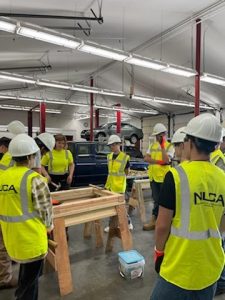 In addition to providing in-house resources, DVR also connects local school districts with surrounding nonprofit organizations that can benefit students with special needs. Through DVR's work with Yelm Community Schools, Yelm High School has also developed a partnership with the pre-apprenticeship program, ANEW.
ANEW works with school districts across the state, including with students from underserved communities, to help students explore and cultivate an interest in the trades. Through pre-apprenticeship programs, students have an opportunity to get hands on training in construction, carpentry and other trades and can be the launching point for a new career path.
"The cool thing about ANEW is that students are mentored by ANEW staff and they can work their way into an apprenticeship," explains Pam Tebeau, a case manager for Yelm High School.
Through workshops and special events like the Youth Career Exploration Program, students can also become acquainted with practical skills that they might encounter on a construction site, while also learning additional soft skills that will make them thrive in a potential working environment.
To learn more about Yelm High School's partnership with programs like DVR or ANEW, visit the Yelm Community Schools website.
Sponsored