Farm to Fit's ready-to-eat nutritious food delivery service supports not only your good health, but also planet Earth. Farm to Fit provides nourishing prepared meals that embrace the Northwest's regional and seasonal ingredients while reducing the company's environmental impact.
Scott Brown, Farm to Fit co-founder, says the company delivers multiple menus of fresh, healthy, chef-prepared meals to your home. Most meals are ready for a quick warming in the oven or microwave, while others, like salads, can be eaten immediately. At the same time, Brown says Farm to Fit implemented multiple steps to decrease its carbon footprint, offset its plastic imprint and cut down on food waste.
It's a win-win for your health and the planet.
Farm to Fit Delivers Healthy Food
First, the food. Farm to Fit's menus are seasonal, constantly evolving and cater to different lifestyles. Brown says they are currently featuring lovely salads greens, but the bounty is knocking at their door, and they will be getting many more local cucumbers, peppers, tomatoes, eggplant, broccoli, carrots, sweet corn and summer squashes.
Menus change every 10 to 12 weeks to ensure variety, freshness and seasonality. Farm to Fit offers low calorie nutritious meals as well as diabetic friendly, gluten intolerant, low carb, plant-based, Keto, Paleo and Whole30 meal plan options.
Farm to Fit delivers to Thurston County on Mondays and Thursdays. You can conveniently order as few as 3 or as many as 21 weekly breakfasts, lunches and dinners from 500 different menu items.
Farm to Fit Reduces Carbon Footprint
Farm to Fit is focused not only on delivering nutritious meals to sustain your well-being but is also committed to improving the planet's health. "This has been an issue for us from day one," says Brown. "The issue is how we deliver meals in an environmental way. It's been our goal and our intention, plus the reality of cost to do this has been there from the beginning."
A 2019 study showed that ready-to-eat meal delivery plans have a smaller carbon footprint than grocery shopping.  As part of its sustainable practices and guided by Eco Trust, Farm to Fit built its own commercial kitchen in Portland and is continuing to develop innovative methods to minimize its carbon footprint. "They came in and did an audit," Brown says of Eco Trust. That audit prompted eco-friendly lighting, planning for moving from gas to electric, and utilizing solar power down the road. Brown also says his company is now purchasing electric cars for food deliveries.
Farm to Fit Offsets Plastics
It's no secret that plastics negatively impact our environment. Have you heard of the Bronze Age and the Iron Age? The pervasive impact of plastics on our health and planet prompted some scientists to call our current era and future fossil record the "The Plastic Age."
Brown says Farm to Fit is seeking methods that will have a positive effect on that problem. He says challenges with alternatives to food plastics include cost-effectiveness and finding non-plastic containers that can safely protect and transport food. "There's not a perfect product out there yet," he says. "Consumers are demanding sustainability, and everyone is looking."
Meanwhile, he says Farm to Fit coordinated with three companies to reduce the impact of plastics.
First, Farm to Fit partnered with rePurpose Global, a firm that helps companies and people offset their plastic footprint. Next, Farm to Fit joined with CARPE India, a social enterprise that employs and empowers plastic waste pickers and processors. Farm to Fit donates a percentage of every product purchased to fund the collection of low value plastic waste from oceans and landfills. And as of July, Farm to Fit is using Denton Plastics, a family-owned business that helps with recycling plastics.
Food Delivery Decreases Food Waste
An estimated 108 billion pounds of food is wasted in the United States each year, approximately 40% of all food in the country. Wasted food not only means seeds, pesticides, fuel and water were used unnecessarily, food waste produces methane gas in landfills.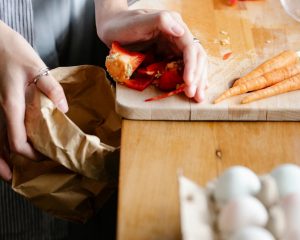 Brown says his company's food waste reduction is successful because his entire management team is on board. "We have always been conscious of it," he says. Brown says Farm to Fit met its goal to reduce its waste by 50% by fine-tuning recipes so they are not making too much of any one dish, improving inventory methods so the amounts purchased are more accurate, using leftovers and donating extra food to non-profit organizations.
See more information on Farm to Fit and its healthy ready-to-eat meal deliveries in Thurston County, including ordering and delivery details, on its website, blog and Facebook page.
Farm to Fit
5411 NE Portland Highway, Portland
503.688.9248
info@farmtofit.com
Sponsored