Many of us are waiting for the promise of summer to pack up the stored camping gear and head out to Grays Harbor County for a local reprieve from our daily routines. Whether you consider it a mini-vacation, nature bathing, adventure seeking, self-care, quality family time or an excuse for a road trip and opportunity for a local adventure, now is the time to consider the many benefits of spring camping in Grays Harbor. Once you make the decision to head west toward the coast, the opportunities to engage the outdoors in a meaningful way open up to how much time can be budgeted away from home.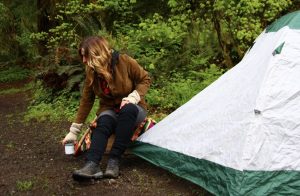 As we shift out of hibernation resulting from a long winter and an extended rainy/cold season, Lake Sylvia State Park in the historic town of Montesano offers an experience that will check all the boxes of a perfect weekend getaway. This local treasure offers rustic charm and stunning beauty. Every spectrum of green in this 252-acre park is currently popping as the freshwater shoreline is surrounded by forest and lush wildlife. The lake is a popular swimming area in the summer, however for those who have been participating in the holistic health movement of "cold plunging," the scenery and backdrop will no doubt offer an Instagram worthy moment.
Booking a campsite before the summer crowds offers an expansive opportunity to connect to the serenity of nature in a very accessible way. Whether it's a day trip to drop a fishing line off the bridge or a weekend reprieve to recharge the batteries with a kayak rental and some mountain biking in the surrounding 5,000-acre Montesano City Forest, the park is yours for play and retreat. Another benefit to spring camping in Grays Harbor is the joy and tradition of sitting around an evening campfire before the summer burn ban takes effect. After the kids tire from the lakeside castle-like playground, roasting marshmallows under the stars will bring the family together for memory making and storytelling.
"It's so quiet here in the spring, it's my favorite park," shares Nick Schwalb, a park ranger of three years. "We offer the Be a Junior Ranger program from June 1 through September 30, and details are located in the main office onsite or Washington State Parks website."
"It's a great time to fish as the lake is open year-round and has been stocked with rainbow trout and steelhead," Schwalb adds. Check out the 2022 Trout Derby that runs from April 1 through October 31, organized by the Washington State Department of Fish & Wildlife. Lake Sylvia is one of over 100 participating locations and all you need is a valid fishing license.
Spring is also a time for romance. Win hearts with a walk around the 5-mile loop trail that meanders over wetlands and through a small covered bridge. Set up a sunset dining experience right on the water with a nice bottle of wine or sit on a blanket and watch the bald eagles flying out from the towering trees. If things go well, you can book your future wedding at the Lake Sylvia Legacy Pavilion. This new day-use facility offers Northwestern charm with three glass walls that can be opened and a panoramic view of the lake. A large stone fireplace, indoor/outdoor lights and seating makes this an ideal location for celebrations and reunions.
Reserve your Grays Harbor spring camping trip at Lake Sylvia State Park in Montesano, Washington. Click Here for map and directions including address and phone number.
This slideshow requires JavaScript.
Sponsored