Back in the days before the Tenino City Police, City Marshals in cooperation with the Sheriff's Department kept order. The most remembered Marshal of that era was Punch McArthur.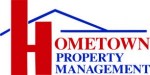 His name wasn't really Punch. It was Andrew. And before you get the idea that he got that nickname in a fight, let's go way back and talk about the McArthur family.
On the July 4, 1893, almost everyone in the tiny town of Tenino turned out at the old depot to welcome Jessie McArthur and her two little black-eyed sons, Bob and Andrew Junior to Tenino.
They had undergone a long sea voyage from Andrew Junior's birthplace in Bannockburn, Scotland to Quebec, Canada. From there, they traveled overland to Tenino so that Jessie could be reunited with her husband Andrew McArthur after a three-year separation.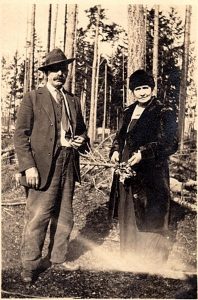 There was a joke in the family that Andrew took one look at his newborn namesake and scampered off to America. His destination was Tenino where his brother William had already established himself as a quarryman. The McArthur brothers, who apprenticed as quarry workers in Scotland would go on to play an active role in the quarries of Tenino, which were the life blood of the town.
There is a tradition in the McArthur Family of naming sons William, Andrew and Robert, which makes for a very confusing history. At one point in time there were three Williams, three Roberts and two Andrews in Tenino. It was no wonder that Andrew Junior would one day find himself with a nickname.
When the family arrived, Tenino was little more than a rough and rowdy crossroads, which hardly deserved the title of town. Jessie set up housekeeping in the old hotel by the depot until they found a home.  Before a decent store existed in Tenino, Jessie sent Punch and Bob to Bucoda—which was the bigger community at the time—to do the shopping.
In Evelyn Hoffman's book, "Tenino Scrapbook," is an account by Gene McArthur about how Punch got his name:
My grandfather (Andrew McArthur Sr.) had established a residence for his family in Tenino near the railway. After a few years, the family acquired two cows, which were named Punch and Judy. Andrew Junior was given the job of bringing in the cows each evening and one day he was not able to locate one of them so he was calling "Here Punch, here Punch, here Punch." The engineer was sitting in the cab and called to Uncle Punch "Hey, Punch, I saw your cow back along the track as we came in." He has been called "Punch" ever since! After he told us this story, his wife, Lelia, who had been listening along with us, said with sort of a surprised wonder in her voice, "My gosh! We've been married fifty years and this is the first time I ever heard that story!"
Like his father, Punch became a quarryman for the Hercules Stone Company. The quarry company did not survive WWI and Punch tried his hand at other work. He made the leap to lumberman and worked for the Mutual and Weyerhaeuser Lumber Companies. After WWII he became a Tenino Day Marshal, and then was employed by the State Highway Department, from which he retired.
If you talk to folks who grew up in Tenino in the 1940s, Punch had a long and storied career as a policeman. In reality his tenure was short. But the impression he made on the youth of Tenino carried its own sort of weight. Colleen Kirchmeier lived across the street from the McArthurs on McArthur Street.
"Punch would light our fireworks so we dumb kids didn't blow ourselves up!" recalls Colleen. "He also bought us cherry bombs that you could just throw down and they would explode when they hit the ground. He would stay in the street with us half the night. We all loved him! I remember he wore a uniform. He was a really nice guy. In those days we had no worries about being outside, playing in the street after dark in the summer because Punch would watch out for us."
Another Tenino citizen remembers getting caught shoplifting penny candy. Punch, much to the child's embarrassment, took the youth around to the various shops to apologize.
It was during Punch's tenure that Tenino got a police car. The car would do double duty as a driver's education vehicle at the Tenino High School.
If Punch made the paper, it was generally for issuing a driving citation, like the time an Oregon woman took the sharp corner in Tenino—then called Penny's Corner—too fast and lost control. While trying to get the car back on the road she ended up in a partially dug cesspool. She was charged with negligent driving.
Punch spent a lot of his time on traffic control. In the years before Interstate 5, the Pacific Highway—now Old Highway 99—was the main thoroughfare from Portland to Seattle. It was the Route 66 of the Pacific Northwest and passed through Tenino. Tenino meanwhile, became famous for being a speed trap.
According to "The Decades of Boom and Bust" by Scott McArthur, "One of the recipients of a speeding ticket in 1947 was the driver for U.S. Senator and presidential candidate Robert Taft."
Though Punch resigned as Marshal at the end of 1947 his legacy lived on. In 1953 there were $6,885 in traffic fines, and in 1955 after I-5 opened, fines only amounted to $987.  The reputation went on for years however. My Dad, Roger Reeves recalls hitch hiking in California in the late 50s and when he mentioned that he was from Tenino the driver commented, "Oh, that speed trap."
After Roger left the Navy, he came back to Tenino for eight months in 1960 before moving to California to find work. There was a recession on, and work was scarce. During that time, he started fishing regularly with Punch who was retired. While Roger was newly 21, Punch had just turned 70 and consequently qualified for a free fishing license, for which he was very proud. Roger doesn't remember what they used to talk about, but he does recall passing pleasant hours on Offutt Lake shooting the breeze. Just a couple of guys who had nothing but time.
Punch was a longtime member of the Tenino Eagles Aerie, the Ancient Order of United Workmen, and the First Presbyterian Church of Tenino. He died in 1971 at the age of 81.
The Tenino Police Department, now led by Chief Robert Auderer, is still going strong and has grown since Punch's day. Wouldn't kids nowadays be thrilled to take driving lessons in one of Tenino's cruisers?