For many in the community, public transportation is a life-changing service that helps them to live their best lives. From commuting to and from work to enjoying recreational activities around the area, Mason Transit helps people get where they need to easily and safely. Employee and local resident Anita Givens has been driving for Mason Transit for the last 8 years and was recently recognized as Employee of the Year for her outstanding service. She is thrilled to be part of the amazing Mason Transit family and feels grateful for the opportunity to support her local community.
Before becoming a driver, Anita was actually a passenger of Mason Transit for many years. "I had been going to college and working, so being able to use a free bus system made my life so much easier," she shares. "I would not have been able to make it if I did not have this service." One day, one of the now-retired bus drivers shared with her that they were hiring and said he thought she would be a great fit. "I thought, 'why not?' and went for it," Anita recalls. "When I showed up, they all recognized me, which made starting a new job so much easier."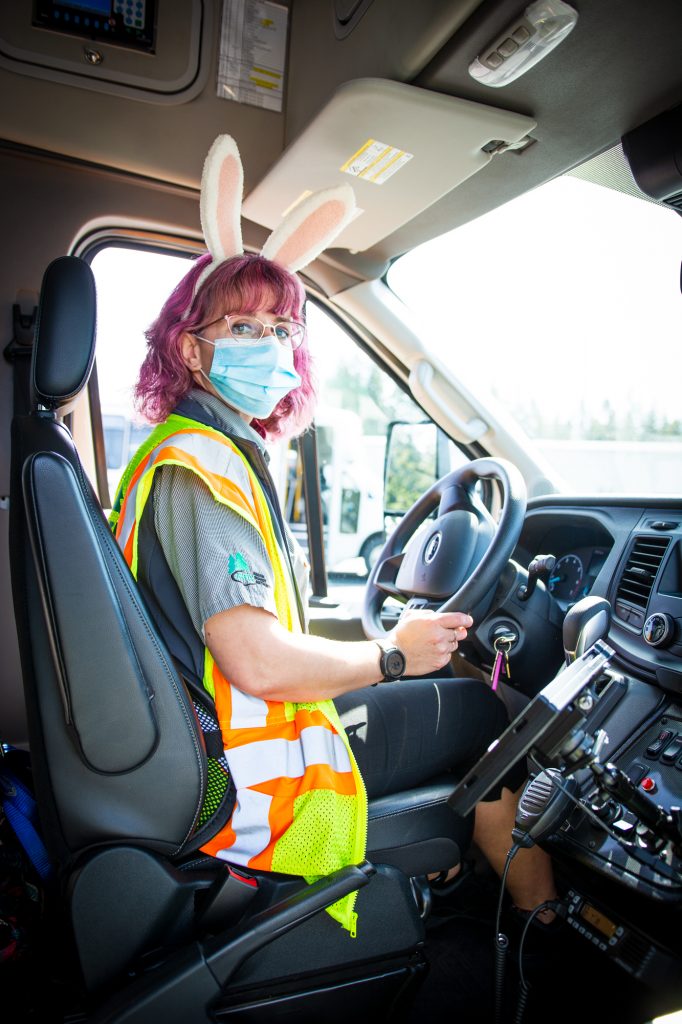 When Anita first started, it was a bit intimidating thinking of driving a bus. She quickly found the support and guidance she needed to feel confident behind the wheel thanks to Mason Transit's exceptional training. They covered the cost of the Commercial Driver's License and provided shadowing of experienced drivers to help new drivers gain essential on-the-job training. "It really helps bond you with other drivers," shares Anita. "I volunteer to be a trainer and love it. I always try not to forget what it was like to be a new driver!"
The best part of joining the Mason Transit team was the family-oriented atmosphere and supportive environment. "Everyone was so helpful and friendly and treated me with respect," Anita says. "The people I work with are absolutely wonderful and will go out of their way to help other people, and I really wanted to be a part of that." Working for Mason Transit has given Anita the opportunity to give back to the community she loves and provide the same experience she enjoyed as a passenger. "It is fulfilling knowing that I am helping in this community," she shares. "I really love that connection that you have with people with this job."
On an average day, Anita drives up to 200 miles and sees all sorts of new and familiar faces along the way. For her, developing and fostering these relationships has been an amazing bonus to the job. "We get to make connections with so many people and learn about their families, their jobs, their lives," she says. "Oftentimes for our elderly passengers we are their only human contact, so it is so nice to be able to give them a friendly conversation." She also has a unique opportunity to learn from different passengers about things to do in the area, which as an avid hiker she has really enjoyed.
After serving Mason Transit for many rewarding years, Anita was nominated and chosen for the Employee of the Year award. "It was a complete surprise," she recalls. "I am so happy I got nominated for just being me." Mason Transit General Manager Amy Asher felt the award was much-deserved. "Anita is recognized for her dedication to providing excellent customer service to everyone she serves," says Amy. "Her daily work habits inspire everyone to do their best and we are lucky to have her on our MTA team." Her fellow coworkers nominated her for the award based on her commitment to service and enhancing the quality of life of Mason County citizens. For Anita, being able to serve the community and be a part of this team has been an incredible experience that she has cherished each day.
Mason Transit has regular openings for bus drivers. Interested candidates are not required to know how to drive a bus before applying since Mason Transit provides all of the essential training and licensing support in order to be ready for the road. "If you like meeting new people and have a lot of patience, then you will love this job," Anita says. "I still use the bus now and love being part of this community." As a continued user of the public transportation system, she has provided exceptional insight and loves being able to share her experiences with the team so they can continually improve. With things opening back up, Anita is eager to be involved in expanding their services and team to provide even more to their community.
Through the dedicated efforts of Mason Transit and their devoted, compassionate staff, residents are able to easily travel across the county and even the state. No matter where you need to go, Mason Transit drivers will be there behind the wheel ready to help. To learn more, visit the Mason Transit website.