Despite the pitfalls and obstacles presented during the pandemic, many local entrepreneurs are pressing forward to open new businesses in our local communities. The Yelm Chamber of Commerce recently hosted three ribbon cuttings for brand new businesses in the Yelm area, each with a unique mission. Red White Blue Allstate, Get Fit Yelm, and Better Homes and Gardens Real Estate Northwest have all triumphed through the trials and tribulations of the pandemic and celebrated the opening of their businesses in 2022. These businesses have been thrilled with the support from local community members and the Yelm Chamber as they bring new services to Yelm.
Red White Blue LLC
109 Binghampton Street W, Rainier
253.620.9679
Red White Blue Allstate is a local insurance agency focused on insuring and protecting rural America. They opened their doors with a celebratory ribbon cutting on February 1 and are eager to make an impact on the community through their exceptional service, knowledge and products. Owner Wade Lowery spent 21 years serving our country and decided to transition to entrepreneurship as a way to continue to protect his community. "We bring a passion to protect the families we meet with the same values we protect our country with," says Wade. "Honor, integrity, respect, and selfless service." Their goal is to be known in local homes for their trustworthiness and protection and as a source of strength and support in the Rainier and Yelm communities.
With the help of the Yelm Chamber, Red White Blue Allstate has realized great connection and comradery in their new business. "The Yelm Chamber has been instrumental in helping us have a successful ribbon cutting ceremony and has been a strong supporter of our mission to support and protect our community," says Wade. "If we lift where we stand, we can all make a difference together." Wade is grateful for the support and togetherness he and his team have experience so far and are eager to continue to build a positive and devoted presence in the community.
Get Fit Yelm
103 93rd Avenue SE, Yelm
360.400.4000
Get Fit Yelm originally opened in August 2008, but recently came under new ownership on January 1. New owner Kasey Cartledge comes from a family of entrepreneurs and has seen firsthand how empowering and incredible this experience can be. "I wanted the same flexibility and legacy for my daughter," she shares. "I wanted to show her that she can do anything she sets her mind to through hard work and passion." She spent the last 15 years working in the fitness industry and was impressed and inspired by the local Yelm community when they relocated in 2010. "I fell in love with it," Kasey says. "You really know your neighbors, your business owners, and you support one another and the community passionately supports you." The Yelm Chamber has made this transition even easier as they have provided marketing opportunities and supported community involvement, such as with their ribbon cutting on March 14.
At Get Fit Yelm, their focus is to build community holistic health and wellness through their 24-hour access fitness center, as well as to promote lash and brow esthetics at the internally located business The Loft Esthetics. "We want to bring the opportunity of longer, happier, healthier lives," says Kasey. "We want a place where people of all ages can feel at home in the gym, and welcomed, not intimidated." In addition to an inviting atmosphere, Get Fit Yelm features a range of unique amenities, including a childcare center, infrared saunas, and incredible personal trainers. For Kasey, this has been a dream come true and she cannot wait to continue to bring health and happiness to the Yelm community.
Better Homes and Gardens Real Estate Northwest
416 East Yelm Avenue, Yelm
360.529.0992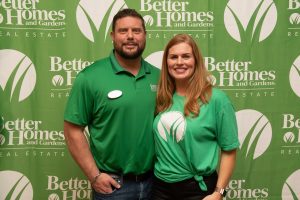 Better Homes and Gardens Real Estate Northwest ­is located in Tumwater and has seen the positive benefits of offering their services in Yelm. Owners and realtors Jessica and Steve Poulos strive to provide unparalleled service and an exceptional experience to community members. As longtime residents of Thurston County and a family themselves, they understand the area and the needs of local and prospective residents. "Yelm is a growing community and housing is in high demand," shares Jessica. "We feel like we can serve this community well by teaching people to make wise real estate decisions and increase their wealth through real estate."
They are eager to partner with the community and local businesses to better serve the residents of Yelm. The Yelm Chamber has played an impactful role in supporting this mission by providing support to Better Homes and Gardens Real Estate Northwest as they prepared to officially open on January 27. "The Yelm Chamber has been phenomenal in supporting our grand opening," Jessica says. "We had an incredible turnout for our grand opening and we owe a lot of that to Chamber advertising." With their recent opening, they are eager to connect more with the community they love and help fellow families find their next forever home in the Yelm area.
The Yelm Chamber of Commerce makes every effort to integrate new and established businesses into the fabric of the community. Through their support and the involvement of the local community, these new business owners have been able to open with a strong network and foundation for growth. For more information about they can do for your business, visit the Yelm Chamber of Commerce website.
Sponsored