It's time to think about how you are going to keep your kids busy, active and learning throughout summer break! Luckily, there are many organizations in Olympia, Lacey, Tumwater and throughout our region that offer fun summer camps. Whether your child wants to learn about nature, STEAM, a sport or maybe all three, there is a summer camp for that! Sign up quickly, as they do fill up. Here are the 2022 Summer Camps in Thurston County.

The Little Gym
The new The Little Gym Olympia is offering fun and active summer camps for kids ages 3-12. The camps will including physical activities, games and arts and crafts. Call 360.972.4515 to register your child. Visit The Little Gym Olympia website for more information.
Empowerment 4 Girls Summer Camp
The 2022 Empowerment 4 Girls Summer Camps are sure to be a big hit with your young woman or tween between the ages of 10 and 15. The camps educate, nurture and empower girls while teaching them skills and encouraging self-expression. For more information and to register, visit Empowerment 4 Girls website.
Olympia Community School
The Olympia Community School summer camp is open to children ages 5-11 during the 2021-2022 school year. Children should be 5 years old and ready to start kindergarten by September 2022. Camp will be offered all summer, from June 28 through August 26. Each week will explore different themes and will include activities with art and crafts, physical activity, STEM, reading and writing, and free play time. OCS summer camp will also have field trips. Currently scheduled is a field trip to "Music is Everywhere Week" at Millersylvania Park and out to Priest Point Park for a day filled with fun activities! More trips are in the works.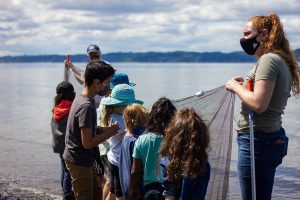 Puget Sound Estuarium
The Puget Sound Estuarium has summer camps for kids kindergarten through 8th grade that want to investigate the plants and animals living in the Puget Sound. Students will get to engage in hands-on estuary-centered education with trained staff—including feeding the animals! Low-income options available. Visit the Puget Sound Estuarium website to sign up.
Tumwater Football Youth Camp
The Tumwater Football Youth Camp is happening in 2022 and is perfect for youth wanting to spend their summer brushing up their football skills! Camp runs July 11-12 at Tumwater High School for incoming 2nd through 8th grades. For more information and to register, visit the Tumwater Football website.
Nisqually Reach Nature Center Summer Camps
While many of their camps are already full, the Nisqually Reach Nature Center still has spots available in their Science Adventure Camp for 8th through 10th grades. The camp runs Tuesday through Thursday. For more information and to sign up, visit the Nisqually Reach Nature Center Summer Camps website.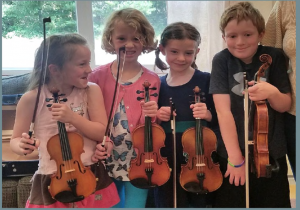 Olympia Kids Fiddle and Violin Morning Workshop
Children ages 7-15 can enjoy small group instruction in both classical and folk music. Classes for every level, from very beginning to advanced. Camp runs from June 27 to July 1. Orchestra students are welcome! Visit the Olympia Kids Fiddle and Violin website for more information.
South Sound YMCA Summer Camps
The South Sound YMCA has many summer camps for a wide range of interests. From nature to music and science to physical fitness, there is something for every kid! Camps Start June 27 with staggering dates through August. For more information, visit the South Sound YMCA website.
Sequoia's Treehouse
If your child loves learning and the outdoors, Sequoia's Treehouse Summer Day Camps are a perfect fit. Ages 4.5 to 7 and 7 to 9 will have tons of fun learning everything from pioneering to cooking and environmental education and outdoor survival skills, all outside! Visit the Sequoia's Treehouse website or call 360-742-3651 to learn more and enroll.
Girl Scouts of Western Washington
Just a bit north of Thurston County, the Girl Scouts of Western Washington have their stay-over summer camp at Camp Juilette. This unique camp is volunteer ran and girl led! Camps for 2nd through 12th graders are available. For more information and to register, visit the  Girl Scouts of Western Washington website.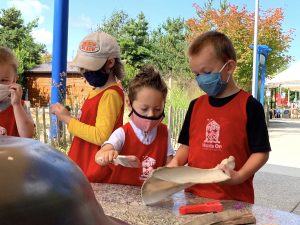 Hands On Children's Museum
The Hands On Children's Museum offers big adventures for curious minds all summer long. Give your child a summer filled with hands-on fun and learning. Half and full-day camps for ages 3-9, June 27-September 2, 2022. Spots are already quite full, so act fast for these fun-filled camps.
Wa-Ya Outdoor Institute
Camp Wa-Ya leads 10 single-week summer camps for campers ages 6 to 17 years old. Youth are immersed in hands-on experiential learning and native perspectives in the spectacular natural learning environments of the South Puget Sound Region. Thier camps are led entirely outdoors, exploring nearby parks, forests, beaches, trails and rivers. Our Day Camp sessions for ages 6 to 13 provide opportunities to experience marine science, forest ecology, geology, native teachings, outdoor survival skills, naturalist pursuits, hiking, kayaking, rock climbing and more! Their have a new Teen Adventure Camp program this year for ages 13 to 17 to strengthen true outdoor skills and go on overnight sea kayaking and backpacking trips with a focus on environmental stewardship. For more information and to register, visit the Wa-YA Outdoor Institute website.
Saint Martin's Univeristy
Saint Martin's University has summer camps for boys and girls basketball, baseball, softball, volleyball, track and field and girls soccer this summer. To register and for more information, visit the Saint Martin's University website.
Terra-Forma Education's Eco-Quest Summer Day Camp Adventures
Is Bigfoot real? Have you seen one? Are dragons real? What is your experience? Join Terra-Forma for a week of myth, magic and adventure as we try to find answers to these age old questions. Our adventure team will work together to find clues, seek out information and uncover evidence to complete the quest. Our adventure will take us to the forests and waters around Olympia in search of answers. What skills do you have that can help our clan be successful? On our travels we will learn the art of animal tracking, develop route finding skills, explore different habitats, discover the animals that live there and learn skills to help you survive in the wilderness. Visit the Terra-Forma website for more information and to register.  Camp runs Monday-Friday, 9 a.m.-4 p.m., for children ages 6-10. If you have questions, email caveman@terra-forma.us.

The Iron Horse Farm and Fine Art
The iron Horse Farm and Fine Art is offering eight weeks of farm, art and nature camps for kindergarten through sixth graders. Information about the camps can be found
at the Iron Horse Farm and Fine Art website.
Parks and Recreations
The Parks and Recreation departments for your city also has tons of fun camps and classes to fill your child's summer…and maybe even your own! Be sure to check out their websites: