When Stephanie Summers was seeking to move from retail into banking, she got word of a free path to her new career. That path was the BankWork$ program supported by Olympia Federal Savings (OlyFed).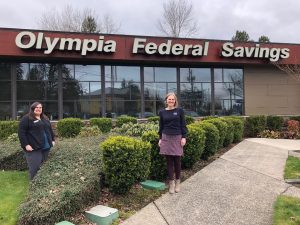 "My mother worked at Timberland Regional Library," Summers says. "She came home waving the flyer, saying, 'it's free!'" That flyer described the BankWork$ no-cost eight-week professional training course, helping young adults from underserved communities build meaningful careers in banking.
The BankWork$ program began in 2006 in Los Angeles and has now expanded to 80 banks including OlyFed in the South Sound. OlyFed began supporting BankWork$ in 2021. The program teaches the skills needed by tellers, customer service representatives and bankers. It provides coaching on interviewing and resumes, offers job placement assistance and gives ongoing coaching support.
Summers is now a Customer Service Representative at the West Olympia OlyFed branch, after graduating from BankWork$ in 2020. "I just wanted a career," Summers says. "I just wanted to get my foot in. I want to get in and close the door behind me."
BankWork$ Instructor Shelley McHugh and Career Navigator Sara Sheldon split duties while working out of the Career Path Services office in Lakewood. With COVID-19, there's now a hybrid of in-person and online classes. They also conducted a class at the WorkSource office in Thurston County and may do that again.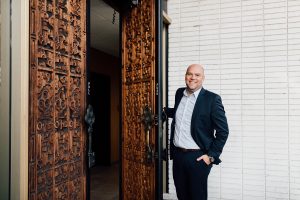 Sheldon says not only does the hands-on course teach students the fundamentals of banking, but it also helps locate other resources to help reduce barriers to getting and keeping a job. Those resources include interview clothes, bus passes, access to a Chrome book, daycare assistance and other supportive services.
McHugh says as a sponsor institution, OlyFed has helped students hit the ground running. "OlyFed has done a really good job," she says. "They do mock interviews, speak in classes and share their stories."
Students are required to be at least 18, have a high school diploma or equivalent, be proficient in English (bilingual and multilingual persons are encouraged to apply), and know basic computer skills. "They can go as far as they want to go with a high school diploma," McHugh says. "They can promote from within."
After graduation, OlyFed and others sponsor banks and credit unions conduct real interviews for their vacant positions.
McHugh says the program can open doors to banking jobs in other states, too. "Our program is recognized by the Washington Bankers Association," she says. "That's an important tool, for example, if you move to Arkansas. A bank will recognize the endorsement."
The eight-week program's teaching modules cover workplace professionalism, financial services fundamentals including banking regulations, working with customers, and interview skills and resumes. "We really try to get folks job ready," McHugh says.
The program accelerates success for its graduates, including increasing their income, employment rate and lifetime earnings. Eighty percent of graduates are people of color and 53% of participants are bilingual or multilingual. "We try to reach people who don't picture themselves working in a bank," McHugh adds.
OlyFed Human Resources Generalist Diedre Michie is a fan of BankWork$. She says it opens the eyes of potential workers to the world of banking. "We share with the student's background on OlyFed's culture and hiring practices," she says. "We help them understand banking." She says students have a variety of backgrounds before entering BankWork$. "Their experiences really vary," she says. "Some have had a few jobs, to others who have had careers and are looking for a change."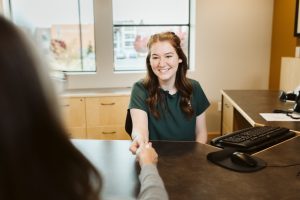 Michie says because OlyFed heavily promotes from within, someone looking to get into the banking industry will be well-served to go through BankWork$ as a first step on a career ladder that could lead to more. "Our CEO started as a receptionist," she says. "We have had people come in as a teller, and are now assistant managers, bank managers and members of our senior leadership team. It's a career path."
Summers says she had been trying to get into banking for years. That's why she says enrolling in BankWork$ was not only exciting, it also got her ready for her customer representative position at OlyFed. "I was really prepared with BankWork$," she says. "I saw that it worked like a zipper. It was really a seamless transition and all my training fit together with the skills and experience that were needed for my new career."
If you are interested in enrolling in or supporting BankWork$, check out this website.
Olympia Federal Savings
Downtown Olympia
421 Capitol Way S
360.754.3400
West Olympia
2420 Harrison Avenue NW
360.754.3430
BankWork$
253.316.3483
Sponsored