As a homeowner, it's always a good idea to learn new skills to better maintain your home, and to have a network of homecare professionals in your back pocket. There are many reputable and knowledgeable businesses surrounding home and garden care. The 15th Annual Nisqually Valley Home & Garden Show is the perfect place for any businessowner in the world of home improvement, gardening, and anything in between to connect with homeowners across Thurston County. The Yelm Chamber of Commerce is hosting this one-day event on Saturday April 30 at Yelm High School and is providing sponsorship and workshop opportunities for businesses in the area. Contact Yelm Chamber Director Line Roy at director@yelmchamber.com to learn more today!
The Nisqually Valley Home & Garden Show has been a long-running event that was unfortunately postponed for two years during the pandemic. Now in 2022, the event is resurging for its 15th year to once again draw homeowners and businesses together for a day of convenient and essential networking. "We are really excited to be bringing this event back," shares Line. "It is free to attend, so people can come in and spend the day checking out the workshops, visiting with local businesses, and connecting with other people in your community."
This social event typically attracts between 1,500 to 2,000 people across 2 days, and the Yelm Chamber is expecting to attract similar numbers from many communities for the 1-day event this year.
With their widespread marketing efforts and history in the community, businessowners will have the chance to be front and center with a pool of their ideal clients. There are unlimited sponsorship opportunities available to support the Nisqually Home & Garden Show, which comes with some additional business advertising leading up to and during the event. Sponsorship opportunities start as low as $200 and provide the perfect platform to promote your brand alongside this successful and exceptional community event. Current sponsors include two local Yelm businesses, the Better Homes and Gardens Real Estate Northwest Home Team and Shiplap Shop & Coffeehouse. Both of these sponsors are eager to expand their brand and connect with the community through the support of Yelm Chamber.
"This year we are also looking to focus on workshops and demonstrations for attendees," explains Line. "If attendees want, they can either watch the demonstration or get their hands dirty and participate alongside the business." Through workshops, businesses can provide step-by-step instructions on their services or do-it-yourself activities to help homeowners learn new skills and even develop new hobbies. This gives participating businessowners a unique opportunity to connect with members of the community on a much more personal level.  "This year we are hoping to get businesses that can do workshops on caring for succulent plants, refinishing furniture, cookie decorating, and creating chalk décor," shares Line. If you are a business in Thurston County that is knowledgeable in one of these areas, contact Line at director@yelmchamber.com to get on the workshop schedule today!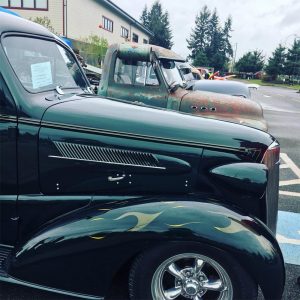 The event isn't just a great place for businesses in home improvement industries to connect with the community. "This is a great way for service organizations to get plugged into the community, whether they are looking for new volunteers or members, or perhaps looking to register local youth into programs," says Line. "You can really get connected to a lot of things at once here." The Nisqually Valley Home & Garden Show makes every effort to promote every business and organization participating in the event. Each year they host a scavenger hunt that runs throughout the day and guarantees more traffic to your booth. They also accept booths promoting other community events, so no matter what your mission or goal is, you can find a place to promote it at the Nisqually Valley Home & Garden Show.
Many businesses have benefitted greatly from the exposure and connection found at this community event. Sandi Hanson of the Rotary Club of Yelm is excited about the event resurging this year and anticipates another great turnout. "We are happy to see the Nisqually Home Show return for 2022," she says. "Yelm Rotary has participated in the Nisqually Home Show from the beginning. Our participation lets us meet so many people in the area. It is a professional set-up with lots of vendors and businesses to check out. For us, we can talk to the community and let them know what Rotary does locally. It is a great event for that. It is great that we have a local event that supports our community."
With delicious food trucks, exciting workshops, and even a tight-knit annual car show, this event draws a wide and diverse range of homeowners from the local area. Businessowners and organizations alike have a unique opportunity to participate and connect with patrons and community members in a whole new way, all while receiving greater brand recognition and promotion through the event's marketing efforts. If you are in a home or gardening industry, the Nisqually Valley Home & Garden Show is the perfect place to set up a booth or sponsorship. Don't miss your chance to be one of the many exceptional entities at this exciting event!
Sponsored