People have enjoyed a St Patrick's Day feast for more than 1,000 years. The earliest documented American celebration predates our country by almost two centuries and took place in what would become St Augustine, Florida in 1601. In Olympia we may not dye Puget Sound green, or host elaborate parades, but thanks to Ralph's and Bayview Thriftway, you can still celebrate St. Patrick's Day with a delicious dinner and plenty of tasty leftovers all week long.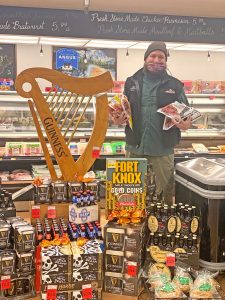 Historically, St Patrick's Day "falls during the Christian season of Lent, [so] Irish families would traditionally attend church in the morning and celebrate in the afternoon. Lenten prohibitions against the consumption of meat were waived and people would dance, drink and feast–on the traditional meal of Irish bacon and cabbage."
These days, corned beef with all the trimmings usually takes center stage on the table. This humble cut—chosen by President Lincoln for the inaugural luncheon in 1861—is easy to prepare.
"We always feature corned beef briskets," says Nick Davis of the Bayview meat department. "We offer flat cuts, point cuts, choice angus cuts, and we also have Irish style Knockers, which are an Irish take on the British banger sausage." No St. Patrick's Day meal is complete without Irish soda bread, and Thrifway will have that too.
"Corned beef is best when braised slowly in water with peppercorns, bay leaves, and a little bit of chili flake," he adds. "Some salt may be required but usually the cured meat is plenty salty enough. Add potatoes, carrots and cabbage for the last 45 minutes to 1 hour of cooking for a plate that'll knock your socks off. Save leftover corned beef and potatoes to make corned beef hash for breakfast the next day or over the weekend!"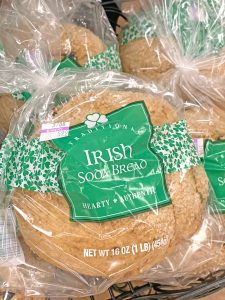 Extremely versatile, corned beef can be prepared for a Keto diet, in a slow cooker or Instant Pot. Go a little wild and turn leftovers into sliders, egg rolls, mac and cheese, nachos or low-carb Reuben wraps.
Don't feel like cooking all day? The Bayview deli can do the hard work for you thanks to their plated Hot Corned Beef Dinner. From 11 a.m. until 5:30 p.m. on March 17, they're offering a complete meal by the plate. Get corned beef, carrots, cabbage and potatoes to go for only $14.99 each. Reservations aren't required but you can order by phone at 360.352.4901, extension 4, or directly from the deli counter.
But save plenty of room for dessert. Bayview Bakery Manager Amy Peters says they're showcasing Superior on Main green cookies, mini decorated cupcakes, McTavish Shortbread Shamrocks from Portland, either dipped green or sugared green, and pistachio sliced cakes.
"We also carry a variety of gluten free desserts, which are delicious but not green," laughs Peters, "I believe we have the largest variety of gluten free items in the county." And then there's the homemade fudge. No matter the occasion, there's always room for fudge. They currently have classic chocolate, Penuche (or brown sugar), vanilla, and peanut butter.
And don't forget to stock up on things like extra napkins, lovely mustards and bread for sandwiches the next day, a few cans of iconic Guinness beer and—if your family is anything like mine—some peppermint tea to soothe the tummy after seconds and thirds.
As a fourth generation, family-owned company, Stormans believes in making the community better, one meal at a time. You can browse the weekly ad on their website and even make your list by clicking directly on the images. Or do your shopping online and pick everything up on your way home from work. However you shop, make sure you're enrolled in the awards program to receive cash into your electronic wallet.
Ralph's Thriftway is open 24 hours a day, 7 days a week while Bayview is open from 6 a.m. until 10 p.m. every day. Have questions about products or services? Give them a call. Ralph's can be reached at 360.357.8011 and Bayview is 360.352.4901. Follow them on Facebook for specials, recipes, new additions, events and activities. There's always something tasty going on.
St Patrick driving the snakes out of Ireland or using a shamrock to explain the Holy Trinity may be more legend than fact. Historically his color was blue, not green. Time has a funny way of muddling our stories, but the stomach always remembers. And this March 17, let it lead you to the nearest Thriftway for a feast of saintly proportions spent with family, friends, neighbors and loved ones, Irish or not.
Sponsored