The International Order of the Rainbow for Girls has an assembly in Olympia that is looking to grow its membership. "It's not uncommon for people not to know about us," says Joie Erickson, a parent involved with the local organization. A primary focus of the group is on service to their community. Girls and young women ages 8 to 20 are eligible to join.
Rainbow for Girls promotes leadership and self-esteem for its members. They learn valuable skills such as public speaking, running meetings and acceptance of each other's differences and strengths. Girls hold leadership positions within their assembly and can advance to positions statewide. It is an international organization where people can make world-wide connections.
The nonprofit mission is to prepare "girls for responsible and purposeful adulthood through character and leadership development, encouraging unselfish service and higher ideas in life, and promoting teamwork and effective interpersonal communications."
"I am grateful for finding Rainbow," says Joie. "It brought my daughter and I closer together. Her daughter, Cassie, joined at 13 and this past July, at the age of 22, concluded her rainbow career.  "She was very shy, did not look people in the eye, or talk to strangers with confidence," she adds.
Cassie continues the story. "I am who I am now because of the girls and adults of this Organization," she says. "Shaking hands, volunteering, or speaking to a group of over 1,000 people at the Sun Dome are all things I can now do because of Rainbow. But the best part are all of the friends I know I can always count on."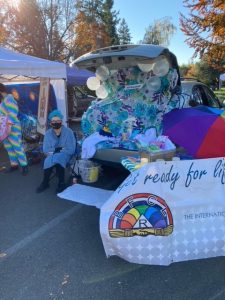 Service is a huge component for Rainbow girls. "Activities are philanthropic around charity and service to others," says Joie. The Olympia assembly has collected blankets and pillowcases for the Shriners Hospital. The girls have raised money and collected food for NW Harvest. Hats and blankets have been gathered for local foster children and hygiene products collected for SafePlace. They participated in a Juneteenth picnic at the RAC, Lacey's Regional Athletic Complex, and have gone to Ocean Shores to help with Earth Day beach clean-up. They make fleece tie blankets to donate. There are local and state service projects, such as this year's Page Ahead, where books are collected and provided to shelters and low-income families. Girls and their parents are encouraged to make activity suggestions where everyone can participate. Fundraising is accomplished through bake sales or hosting events.
Many high schools require community service before graduation. Colleges and universities ask about volunteer hours for admission. This could well be accomplished through Rainbow Girls.
Additionally, projects give members opportunities to meet with professionals for career guidance and networking. This can be helpful with career paths. All this ties into a Rainbow Girl emphasis on developing leadership, confidence and citizenship.
Rainbow for Girls is a Masonic youth organization that began in 1922. It is not a religious group. However, candidates are expected to believe in the existence of a supreme being or higher power. Other requirements are that the young women also do not cohabitate with a significant other, have had no children, are not pregnant, have never been married, and have the permission of parents/guardians.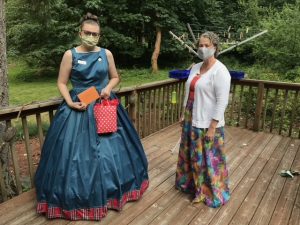 The image of the rainbow correlates to identifying a color with seven corresponding virtues.
Red is for love in all its forms
Orange is for religion in all its forms based on love and forgiveness
Yellow is for nature and its importance in daily life
Green is for immortality understanding that death is part of life
Blue is for fidelity with emphasis on being honest and reliable
Indigo is for patriotism encouraging citizenship to your country
Violet is for service to others which binds all the colors together
All programs are designed to enhance confidence, empowerment, sisterhood, and service.
The Rainbow Girls assembly meets twice a month on the first and third Mondays of each month in the evening behind the Masonic Temple in Tumwater. "It is open enrollment and youth are welcome to come to a meeting or an activity," says Joie. It is a way to see if it is a fit. In addition to the service projects, plans are made for one weekend a month on a Saturday or Sunday for a group fun activity that is usually outdoors. "We have been a fairly small assembly in Olympia," says Joie and looks forward to welcoming new members. For more information, you can check out the website.