The South Puget Sound Community College (SPSCC) basketball programs will conclude a four-game road trip when they travel to Longview to take on Lower Columbia College in a Northwest Athletic Conference double header on Wednesday, February 9.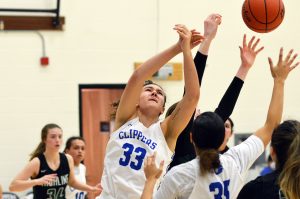 The women's game will tipoff at 5:30 p.m. followed by the men's game at 7:30 p.m. Both Lower Columbia squads sit atop the West Region standings with undefeated conference records.
The Clipper women will attempt to push their conference mark a game above .500 with a win over the Red Devils. SPSCC is coming off a 58-50 win at Green River College on February 5. Freshman post Jennie Goldsberry, who has been dominant the last two games, averaging 20 points and 18.5 rebounds, registered her fifth double-double this season by scoring a game-high 18 points to go with 14 boards in the win over the Gators.
The Clippers (6-5 overall, 2-2 conference) also received 12 points, six rebounds, six steals and five assists from Payten Foster and 13 points from Sharay Trotter.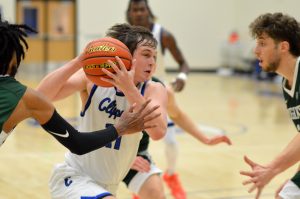 The win came on the heels of a tough 80-74 loss at Tacoma Community College on February 2. With a depleted roster due to COVID-19, the Clippers played just five players, but still managed to hold a six-point lead heading into the fourth quarter before eventually falling to the Titans.
Goldsberry put up one of the best statistical games in program history, scoring 22 points and pulling down 23 rebounds against Tacoma. Foster also had another big all-around game, adding a career-high 24 points with nine rebounds and four assists, while fellow freshman Kayla Jackson went for 15 points, nine rebounds and six assists.
Lower Columbia brings a five-game winning streak into the contest. The Red Devils are 15-1 overall and a perfect 5-0 in the conference.
After forfeiting two games due to COVID-19 NWAC policies, the SPSCC men's team returned to the court for the first time in two weeks, losing at Green River (84-56) on February 5. SPSCC's Mekhi Speller-Hale continued his strong sophomore season, scoring a team-high 22 points and adding seven rebounds in the defeat. Speller-Hale was joined in double figures by Hayden Wakefield, who scored 11 points.
Kyle Gruhler (14.9 points per game) leads a balanced Lower Columbia (12-4, 4-0) offensive attack, which features five Red Devils averaging 10 or more points.
Sponsored