Each new year brings with it the chance to create a new you. Some of us make long, optimistic to-do lists while others focus on their inner self, family time or work/life balance. At the South Sound YMCA, they work hard to maintain a welcoming, inclusive environment that honors those resolutions. For the month of January, there's no joining fee and families of all ages are invited to stop by and see what they have to offer.
Kenneth Mobley is a member who attends the Shelton Family YMCA branch. "There is not one thing that most attracted me to the Y," he shares. "Everything here at the Shelton Y made it seem as though it was built specifically for me and my family. The location, the weights, the cleanliness and the staff all of which fit me and my kids needs perfectly. I also think that people are not as aware of the work placement opportunities and the community engagement efforts they offer."
Three Locations to Keep You Engaged
The YMCA has three locations in the area, each offering a range of exercise, education, youth and wellness activities. Executive Director of Advancement Sarah Clinton explains that the Y is  "The only nonprofit gym in the South Sound and our goal is to help you reach your goal. Our purpose is to strengthen community by focusing on families and providing opportunities for everyone to be healthy and active. There is on-site childcare and discounts and priority registration for youth programs and swim lessons."
"As we all recover from the pandemic, reconnecting with our community and investing in our health are critical," she continues. "These are both central to our mission and I look forward to all of the new opportunities this year will bring." This includes a variety of boutique-style classes and programs such as yoga, Pilates, and spin all in one place.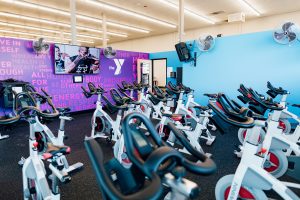 Michelle Gipson, Senior Director of Branch Operations, agrees. During the Find Your Y promotion, not only is the joining fee waived but folks can register for New Member Orientation where the helpful fitness staff can help you set wellness goals, connect you to programs and opportunities at the Y, and register for February swim lessons one week before the general public.
"At the Y, you'll find more than just a place to work out," says Gipson, "the Y is a place where children supplement their learning in our before and after school programs. Where young people feel empowered and confident to use their voice during our Youth and Government debate sessions. Where people of all ages and backgrounds learn that water should be fun, not feared. And where kids gain new skills, learn to work as a team, and connect with positive roles models through youth sports, and our summer camp programs. We are more than just our gyms, pools and programs. At the Y, you belong to a community where you can find your purpose and achieve your goals."
"The Y is about belonging, achievement, and relationships and we know that most of that happens in community," she continues. "Though COVID has disturbed our routines and kept us from connecting with people and in spaces that are essential to us, we have had to lean on our ability to adapt. We care about our members and our community and will continue to do everything possible to create safe, healthy, and fun places and programs for a healthier community, mind, body and spirit."
"At the Y, we know that lasting personal and social change comes about when we all work together," stresses Gipson. "We collaborate with other organizations who are committed to providing youth and our community an affordable and accessible resource for the positive development of spirit, mind and body. One of our recent partnerships is with OAR (Olympia Area Rowing) who has moved its winter training for youth to our Plum Street branch. Their goal is to make the sport of rowing accessible to more youth by removing the barriers of cost and proximity."
Some of the Y's most popular offerings take place around the water. "The Briggs Y has two of the best pools in Thurston County," says Gipson, "where we offer lap swimming, a competitive youth swim team, and instructional swim lessons for all ages, as well as low and high intensity water exercise classes. Families can enjoy swimming together during scheduled Recreational Swim times. On Sunday afternoons, our Sensory Friendly Swim Time will return,  where the pool is reserved for anyone with sensory processing issues who needs a dedicated pool space."
For those who prefer to stay dry, consider the Rock Wall, On Demand Cycle classes, Kids Night Out and Flick-n-Float events, and so much more. Learn more about these and more during a New Member Orientation session.
The Y is filled with opportunities to connect with new people, develop new skills and explore new interests, you'll discover new passions and a greater sense of purpose. To find your purpose, call your Y 360.753.6576 or email membership@ssymca.net today. You can also drop in to their Briggs, Plum Street or Shelton branch with questions or to learn more. Both you and your family will love tackling 2022 in style at the South Sound YMCA.
Sponsored