Mental health challenges with children and their parents are skyrocketing. Many people are looking for help with their kids. "Our office is getting 25 to 30 calls every day," says Cary Hamilton of Olympia Therapy. Not so long ago, we thought the pandemic was turning a corner back to what we perceived as normal. Instead, what has happened is increased anxiety about life. Youth and parents are searching for better ways to cope and ease feelings of the hopelessness. Cary has a few suggestions.
First, it is important to review the current landscape. "We need to reframe where we actually are now," says Cary. Students are in their third interrupted school year since the pandemic arrived. Remote learning and isolation have greatly slowed the developmental steps for students of all ages. That means your high schooler might be acting more like a middle-schooler. "This trend continues through the grades" she cautions. Your second grader might seem like a kindergartener. They look older but don't always act older. "Our brains continue to function in a high stress system," explains Cary. Developmental milestones have been missed.
When the encouraging news about the vaccine made it look like in-person school would resume in the fall as usual, people were buoyed. Unfortunately, many people remained unvaccinated and new variants appeared, bringing back new and greater insecurity to everyone. "Our brains crave security." Cary points out everyone is feeling this. Even families with available parents/adults at home and unlimited funds are experiencing challenges.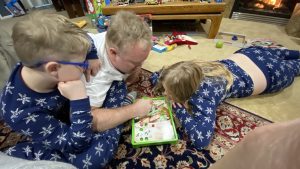 These uncertainties seed anxiety and depression. Children use two popular coping skills. "They shut down or act out," says Cary. You might hear your child say, "I don't care!"  Parents may have been hoping that getting kids back at school full time would have lessened these issues. Unfortunately, it made it worse.
Parents are tending to parent as they always have (pre-pandemic). That might look like getting in the face of your senior in high school and putting pressure on them about the future, asking things like, "When are you applying for college? Are you signed up to take your tests? What are you going to do?" Kids don't know, the future is unknown.
"Parents, who are equally stressed, don't always know how to interact in healthy, supportive, caring, ways," explains Cary. Parents have not changed their expectations. Children are generally not meeting them, like they did pre-pandemic. It is especially difficult for parents and students who like everything to be perfect.
So, What Can You Do?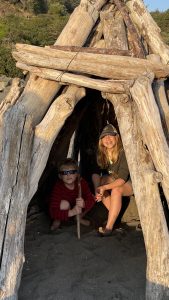 It is important that parents admit that they, too, have stress and anxiety. "Children mirror parents," says Cary. Kids are always listening and watching. "Kids don't know what's going on," she hears parents tell her. She disagrees.
It is learning to be willing to talk about the hard stuff, like the future, how life is different now and that there are conflicts and disappointments. Avoidance of subjects give kids the message, "You don't trust me." Then there's more anxiety because they wonder about what you are hiding. This is the time to practice flexing your muscles of giving and accepting feedback and constructive criticism.
Kids ask questions. Cary suggests you look up the answers together, if you don't know how to answer. If you don't, they will find other sources through friends or the internet. "Take a breath," suggests Cary adding, "It's okay if you don't know. You don't need to shame yourself or anyone else.
"Don't give up hope, even when your child is sad," encourages Cary. She strongly believes that everyone would feel significantly better by lowering expectations. Remember to get outside more, even when it's cold and wet. Jump in the puddles. Children often find it easier to talk while they walk. Find time together to watch movies, play games and have fun. Strive for connection.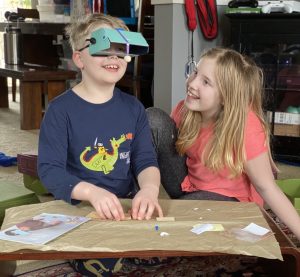 A final suggestion for parents from Olympia Therapy is to lean in. "Parents flip out," says Cary when they hear it, but it works. Leaning in means finding a way to connect with your child instead of disconnecting. Leaning in might be accepting one homework assignment from your child to do before dinner rather than completing all the assignments. Leaning in is about not resisting. "Parents believe it doesn't work but it does," she notes.
Don't be afraid to reach out with friends and family. We all have fears and worries and similar stories. There is astonishing power in relationships. When you have relationships, you can overcome anything. Books by Dr. Bruce Perry may be helpful. Use resources provided by the schools, such as suicide prevention information.
You can call Olympia Therapy for an appointment and seek out parenting support from Playful Wisdom. Parents information and new educational materials, including segments about what to expect from children at various ages, can be found on our sister website Playful Wisdom. The mental well-being of you and your family is important to everyone.
Olympia Therapy and Playful Wisdom
1534 Bishop Rd SW, Tumwater
360.357.2370
Sponsored