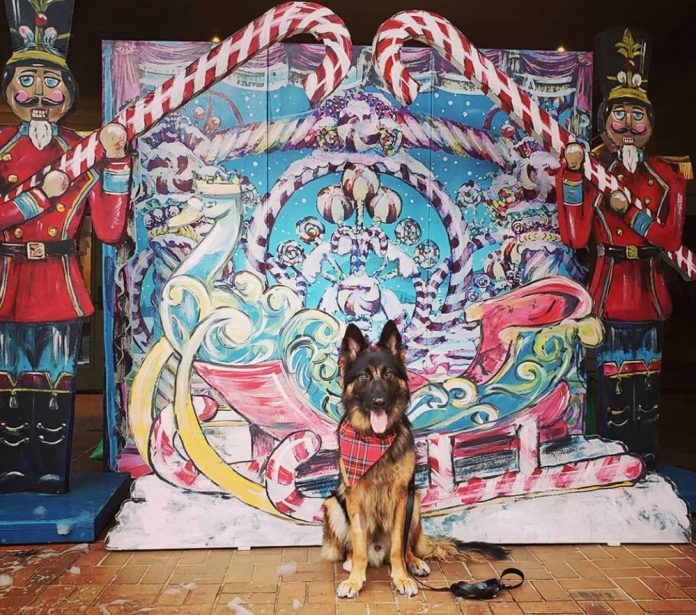 The holiday season is upon us, which means many exciting seasonal events are happening in our community. The Olympia Downtown Alliance (ODA) is proud to present another year of holiday cheer with Downtown for the Holidays. This season will feature a series of events and festive fun, all presented by local sponsor Washington State Employees Credit Union (WSECU). The Thurston Economic Development Council (EDC) wants to remind shoppers to keep their dollars local.  Aslan Meade, the EDC's director of strategic alliances, has been a long time vocal proponent for buying local.  "Now more than ever," says Aslan, "with the challenges our local businesses have faced over the last year and a half, and the increased competition from online, home-delivery shopping, our locally owned small business owners need our support."  This will be easy to do with all the fun planned by the ODA.
Two local artists have participated this year to fabricate some pieces to capture the Christmas spirit and liven up downtown Olympia. "Dave Sederberg has fabricated four, eight-foot trees that will be lit up for our holiday lighting celebration," explains ODA Executive Director Todd Cutts. The trees will sit on all four corners of 5th and Washington on the awnings of the buildings for the rest of the holiday season.
The second artist, Jill Carter, has designed Coho Ho Salmon, complete with wintry hats and snowflakes, to be hung along the streets. There will be four salmon swimming along the streets, all illuminated by soft twinkling lights. "The salmon will also be projected onto the Goldberg Building with a range of colors behind them," says Todd. Jill also helped design and fabricate this year's selfie scenes, which are back by popular demand. "These are full-size holiday scenes that people can take their pictures in front of," says Todd. There will be three of these scenes scattered around downtown, one of which is a scene with a life-size nutcracker from the holiday classic, "The Nutcracker" ballet.
LoveOly Shop and Dine Promotion
The LoveOly Shop and Dine Promotion is back for its second year in Downtown Olympia beginning on November 26 and running until December 24. In this promotion, downtown shoppers are given a LoveOly passport where they can get a stamp for spending $10 or more at a participating business. Once you have 5 LoveOly stamps, you can redeem your passport for your choice of a LoveOly gift, including a scarf, deck of playing cards, journal and more. All of the participating businesses have passports available, so be sure to head downtown to get started on yours right away! You can take even advantage of complimentary parking from December 12 to December 24, provided by the City of Olympia.
The Shop and Dine promotion was born out of the struggles of 2020. The ODA couldn't run their usual holiday events due to pandemic restrictions, but they still wanted to support the wonderful local businesses in downtown. Last year, over 700 passports were redeemed, which means the promotion brought roughly $125,000 of revenue to our small businesses. Since it was such a success, it has been reignited this year to encourage people to once again shop locally this holiday season. "It allows customers to come downtown and support the local businesses all throughout the month," says Todd. So far, 86 of the retail stores and restaurants downtown are participating, so you can get a stamp almost anywhere you go.
Oly Twinklefest
As part of the holiday cheer, many of the local businesses downtown will also be participating in the Oly Twinklefest. This friendly competition invites small businesses downtown to get in the spirit by decorating their storefronts and window displays with festive holiday décor. The Parking & Business Improvement Area (PBIA) Board has also funded a series of snowflakes to be hung downtown to couple the zig-zagging lights and ornaments decorating the streets. Plus, anytime there is a show at the Washington Center for the Performing Arts, you can enjoy a seasonal snowfall for an hour before the performance. There will be plenty of things keeping the magic of the season bright will you shop!
ODA is thrilled to welcome so many wonderful holiday events and promotions this season. "We are trying to continue to layer more holiday cheer downtown every year," says Todd. "This gives people a fun and safe opportunity to come downtown, be outside, and support their local businesses." We could all use a little more joy in our lives, so be sure to check out all of the exciting events and promotions with Downtown for the Holidays!
Supporting Locally-Owned Small Businesses
While downtown Olympia may be the heart of our retail small business community, Aslan and the EDC encourage you to shop local all throughout Thurston County.  "Whether you're downtown for the holidays, or in Lacey, Tumwater, Yelm, Tenino or Rochester, Thurston County is home to amazing local small businesses of all kinds.  Our local businesses are unique and full of character, with owners committed to and deeply engaged within our community," says Aslan.  "Please invest your dollars back into where we live, celebrate the season, have some fun and be grateful we get to live in such a beautiful and special place."
Sponsored