If anyone out there forgot who the defending Class 2A state football champions are, Tumwater High School served up a pretty good reminder. The Thunderbirds, playing in their first postseason game in two years, began their quest towards title No. 7 for the program by crushing visiting Columbia River, 62-14, in the district round of the state playoffs at Tumwater District Stadium on November 5.

Tumwater got off to a fast start, leading 27-0 after the first quarter and 48-0 at the break as the T-Birds scored touchdowns in all three phases, including a punt return for a score from Payton Hoyt to open the second quarter.
"The punt return really set us apart," said senior linebacker Caleb Sadlemyer, who followed up the special teams score by returning an interception 50 yards for a touchdown moments later.
Junior Carlos Matheney put the finishing touches on a near-perfect first half of football, adding a short TD on the ground to give Tumwater the commanding 48-point advantage.
"Hats off to the kids for being ready to go," said Tumwater Coach Bill Beattie. "Our kids prepared like crazy this week. It doesn't matter who we play, we prepare. And our coaching staff is second to none. They're great and really had these kids ready to go."
It was more of the same at the start of the second half with senior Ashton Paine returning the kickoff 90 yards to push the lead to 55-0, causing Beattie to pull his starters soon after and turn things over to the T-Bird reserves.
"This game has been on our calendar since 2020," Sadlemyer said. That it has as Tumwater, which won the 2A championship in 2019, was never given a chance at defending that title last season after the postseason was cancelled. The T-Birds went a spotless 6-0 last season, highlighted by a 50-12 thumping of previously undefeated Steilacoom, the team Tumwater defeated in the title game the previous year.
"I think if you ask the kids, they will tell you we were state champs last year too," Beattie said. "We have 31 seniors on this year's team. They have been fortunate to have been in (playoff) situations before. They've been around it for a long time. It's a great group and they've just doing a fantastic job. They come out every day at practice and work on fundamentals. They get after the basics and that's why when it's time to play they come out ready."
That was certainly the case against Columbia River, which found absolutely no breathing room against a stingy Tumwater defense, which is anchored by a pair of D1 defensive ends in Ryan Otton (University of Washington commit) and Austin Terry (Boise State).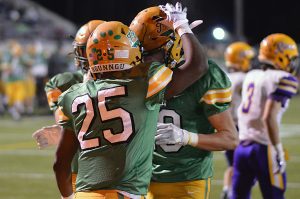 "We're happy to be playing and are just focused on the road ahead," Sadlemyer said. "We're a tight-knit group who just love playing together. We're looking forward to the next game."
Tumwater will take a 7-2 record and the top seed into the 2A state tournament where it will host 16th seed East Valley of Spokane (4-3) in the first round. The teams have met once before in the playoffs with the T-Birds knocking off the Knights, 63-27, in the 2010 state semifinals.
The winner will play the winner of No. 8 Hockinson and No. 9 Enumclaw. Tumwater has recent history with both programs. The T-Birds hammered Enumclaw, 56-6, to open the season and have played Hockinson twice in the state tournament. Hockinson beat Tumwater, 35-22, in the 2017 state championship game with the T-Birds winning the postseason rematch in 2019 by throttling the Hawks, 55-7, in the 2019 state semifinals.
Unlike two years ago when Tumwater took a perfect record into the state playoffs, the T-Birds have dropped a pair of games this year, but don't let the two setbacks fool you. Tumwater's losses this year have come against 4A state-bound Camas (28-26) and in a 42-35 overtime loss to Central Catholic, an undefeated 6A school out of Portland, Oregon.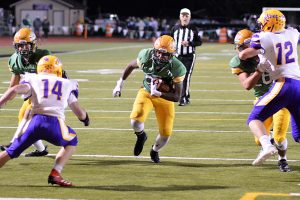 Outside of those contests, Tumwater has won 23 consecutive games against 2A competition over the last three years, highlighted by a 48-34 triumph over Steilacoom in the 2019 state championship game. The T-Birds went a perfect 4-0, outscoring opponents a combined 189-13, to win their third straight 2A Evergreen Conference championship this year.
Tumwater advances to the state tournament for the 31st time in program history. The T-Birds are 24-6 all-time in the first round, including 3-0 under Beattie, who was a senior captain and all-state lineman on Tumwater's first ever state playoff team in 1977.
Tumwater has won eight straight first-round state playoff games overall, last losing in the opening round in 2011 to eventual state titlist Archbishop Murphy. 
In addition to winning the 2A state title in 2019, the T-Birds also claimed the 2A crown in 2010 to go with a 4A title in 1993 and 3A championship in 1987, 1989 and 1990.