Almost a year ago now, the City of Olympia and its regional partners undertook a study and community survey to determine if a regional aquatic center was feasible so Thurston County could finally have a public pool. The study has been swimming right along, and the project to create an aquatic center in Thurston County has reached yet another milestone.
You can catch up quickly here, by reading the first ThurstonTalk article about the project, but the gist is that there is a deep need for a facility that will serve all members of our community. In fact, residents have been asking for one for over 30 years. It needs to be a facility that is built to last, so the investment in the infrastructure will need to be a regional one, with potential partners from the City of Tumwater, Olympia School District, Tumwater School District and others all actively participating in the stakeholder group throughout the process.
"It's been so great to see the amount of public interest and support from residents across our region," says Chuck Denney, Tumwater Parks & Recreation director. "Interest in an aquatic facility that provides access to everyone in our community remains incredibly high. It's been great working in a partnership with staff from the City of Olympia. Our two cities working together to study a regional need has produced results that we couldn't have achieved working separately. With public input from surveys and a very diverse advisory committee, we've developed an accurate assessment of regional needs and partnerships for a successful aquatic facility."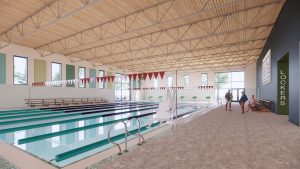 The preliminary survey focused on what the community members would want to see from such a facility, from different types of pools, recreation, facility amenities and more. The second, and most recent survey identified two different facility options from the community feedback received, and while the results had no clear winner, with respondents' opinions divided about 50/50, the City got some great information about what community members would like to see in a future facility.
With this information, the waters have become clearer, providing a jumping off point where the City and its partners can now dive into the details.
The consulting team they hired, Barker Rinker Seacat (BRS), an architectural firm based out of Denver, Colorado has incorporated preferences from both options resulting in a facility design that incorporates a competition/lap pool, warm lap/recreation pool, zero-entry activity pool, lazy river, slide, party room, classroom, single-gender and gender neutral/family locker rooms, and an outdoor deck.
The Next Strokes
What happens now? Community involvement is paramount throughout the entire process. "This is a long-range vision," says Paul Simmons, the City's Parks, Arts & Recreation department director, "and represents a major investment in quality of life. These types of projects take time and this is a facility that needs to last for the next 30-50 years. Community support is needed now so this facility will be there for the future."
With the results of the Feasibility Study nearly complete, a virtual public meeting will be held over Zoom at 6 p.m. on October 28, where the current vision will be presented. Next, presentations will be made to the Parks & Recreation Advisory Committee (PRAC) and City Council, and those dates will be scheduled after the public meeting.
Simmons details the next steps in the process, explaining that "PRAC will make a recommendation to City Council on whether this is feasible and if we should continue moving forward with future planning steps." Then, if Council gives direction to continue the planning efforts, the next steps include:
Site Selection: Includes evaluating a variety of locations based on criteria put together in this process, selecting a site and potentially pursuing acquisition if it is a site the City does not already own.
Funding Strategy: Developing a plan for funding both construction and ongoing operating costs.
Governance Agreement: How the partners will work together to manage operations; for example, if the City of Olympia collaborated with the City of Tumwater, who takes on what role for managing staff, finances, etc. (LOTT could be looked at as a potential model for this).
A Facility for Everyone
"Currently, most pools are either privately run or require some type of ongoing membership," explains Simmons. "As we began to analyze the needs of our community, we quickly realized that creating a public pool with equitable access would need to be a priority if it is determined that we should move forward. Private and membership-based facilities create barriers for many families, including children who need low-cost swimming lessons and low-income seniors who need access to lap swim and water aerobics. This vision for a publicly-operated swimming facility will improve both equity and access, while also bringing a modern aquatic experience to the community."
Major undertakings like this one take time, critical planning, and a lot of community love and effort. Community member, Andrew Beattie, has joined the stakeholder group as a community representative, having a background as a former aquatics director. "My personal interest in these discussions comes as a father, a former aquatics director, and someone keyed into the history of funding for and management of public pools," he says. "There are many linkages to disproportionate impacts to traditionally marginalized communities. My master's project at Evergreen focused particularly on examining these gaps and identifying how to keep proposed solutions on target. In this case, my primary interest is in learn-to-swim programs, seeing swimming as an essential life skill and orienting solutions toward financial accessibility and inclusiveness."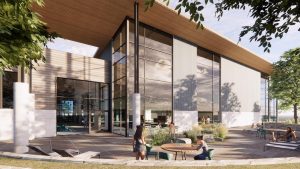 He sums the work of the committee nicely when he goes on to say: "What fascinates me most about exploring the feasibility of a municipal aquatics facility is the vibrancy of conversations that occur when the demand is high, as is the diversity of perspective in how a facility may be used to serve our needs. Communities feel ownership over their pools and that is awesome. Lap swimming, therapy, fitness, and family swim are of interest, as are venues for events and competition. I believe this group has given careful thought into how to balance each of these needs and interests."
The most important takeaway right now? Get involved. Flow with the current. The project has swift momentum, and community members' cries for a pool are no longer lost in the eddies.
Details on the October 28 public meeting will be posted on Engage Olympia. If you are unable to attend, a recording of the presentation and meeting will be available for viewing on the site.
For more information, or to see how you or your organization might get involved, contact Paul Simmons at psimmons@ci.olympia.wa.us.
Sponsored