As the fall season reaches its peak, long summer days fade into the region's familiar overcast. But with a complete outdoor space, a changing season doesn't have to mean spending more time indoors. Working with each client to achieve their ideal outdoor improvement project, Precision Patio Covers helps homeowners and business owners to get the most out of their outdoor space throughout all four seasons.
Taking the headache out of outdoor improvement, Precision Patio Covers combines experience with exceptional customer service, so that homeowners have more time to spend on family, relaxation or entertainment in their new outdoor space.
Based in the South Sound, Precision Patio Covers is deeply invested in the wellbeing of their clients as well as the greater small business community.
To ensure an excellent customer experience at all phases of the construction process, Precision Patio Covers builds relationships with the manufacturers that supply the building materials for each project. Benjamin John, CEO of Precision Patio Covers, says he is committed to working with manufacturers and suppliers that hold similar values to Precision Patio Covers. "We get our products from companies that have great customer service," says John. "And high-quality products, so we're thorough in our vetting of different manufacturers to find out who has the values that we have, so that they're in alignment with us."
For every outdoor improvement project, the Precision Patio Covers team aims to demystify the home improvement process for their clients. And at the center of every project is communication. From initial consultation to the final walkthrough, the Precision Patio Covers team will keep the homeowner updated on the status of the project while answering any questions along the way. "I know that sounds so basic and simple, but I've had the experience of working with companies that have very poor follow up and very poor communication," explains John. "And from that, I told myself that I do not want our business to run like that. I want to over deliver on the communication aspect and keep people updated with their project. Even if there's a delay on products, or news that is not good, we're still having these conversations. We are very forthcoming with helping assist with HOA approvals and getting engineering, site plans, architectural plans, and permits from the city. We will help with the whole process through a homeowner or commercial contractor. Whatever the project, we help to make it an easier process for them."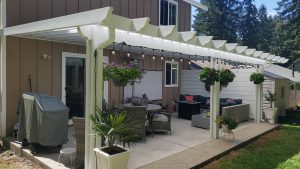 After an outdoor improvement project is complete, the Precision Patio Covers team believes homeowners should spend time enjoying their space rather than maintaining it. That means the building materials often used by Precision Patio Covers are made of composite materials, which are at a lower risk for rot and can be cleaned using a pressure washing machine. "I'm very aware of people's time," says John. "People value their time and so it's my belief that you should have a very high-quality product that doesn't require much time to be put into it. You should simply enjoy it."
With 15 years of experience in the industry, John holds considerable knowledge about the design and construction of outdoor improvement projects. And through extensive experience, the Precision Patio Covers team has a unique understanding of the process, and as a result are able to communicate and provide quality service to each client.
"There are a lot of contractors out there and they're just general contractors and they really haven't had the experience building anything like this," explains John. "And so, it's a little harder for them to communicate specifics to homeowners, and also troubleshoot problems that may arise. Because I've done this for some years, I can very naturally talk about what needs to be handled and figure out any solutions."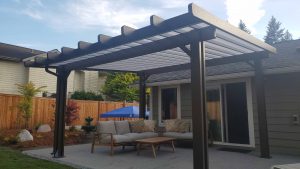 Each project completed by Precision Patio Covers is custom built to fit each client's ideal outdoor space. Whether in search of a sunroom to read in on a rainy day, a patio cover to fire up the grill in the autumn months, or an entertainment deck, Precision Patio Covers wants homeowners to get the most of their outdoor space.
"All of our projects are fully customizable," says John. "All the things we do—sunrooms, patio covers, decks, handrails, retractable awnings, power screens and screen rooms—are fully customizable. You can have dual projections. You can have different lengths, sizes, heights, second story, color options. The nice thing about these products that we use is that you can really just design it and bring your vision to life because there are so many options to choose from."
To learn more about outdoor living improvement options, visit the Precision Patio Covers website.
Sponsored