The seasons are changing and that means so are the road conditions. Driving rain, the end of Daylight Saving Time, wind, deep mud puddles, and other road aversions make for some dark and stormy driving. Allstate Insurance Agent and Personal Financial Representative, Darlene Morales, owner of The Morales Agency, an Allstate Insurance company in West Olympia, wants you to know that in addition to car insurance, there are ways to keep yourself and your family safer while on the road.
"The auto policy," she says, "honestly, that's the one people need the most, and it's the one they hate paying for the most."
Darlene gets it. She has to buy insurance, too. But what is great about partnering with Darlene for insurance is her commitment to our community. Not only is she personable, but she also lives, works and plays in Thurston and neighboring counties, so the people she insures are her neighbors, friends, acquaintances, and everyone who calls our little slice of the Pacific Northwest, home.
"One of the most important things, in my opinion," Darlene says, "is when you work with a local agent you are more informed and have a better understanding of what you are actually getting." She explains how easy it is for a 1-800-Number insurance company to quickly sell you a product, collect the commission, and move on to the next. But with Darlene and her team, the narrative is a different one. She gets to know your story, your needs, your lifestyle and can provide individual insurances, or can make a package deal. They offer an umbrella of services where you can insure your life, car, home, business, retirement and more, all for one easy payment a month.
"My clients know me," she says, "so if they have an issue, they come back to me."
Hitting the Road
Although connecting with Darlene for insurance is a one-stop shop, she knows that everyday drivers are on the move. She explains that a perk exclusive to Allstate, is an app called Drivewise. Drivewise is an informative tool that provides not only a snapshot of your driving, but also rewards you for safe driving by applying a fluctuating discount on each successive auto policy premium. This is an additional perk of Allstate auto insurance, and is not a requirement or condition of the policy. It also does not increase your premium or negatively impact you in any way. "It's only a rewards program," Darlene re-iterates. "It does nothing to hurt you."
Drivewise simply informs the user, by providing insights on speed, sudden braking, mileage, and more. It offers daily reports on driving, a dashboard where you can quickly see how much your safe driving has earned you, and can even tell you how many incidents you've had of using your phone behind the wheel.
It's important to note that you do not interact with Drivewise in any way when driving, and Darlene and her team want to remind you not to use your phone while operating a motor vehicle.
The information Drivewise can provide is an obvious benefit to parents of teens and those new to driving, but what about for everyone else?
Darlene shares that she had a client, a seasoned driver, who when initially using the Drivewise app, continually reported that they were receiving reports of hard braking. The client swore they were braking appropriately, but when Darlene urged them to try and maintain a larger following distance for the next week, the result was that the "hard braking" warnings disappeared.
Drivewise can provide insights into our driving that we didn't even know we needed. American driving culture is so ingrained in our country, and is the main way we travel through our environment, that it becomes easy to operate a vehicle from a place of poor habits, reflex and even complacency.
Drivewise can benefit everyone, but Darlene knows it's not for everyone – and that's fine. She's just doing her due diligence in passing along this helpful service to folks who may want and need this to keep themselves and their young families safer. Afterall, we all share the same roads.
Free Car Safety Kits
In addition to knowledge, The Morales Agency wants to give you a tangible gift. Special to ThurstonTalk readers, Darlene has five Car Safety Kits she'd like to give, with no strings attached, to the first five readers who contact her about them.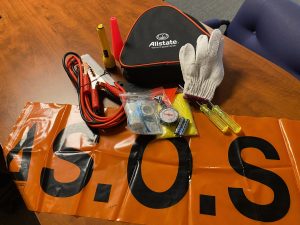 The kits include jumper cables, work gloves, a tire pressure gauge, Phillips and flathead screwdrivers, an S.O.S banner, a flashlight, batteries, and first aid supplies.
It's yet another way Darlene shows her support to her community, in addition to the education she readily shares about insurance, and the volunteerism she performs throughout our community at places like United Way of Thurston County and COVID-19 vaccination sites.
You can follow along with what Darlene is up to, and the ways she can help protect you and your family by following her on Facebook, Twitter, and her Allstate Insurance website. Or, just do something very old-fashioned and give her a call or drop by her office in West Olympia.
The Morales Agency
1115 Black Lake Boulevard SW Ste B, Olympia
360.352.2329
Sponsored