Capital Mall is excited to spotlight a few of its shining stars, businesses owned by people who live within our community. With an emphasis on living LOC-OLY, the center is proud to help foster small businesses and celebrates locally created products and new entrepreneurs. Among this group, Capital Mall is proud to support local female-owned businesses. Let's peek into four businesses that are owned and operated by women, Terra Firma Cosmetics, MiSo, Hawley's Gelato, Fudge & Coffee and Wetzel's Pretzels.
Terra Firma Cosmetics
Meridith Cain's sleek, new space is home for her company, Terra Firma Cosmetics. The business was previously in downtown Olympia. It is a treat to spend time with Meridith. I was energized by her knowledge and dedication doing what she loves.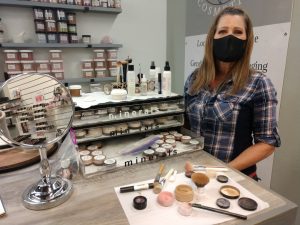 When mineral cosmetics became popular about 17 years ago, Meridith was intrigued. It seemed like a good idea. "The minerals made me itch!" she recalls and so she began researching minerals and looking for organic, raw ingredients. It seemed like the natural thing to do growing up in a family that ate whole foods and lived a holistic lifestyle.
"I wanted a good foundation," Meridith notes and made formulas from her own sourced ingredients. With other cosmetics she had purchased, she had always mixed products and colors aiming to get the right texture or looks. "I always loved it," she says. Friends noticed and started asking for some of their own. "It was a grand idea for a business," she remarks.
Inside Terra Firm Cosmetics you will discover a wide line of skin care and make-up. The business is dedicated to people who don't want or need to sacrifice their glamorous side to be safe, natural and healthy. Meridith creates and produces products that are free from parabens, petrochemicals, sulfates, phthalates, and dyes and cruelty. Labeling is non-gender.
Did you know that skin is your largest organ? Whatever you put on it should be as safe as the food you eat. I have spent plenty of time cleaning up my food choices but slow on my cosmetic choices. Meridith has made this super easy.
You'll find personal attention and plentiful supplies at the store. Meridith or one of her team members can give you a skin care consultation/analysis. The cost is $35, but that can be applied to products of your choice. You can also make purchases online. Terra Firm Cosmetics sells wholesale and in bulk. On return visits, refill your empty bottles and receive 20% off. Make an appointment for getting made-up for a special event.
"I love sales; I love people and getting to know them," says Meridith.
MiSo
You better put on your running shoes to keep up with Leena Rommann, owner of three MiSo restaurants in Thurston County. The motto is Fit. Fast. Fresh. Leena is all that and so much more. In November of 2019, MiSo opened the third location in Capital Mall. Almost immediately it had a steady stream of new and returning customers.
"We like being part of dinner and a movie," she recalls, as the eatery is adjacent to Century Olympia, the multi-screen theater. COVID restrictions and closures were very tough. She and her husband Ryan doubled down on working hard and found ways to keep their employees working and keep cooking food for people. MiSo owners are proud of the diversity within their employees and that everyone has remained healthy over the past year.  "It's a crazy world, we are especially blessed to be happy," says Leena.
Leena, who spent 10 years in high stress corporate world and now has clocked six years of owning MiSo, is a harder worker. The couple opened their first MiSo on Lacey Boulevard and a second at Hawks Prairie.
"We can help with catering or a party," reminds Leena. Leena invites you to stop by and order a fresh, made-to-order meal.
Hawley's Gelato, Fudge and Coffee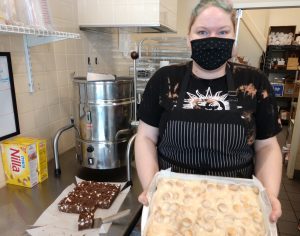 It's a family effort at Hawley's. Owner LuWana Hawley gets help from her daughters Payton Hawley and Jillian Holmberg. "We love gelato!" says Jillian adding, "Our fudge is the best I have ever had." You can order a coffee beverage to take with you and your treats. The coffee comes from another local favorite, Batdorf & Bronson.
LuWana always wanted to sell this fudge. There are the favorite dozen flavors of fudge to select, and there are also monthly specials and miscellaneous varieties. Hot off the press recently was peach cobbler fudge. The team has a good time making the various blends.
Be sure to notice the art display inside. It is filled with original pieces made by Jillian and Tabita Grow. Both are artists for tabletop role playing games such as Dragons & Dungeons and Path Finders.
Wetzel's Pretzels
The baking smell will draw you in, and then you must decide. A hand-rolled, just out of the oven pretzel or maybe a version with cheese or pepperoni, or ones covered with cinnamon and sugar? Then there are bitz, too. Franchise owner Shiree Bush welcomes you to satisfy your snacking desires.
Take a stroll through Capital Mall. Get a cup of coffee, a snack, or lunch and browse around. There are friendly people to meet, and you'll be supporting local businesses. "We have awesome local businesses at the mall!" reminds Meridith.
Capital Mall
625 Black Lake Blvd. Olympia
Sponsored