What we do outside of work can be as important—and have greater impact—than what we do Monday through Friday. Charitable work, volunteerism and community improvements stand the test of time and benefit neighborhoods for generations to come. For Thurston Economic Development Council Board member Charlie Schneider, life is about serving others any way you can.
Schneider, retired after more than 39 years with the United States Postal Service, is now a proud Tumwater Councilmember. This is his first elected position and he started in that role January 2020. Elected councilmembers are routinely given committee appointments as part of their assignment and both Schneider and Tumwater's mayor thought the EDC Board would be a great fit.
"One of my platforms is small businesses," explains Schneider, "And I felt there was a lack here. I'm working with EDC Executive Director Michael Cade to get more small-, family- and minority-owned businesses in Tumwater. Small businesses employ a large part of the workforce and have to overcome barriers to become successful entrepreneurs. The EDC develops these small businesses, providing the knowledge and expertise to grow."
Outside of work, Schneider began devoting many hours to volunteerism in 2001. Living in Las Vegas at the time, he continued to do so over the years and kept at it when they moved to Tumwater seven years ago to be closer to family.
Before moving to the Pacific Northwest, Schneider started working with Camp To Belong. This organization reunites siblings who have been separated through foster care at a fun, relaxed camp environment. Schneider helped organize programming in Washington and Oregon with a low 2-to-1 ratio of campers to counselors. Between all three states where he has volunteered, Schneider has spent 11 years on this caring cause to date.
Since 2015, Schneider has worked locally with the Tumwater Youth Program (TYP) which offers entertainment events twice a month and is a safe place for kids to hang out and have fun, he explains. His family also signed up to Adopt A Road. Here, volunteers adopt a half-mile stretch for two years. They are responsible for collecting litter several times each year as an ongoing beautification and public safety project.
Also outdoors, Schneider has spent the last several years as a Stream Team Salmon Steward. From designated spots on McLane Creek Nature Trail and Tumwater Falls Park, he and his fellow volunteers learn details about the seasonal spawning migration and answer questions from visitors of all ages.
On a festive note, the Schneiders are neighborhood organizers for the National Night Out. In their area, more than 400 friends and neighbors participate in what event organizers call "something we can all do to make Tumwater neighborhoods safer, more caring places to live with a true sense of community."
Unique to their area is the hilarious Cops and Kids water balloon fight. Schneider, who admits his motivation is always for the kids, stages an all-out aquatic battle. "To level the playing field the 60 participating kids get 800 balloons while the 10 officers get 200 balloons," he shares. Participation numbers increase every year, and everyone leaves drenched, a little muddy, and sore from all the laughing.
They also work with their neighborhood's annual Christmas food drive. Santa is a local retired fire chief, and an antique fire truck is his sleigh. Neighbors collect non-perishable food items for the Thurston County Food Bank to "meet a real need in our community and region," says Schneider.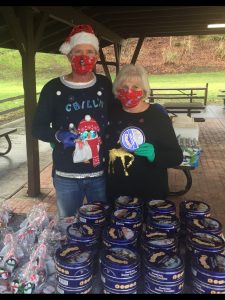 Inspired by his work with Stream Team, he has also taken on a restoration project on the Deschutes River. Over the last four years, Schneider has planted more than 500 trees and bushes out of love for the land. This simply makes Schneider happy. "I'm proud of everything I do because I love everything I do," he shares.
This is also what drives his time at Isabella Bush Park. Here Schneider helps in ways that benefit Tumwater FRESH, youth farming in coordination with GRuB. Schneider worked to make an outdoor amphitheater-type area to allow for COVID-19 social distancing with help from his son-in-law who convinced a local logger to donate the materials.
And the Coronavirus also inspired their latest efforts. Because so many senior citizens are homebound due to pandemic fears, Schneider and friends started a safe, socially distanced meal program with an added bonus. Instead of just picking up food and being on their way, once a month, community organizers provide lunch at a local park. Seniors drive through, are given a meal, and visit for a few minutes before heading home. The city provides some of the food while volunteers make the rest.
Whether behind the scenes or behind the civic podium, our communities need more folks like Charles Schneider and his family. A service mentality does wonders for a city and organizations like these can always use a hand. Do your part, in whatever way you can, to make our region stronger.