Ralph's Thriftway, one of only two locally-owned independent supermarkets in Thurston County, has made it easy for customers to shop online. They recently invested in a smart upgrade to their online shopping system, seamlessly integrating their loyalty reward program right into their shopping interface.
"Before it was clunky, bulky, and sometimes two different systems," explains Kevin Stormans, president of Stormans Inc., a family business who also owns many of the businesses in town that you know and love, like Celebrations Party Rentals, Bayview Catering, Bayview School of Cooking, Northwest Remedies, and both of our neighborhood Thriftways.
Stormans has proven that they are quite adept at adapting within the always in flux grocery industry. Coupled with their unwavering commitment to local products and the health and success of our community—the same one their family was born and raised in to—makes for a great shopping experience. They work hard to keep their shelves and our shopping carts full, whether they are virtual or in person ones.
An Innovative History
The Stormans family has always firmly believed in innovation when it comes to groceries. The grocery industry is a fast-moving, consumer-driven market subject to many impacts outside of the grocer's control. Flexibility, innovation, and the ability to forecast are paramount.
Ralph's Thriftway first opened in 1956. The Daily Olympian called it "A mammoth food emporium" and it was one of the largest stores in the northwest. It had unique features for the times such as automatic opening doors, a play area for children, children's clothing and a covered area for picking up your groceries.
By 1977 the store again modernized and supermarket scanning was installed, the wave of the future. Ralph's Thriftway was the first store in the entire region and the 200th store nationwide to install a scanning system. Not only that, but another state-of-the-art upgrade included a heat reclamation system that greatly reduced the need for electric and gas heating, which not only saved money, but also the environment.
Streamlining Online Shopping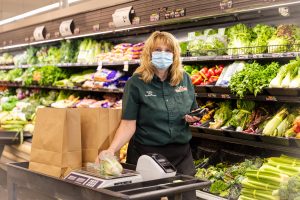 In today's market, Ralph's recognizes the importance of online grocery shopping. Consumers now demand the ability to browse, click, and drive-up, making for a 21st century shopping experience.
"People can go onto OlyThriftway.com," Kevin says. "They can do their shopping. There's recipes, coupons, information about the company, and pretty much anything, for the most part, in the store is online."
He details the process even more by explaining that "We have a drive thru on the north side of the store. People shop online, come to the drive thru and give us a call letting us know they're there. After payment, we load their stuff into their vehicle, and the customer doesn't even have to get out of the car."
The Benefits of Shopping at Ralph's
In addition to accruing points in their loyalty system, Ralph's Thriftway's online shopping platform does not mark up the prices of their goods when shopping electronically, unlike other supermarkets. "We're not doing that," Kevin says. "What you see online is what our prices are in the store."
He goes on to say, "The other neat thing about online shopping with us, is that there are a ton of local and hyper local products that are in our store, and by default, online. Typically, you're not going to find those hyper local items in chain stores." (Check out this ThurstonTalk article highlighting some of the local products Thriftway is proud to carry).
The online shopping interface makes it easy to populate your cart in a hurry, too. Once you've moved through the system once and done your initial set up, the system keeps lists of past purchases so you can easily add items for next time.
It also allows the user to filter down to very specific dietary wants/needs letting you select from categories like antibiotic free, crustacean free, natural, organic, vegetarian, and more. 27 different filters in total.
You can also toggle between On Sale items, Just for Me items, Previous Purchases, Featured, and Favorites.
Ready To Order
"People have all sorts of reasons for wanting to shop online" Kevin says. "Either they just don't care to come into the store, or don't care to spend their time shopping, or don't want to be around other people because of what's going on in the world right now."
There are so many reasons to utilize this amazing service, ones that 1970s shoppers who marveled over the new scanning system could only have dreamed of. Convenience, commitment to local businesses and products, and the friendly, personalized service you've come to know and love from Ralph's Thriftway are just the perks that come along with it.
Note: Online shopping is not available at Bayview Thriftway at this time.
Ralph's Thriftway
1908 East 4th Avenue, Olympia
360.357.8011
Open 24/7
Start your online shopping order now.
Sponsored