It's fall y'all! A favorite time of year for many, it's hard not to get excited when you see the leaves start to change, the air get crisp and its time to head to the pumpkin patch once again. Look for your own Great Pumpkin while creating priceless memories with family and friends. Here is the list for the 2021 pumpkin patches and corn mazes in Olympia and throughout Thurston County. Be sure to note COVID guidelines and call with any questions before heading out.
Rutledge Corn Maze and Pumpkin Patch
September 18 – October 31 Daily: 10 a.m. – 6 p.m.
302 93rd Ave SE, Olympia
The Rutledge Corn Maze is opening September 18 for those who just can't wait to get their fall fix! Whether you are looking for traditional orange carving pumpkin, specialty pumpkins including ghost, Cinderella and warty, or pie pumpkin, the Rutledge pumpkin patch has them. To complete your fall decorating needs they also have gourds, mini pumpkins and corn stalks.
You will want to stay and enjoy all the fun activities once you've picked out your perfect pumpkin. Try your sense of direction with the corn maze that has 12 checkpoints with clues that help you figure out what happened to Farmer Joe. This maze is daytime fun for the entire family, or try it at night, which ups the difficulty level! For those looking for a bit more scare, be sure to check out their Haunted Corn Maze filled with scary fun. It's recommended for brave souls over 10 years old. Other fun activities include their famous cow train, swing set, punchin' pumpkins, horse shoe pit, ladder ball, corn hole, corn cannon, wagon rides and more!
Important COVID-19 changes: To ensure enough space for social distancing, all tickets will be sold for an allocated day and time. All tickets need to be purchased on the Rutledge Corn Maze website. They have extra help to disinfect everything and all guests are required to wear facemasks. The Zombie paintball is cancelled again this year due to COVID-19 mandates. The selling of food is also being limited by mandates, but they will have some fall goodies for you, don't worry!
For more information visit the Rutledge Corn Maze website or follow them on Facebook
Schilter Family Farm  
September 24 – October 31: Monday–Thursday, Sunday: 10 a.m. – 6 p.m., Friday-Saturday: 10 a.m. – 8 p.m.
141 Nisqually Cutoff Road SE, Olympia
The Schilter Family Farm is a pumpkin patch in Olympia that has a farm full of fall fun waiting for you! The Schilter Family Farm has the largest u-pick pumpkin patch in the Sound South, so you are sure to find the perfect one for carving, eating, painting, or just for sitting on the porch! They also have several varieties of gourds and winter squash–yum!
Purchase of a wristband gets you admission that includes wagon rides, two corn mazes, a children's playground and bounce pillow, hay pyramid and even baby animals to look at! New this year are zip swings and an outdoor trike trek. Paintball, pumpkin blasters and pony rides are also available for an additional fee.
Be sure to check out their Tasty Treats Barn for a bite of fall and also the gift store that has plenty of fall decorations to deck out your house for the season. Don't forget you can rent a firepit for your family if you are looking to spend a bit more time at Schilter Family Farm in cozy comfort.
Important COVID-19 changes: Order your tickets in advanced on the Schilter Family Farm website. Tickets are on sale now for specific dates. Wait times to enter the farm and participate in activities might be longer than normal due to sanitation schedules and social distancing. Guests are required to wear face coverings when indoors, interacting with staff and when maintaining social distancing is not possible. Please stay home if you have any symptoms of COVID-19.
For more information, visit the Schilter Family Farm website or follow them on Facebook.
Hunter Family Farm
October 1 – October 30, 2019: Thursdays – Fridays: 12 p.m. to 6 p.m., Saturdays – Sundays 9:00 a.m. to 6:00 p.m.
7401 Yelm Hwy SE, Olympia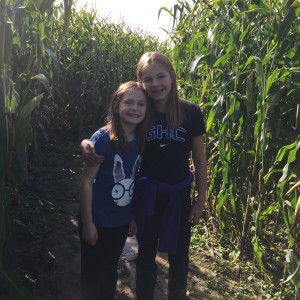 The Hunter Family Farm in Olympia has a huge selection of pumpkins in all shapes and sizes, gourds, squash, corn stalks, carving kits and Halloween decorations. Select your great pumpkin and then check out all the fun activities they have, including a giant corn maze, junior corn maze, hay maze with slide, kiddie train, kiddie quad ride, pillow jump (weather permitting), and animals to view, including the always popular baby goats! The giant super slide will be available on Fridays, weather permitting, for an additional cost. Pony rides are also an additional cost.
On Saturdays and Sunday, your admission gets you access to everything above, along with wagon rides to the corn mazes and the great pumpkin slingshot.
Food trucks will be at Hunter Family Farm every weekend including "Funnel of Love," which provides elephant ears, funnel cakes and a large selection of other sweet treats. Hunter's famous hot spiced cider will also be available.
You don't need an admission ticket if you just want to grab a pre-picked pumpkin or shop the holiday store.
Important COVID-19 changes: Purchase your tickets online at the Hunter Family Farm website. Facemasks are required indoors and when you can maintain a six-foot distance between other groups. They encourage you to use cards instead of cash. Don't visit the farm if you have had any symptoms of COVID-19 or been exposed to COVID-19 in the last two weeks.
For more information visit the Hunter Family Farm website or follow them on Facebook.
Pigman's Pumpkin Patch
October 1-31: Monday–Saturday: 10 a.m. – 6 pm., Sunday: 1 p.m. – 5 p.m.
10633 Steilacoom Road SE, Olympia
Pigman's Pumpkin Patch is the oldest pumpkin patch in the Nisqually Valley, celebrating its 30th year this year! They have a huge variety of pumpkins – from mini all the way up to several hundred pounds! If you are looking to do some amazing fall cooking with farm fresh ingredients, then Pigman's is a good place to go. They have gourds, beets, corn, onions, peppers, potatoes and winter squashes. ready to compete your fall table, they also have corn stalks for decorating. Parking and admission to the patch are both free.
Important COVID-19 changes: There will be no food served. They will be following state mandates (subject to change), but currently masks are required indoors as well as social distancing.
For more information, visit the Pigman's Pumpkin Patch website.
Crossroads Community Covenant Church Annual Pumpkin Patch
October 10-31: Monday-Friday: 3 p.m – 6 p.m., Saturday: 10 a.m. – 6 p.m., Sunday 1 p.m. – 6 p.m.
11520 Bald Hill Road SE, Yelm
Crossroads Community Covenant Church is having their annual pumpkin patch to benefit Yelm Dollars for Scholars and Rainier Educations Foundation. They have a variety of shapes and sizes. They also have hot chocolate, cider, hay rides, painted rock hunt for the kids and more! Contact them for more information at pumpkinpatch@crossroadscov.com or 360.400.7877.