One of the most fun and exciting ways to get some fresh air and sunshine is skateboarding. Though it may seem like an extreme sport, it can be a great way to get in some exercise while learning a new skill and enjoying the outdoors. For new and experienced skateboarders alike, there are many great spots around Thurston County to ride around and practice tricks. Check out these awesome skate parks in Olympia and throughout Thurston County and see for yourself!
Yauger Skatepark
3100 Capital Mall Dr. SW, Olympia
Yauger Park is well-known for its many baseball fields, but did you know it also has a skate park? This all-concrete skate park is one of the only ones in the area with an actual skate bowl, which is perfect for practicing grabs and stalls. Yauger Skatepark also features a unique canyon for those looking to ride these concrete waves. There are multiple ramps to ride down to gain some speed before trying some tricks on the half-pipes, as well as permanently-installed metal rails and obstacles to do some sweet grinds. It even has a wide set of stairs for those daring to do tricks in flight. There is a decent amount of flat ground for people to practice stationary tricks or to learn how to ride their board, though the park may be best-suited for more experience skaters.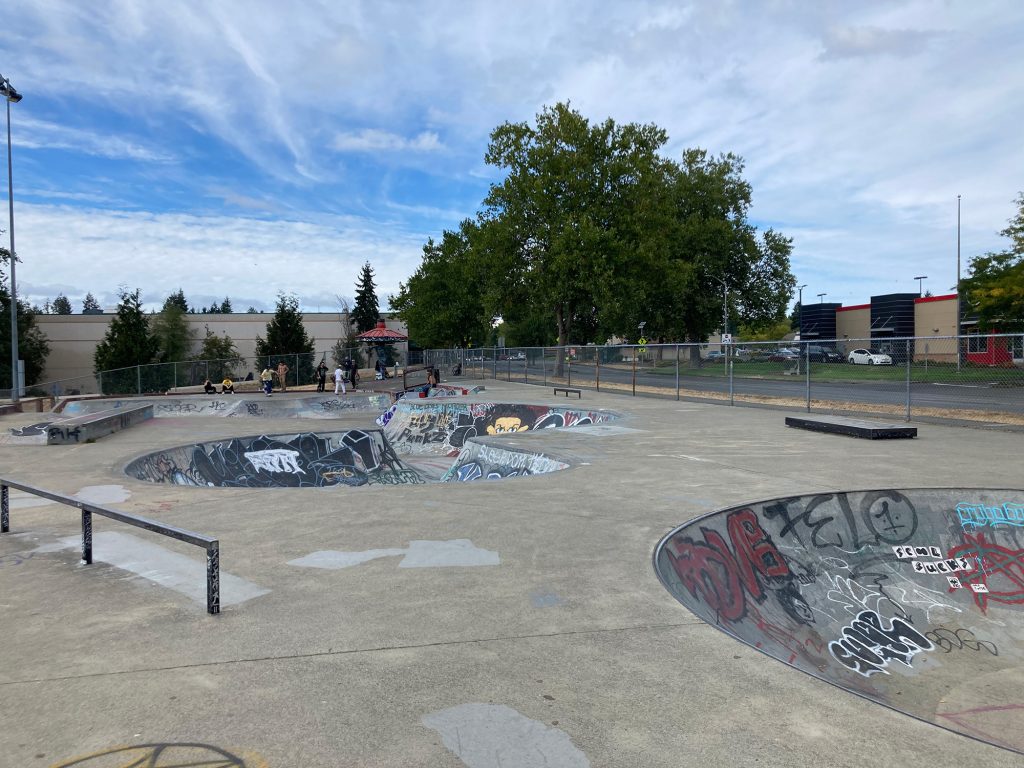 Friendly Grove Skate Park  
2316 Friendly Grove Rd NE, Olympia
Friendly Grove Park has a great playground for kids, basketball courts, and wide-open grassy areas to play in or enjoy the day. This quaint and active little park also features a small concrete skate area made up of two opposing ramps. Though small, this skate park has nice incline on both ramps that allows skaters to gather quite a bit of speed. There is also a ledge on one side that can be used to perform stalls and other tricks. Considering its size, this is the perfect skate park for kids or beginners to get accustomed to riding down ramps and practicing tricks, especially on the middle flat ground. It is also usually very quiet and not busy very often, so chances are usually good to get the skate park to yourself!
Isthmus Park Pump Track
505/529 4th Ave. W, Olympia
The City of Olympia has worked hard to keep downtown clean and welcoming for city residents. One of their more recent projects was the clearing of the lot across from Capital Lake and installation of Isthmus Park. Just off of the 4th Avenue Bridge, this park is centrally located and boasts a great amount of parking. Every summer, the City of Olympia puts in a seasonal pump track, which is a continuous loop of bumps and banked turns. Rather than pushing with their feet, skaters pump their legs up and down to get momentum and maintain speed on the track. The pump track is open to all ages and can be a great way to challenge your balance while riding around. Be sure to check it out each summer!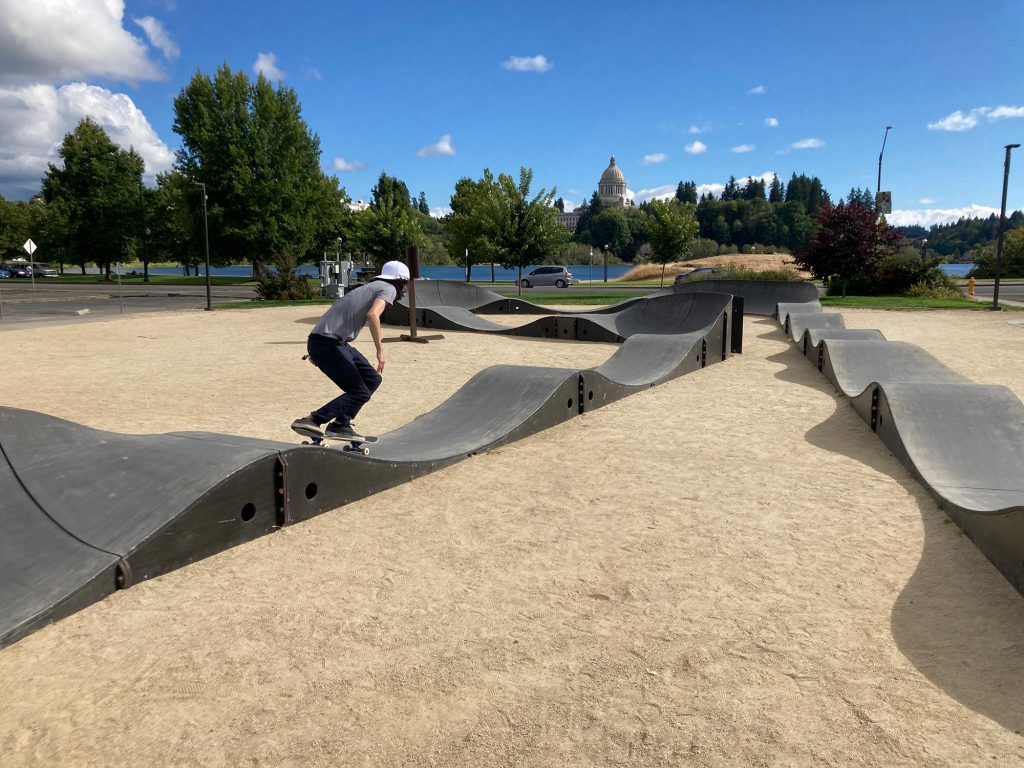 Rainier Vista Skate Park
5475 45th Ave. SE, Lacey
Rainier Vista Community Park is one of the biggest parks in Thurston County, spreading across 46 acres. In addition to the huge soccer fields and well-manicured baseball fields, Rainier Vista Community Park also has an exceptional skate park. The skate park is right near the first parking lot off the main road. It is a popular place for skaters to meet up and socialize while practicing their tricks and stays pretty busy, especially during the warmer months. Complete with quarter pipes, ramps, and rails, this skate park provides everything a skater would want. It also has the only wooden half-pipe in the area, so if you are feeling adventurous, you can learn how to do tricks just like the pros! There are a variety of ramp sizes as well as a great deal of flat ground, making it the perfect place for beginners and advanced skaters to come together.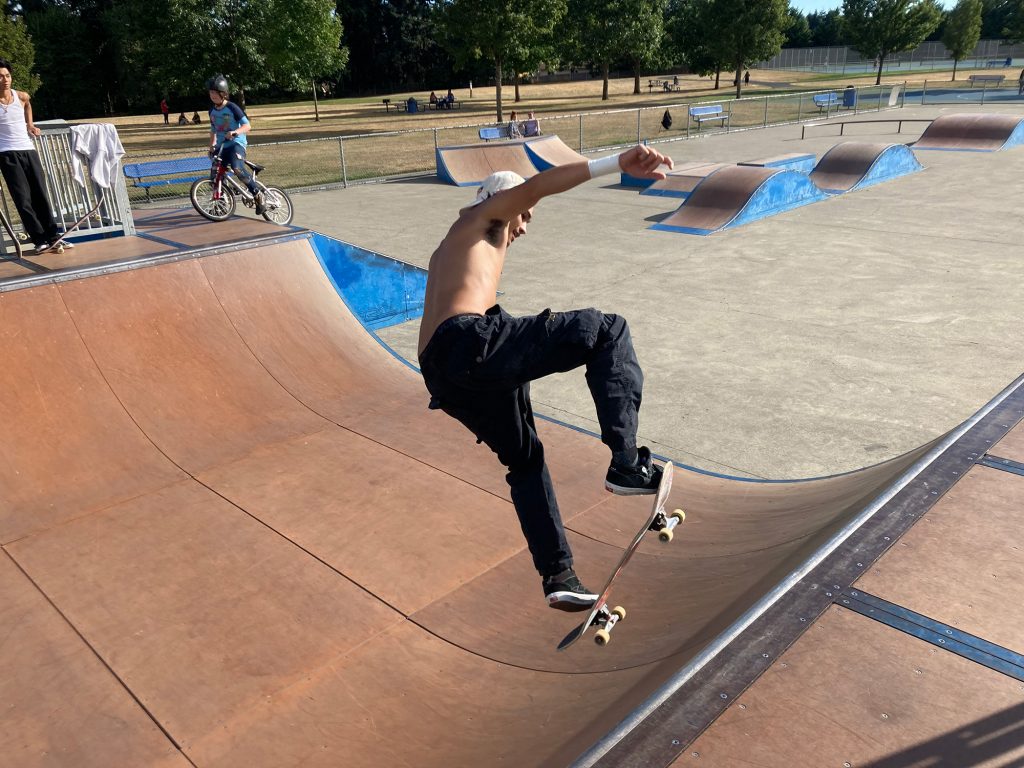 Yelm Skate Park
203 1st Street SE, Yelm
Just because its rural doesn't mean you can't get your skate on! Yelm Skate Park may be a little small in size but it makes up for it with its awesome lipped bowl, long concrete obstacles, and a set of stairs to really get some air. Aesthetically, it looks warm and classic with a brick-tone on the ramps, in the bowls, and on the stairs and obstacles. The skate park also has a good amount of flat ground space, so beginners can practice riding around while advanced skaters can have a ton of room to really pick up speed. Out here, you can practice grinds, ollies, and stalls all in the same place. Even if you live outside of Yelm, this fun skate park is well worth the drive.