Like the weather, local real estate markets change seasonally. But in the Pacific Northwest, we're lucky to live where both are enviable and vibrant. Home sales are going strong despite pandemic uncertainty and for buyers, sellers and brokers with Better Homes and Gardens Real Estate Northwest Home Team, the future is bright.
"The market is leveling a bit," shares Jessica Poulos. She wears many hats as realtor, designated broker and the firm's co-owner. "In May there were so few homes on the market. Now the inventory has gone up a bit, and we are starting to see more of a balance. COVID-19 scared many sellers from listing their homes in the spring but there was still a huge demand for purchases. We had an influx of buyers; COVID didn't seem to slow buying a home. This is probably due to low interest rates and the high property values of neighboring cities like Seattle and Portland."
If you're putting a home on the market, it's always best to do your research. At Better Homes and Gardens Real Estate Northwest Home Team, Poulos and her staff recommend that "As inventory of homes go up, we think it is smart for our sellers to be equipped and prepared to make their home sell for top dollar, in the shortest amount of time, with the fewest hassles."
Get a Pre-Inspection
A house may look fabulous but only a professional knows what's going on underneath. And while cosmetic changes are usually easy and inexpensive, larger issues like plumbing, roof or foundation can cost thousands. "Many buyers and sellers are willing to waive their inspection contingency," says Poulos. "But we are seeing some repercussions on this. Buyers are waiving inspections; sellers are accepting offers with no inspection contingency. And then a few days before closing, buyers are getting cold feet and wishing they covered their bases and did an inspection. They are feeling nervous because it is the biggest purchase of their life."
There's an easy solution. "Instead of allowing and waiting for the buyer to do their own inspection, I suggest the seller do a pre-inspection—it's only about $400—and do any repairs or necessary updates on their home based on the home inspection. This will give the buyer confidence in making an offer with a waived inspection and reduce the risk of them walking away with cold feet. The seller can also in good conscience know there won't be any unknowns that could come back to haunt them."
Clean and Stage
In a hot market, it's tempting to list the home quickly. But your 11 beloved cats, collection of bobble-heads or dusty antique teapots won't appeal to everyone. "We believe in presenting your greatest investment as just that: your greatest investment," says Poulos. "Make it shiny, beautiful and hard to say no to."
Why clear away clutter? The answer is simple. "My typical experience in selling homes is that a buyer knows the second they walk into the room if they love it and want it. And when they know they love it, they start thinking as they look around, 'How can I negotiate price?' If they see a home that has strong pet odor or a strange furniture layout, it may be difficult to justify a higher sales price. Make your home the best home in the neighborhood and you'll get the highest price in the neighborhood. Our team services Thurston, Mason, Lewis, Grays Harbor and Pierce Counties and has a median sale price of $407,000."
Use—and Trust—Your Broker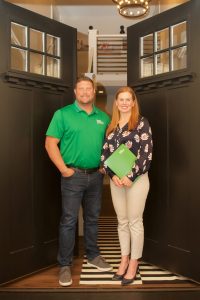 Sure, anyone can put a For Sale By Owner sign in their yard. But an experienced broker does more than simply show the home or wrangle paperwork. "We here at BHGRE Northwest Home Team have very detailed strategies for our listings," says Poulos. "We put together comprehensive Market Analysis for each individual home and even plan out the day of the week it should hit the market." Our marketing plan gets sellers top dollar. Thousands more than a FSBO.
Then there's pricing. "Some brokers will tell you to price your home really high since inventory is so low," she shares. "They say you'll get an offer no matter what. This strategy doesn't work for us. We have found that this is not in the seller's best interest because the seller will only get one offer, if that, and the home sits on the market a little longer so they have very limited options when negotiating."
But the other end of the spectrum isn't ideal either. "Different brokers will tell you to underprice your home, that way you'll get showings non-stop and many offers. What we have found it that strategy ends up frustrating buyers during the process because they feel like they overpaid. They beat up the seller on the inspection and the whole closing process is frustrating for everyone. It is best to go with true market value of your home to generate three to five offers. That way as a seller you can look at the closing date, closing costs and loan terms as well as price."
Whether buying or selling, trust a professional to get you the best deal. When you're ready to do either, contact Poulos and her team today at 360.529.0992.
Sponsored